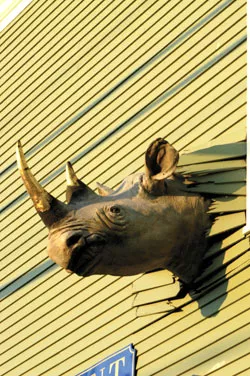 Matthew Thorsen
The rhino at Conant Metal & Light
The Queen City's Pine Street corridor is one step closer to being officially designated the "South End Arts District" by the Burlington City Council.
A resolution, sponsored by councilors Joan Shannon (D-Ward 5), Karen Paul (I-Ward 6) and Ed Adrian (D-Ward 1), passed 13-1 Monday night, but the designation won't be official until August.
That's because Burlington City Arts Director Doreen Kraft lobbied for the resolution to first call for a comprehensive study of the city's arts enclaves. That study is due back to the council in August.
The resolution's laudatory "whereas" clauses noted the district is home to more than 100 artists and studios, incubator and studio spaces and artisan businesses, making it a hub of the region's "creative economy."
"This resolution recognizes what has taken place over time," said Mark Waskow, vice president of the South End Arts and Business Association. "You could say this has been an overnight sensation — that began decades ago."
The first "business and art" incubator space blossomed nearly 40 years ago at Ray Unsworth's Howard Space, now owned by his daughter Karen Unsworth.
While the district is peppered with outdoor public art year round, its signature event is the Art Hop, put on by SEABA. Held every September, it draws upward of 30,000 people.