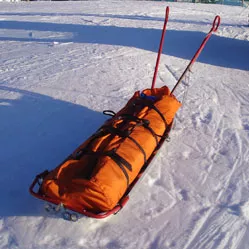 Juliana Kane was learning to ski on a beginner's trail at Jay Peak last April when a speeding snowboarder "collided violently" with the 5-year-old Massachusetts girl, according to a lawsuit filed in Vermont's U.S. District Court on September 30.
Robert Behrens, a Burlington attorney representing the Kane family, says in the suit that eyewitnesses estimate the rider was traveling about 50 mph as he hurtled straight down the hill — head-on into Juliana. Emergency personnel rushed the little girl to North Country Hospital in Newport, where doctors judged her injuries serious enough to airlift her to Dartmouth-Hitchcock Medical Center in Hanover, N.H.
The court filing lists Juliana's injuries as including liver lacerations, concussion, partially collapsed lung, pulmonary contusion and hearing damage. Juliana required surgery to her left inner ear, the suit adds. "She has ongoing issues," Behrens said in an interview last week.
The suit blames the collision on the resort as well as snowboarder William Vincent and ski instructor Jenn Leveillee. Vincent violated basic rules of conduct by riding recklessly, while Leveillee, who was leading a class of young beginners, exposed Juliana to "an unreasonable risk of harm," the suit charges. It holds Jay responsible for allegedly failing to train Leveillee adequately and to address known dangers posed to skiers by Vincent, who, the suit claims, was a snowboarding instructor at the resort using a free pass at the time of the accident.
The suit does not specify the damages sought from the defendants because, Behrens explains, "We don't yet know the extent of the damages" to his client.
Is what happened to Juliana a common occurrence on Vermont ski slopes? Do lawsuits like the one filed by her family typically succeed?
No and no.
Despite three fatalities during the 2011-2012 season and numerous serious injuries sustained every winter on Vermont's slopes, incidents like Juliana's are rare, according to resort officials and ski promoters. Parker Riehle, director of the Vermont Ski Areas Association, notes that of the more than four million annual visits to the state's downhill ski areas, only a tiny fraction end in injuries. Riehle's organization does not track the number of hurt skiers or riders. But a study conducted at Sugarbush by University of Vermont researchers found that significant injuries occurred in 11,000 of 4.5 million visits to that resort during an 18-year period ending in 2006. That's a 0.2 percent injury rate.
The Sugarbush study also found snowboarding to be more dangerous than skiing. For riders, the wrist was the body part most likely to be injured, while for skiers it was the knee — specifically, the anterior cruciate ligament (ACL).
Carl Ettlinger, a coauthor of the Sugarbush study, notes that fractures and sprains below the knee used to be the most common skiing injury. The frequency of broken tibias and cracked ankles fell by more than 80 percent between the early 1970s and the late '80s due to equipment improvements, Ettlinger notes. The risk of an ACL sprain, meanwhile, increased 240 percent during roughly the same period and then slowly declined, adds the UVM adjunct assistant professor of orthopedics.
"The technology is so much better now," remarks Sugarbush president Win Smith. In addition, he notes, helmets are more common today than they were a decade ago. While they do prevent many head injuries, Smith acknowledges that "a helmet isn't going to provide much protection if you're skiing at more than 20 miles per hour." Indeed, a 41-year-old Bank of America vice president wearing a helmet died when he skied into a tree at Sugarbush in February 2012.
Smith also points to the "code of conduct" Sugarbush and other Vermont resorts have adopted and "take very seriously," he says. Variations on the code, which does not have the legal status of a formal contract, vary from resort to resort, says Andy Maass, a Rutland attorney who defends several Vermont ski areas in injury suits. The code tells skiers and riders to stay in control at all times, avoid obstacles and other people on the mountain, and to adjust their speed in response to trail and weather conditions. Most resorts summarize the code on the back of lift tickets and post it at strategic points on their mountains, Maass adds.
Vincent, the Jay Peak snowboarder, was "failing to ski under control" when he crashed into Juliana Kane, according to the federal lawsuit. Bill Kelly, chief operating officer at Jay Peak Resort, points out that while Vincent may have been riding recklessly, he was not a Jay employee at the time of the accident — contrary to what the suit alleges. Vincent had been fired a week earlier, Kelly states.
"We're very bothered by anyone snowboarding or skiing that way," Kelly comments. "Nothing is more important at Jay than safety." But, he adds, the resort cannot reasonably be held liable for Vincent's actions, suggesting that the claim of damages against the former employee should instead be initiated as "a private matter."
Some Jay customers who get injured on its trails do sue the resort on the basis of alleged negligence, Kelly notes. But "rarely, rarely, rarely is Jay found liable for damages," he adds.
Two attorneys — one who represents injured skiers and the other who defends Vermont resorts against such claims — agreed in separate interviews that ski areas are seldom sued successfully.
"Vermont juries will typically side with ski areas rather than injured skiers," says David Polow, a Hyde Park lawyer who has represented plaintiffs in cases of this kind. Thomas Aicher, a partner in a Rutland law firm that represents several Vermont resorts, adds that the pattern of unsuccessful lawsuits has resulted in fewer injured riders or skiers even attempting to collect damages from ski areas. His own business has slowed as a result, Aicher notes.
The legal standing of the resorts was greatly strengthened when the Vermont legislature passed a law 35 years ago stipulating that skiing and all other sports involve "inherent risks" that participants ought to be aware of. That initiative, backed by lobbyists for the state's politically potent skiing industry, tilted the burden of proof onto injured skiers. That's where it had rested since the inception of resort skiing in the 1920s until a historic Vermont court ruling in 1978 shook up the entire U.S. winter-sports establishment.
James Sunday, a 21-year-old novice, was taking a lesson at Stratton Mountain in 1974 when a bush buried beneath the snow snagged his ski. Sunday's headfirst fall left him a quadriplegic. A jury awarded him $1.5 million in damages on the grounds that Stratton had failed to keep its bunny hill free from hazards. Stratton appealed, but the Vermont Supreme Court upheld the decision.
The "inherent risks" law subsequently passed by the Vermont legislature was intended to abort a potential game-changing precedent by protecting the industry from exposure to costly settlements. That mission has been largely accomplished, but the law could not deflect a deadly blow that Sunday's suit landed on several small Vermont resorts.
About 70 ski areas — many of them family affairs, à la Cochran's Ski Area in Richmond — were operating in the state at the time of the 1978 jury award, notes Riehle. The court decision sent insurance rates soaring past the point of affordability for most mom-and-pop, single-chairlift businesses, the ski association head recounts. "That was one of the death knells for smaller areas in Vermont," Riehle says, pointing out that only 20 commercial Alpine centers will be opening in Vermont this season.
Liability protection has remained expensive despite the legislature's efforts on behalf of one of Vermont's most important economic sectors, which generates $1.5 billion a year for the state economy. "Insurance is one of the resorts' biggest cost components," Riehle says. His association does not compile industry-wide figures for liability insurance per se, but it estimates that Vermont resorts spend about $20 million a year on premiums of all types. Injury coverage is the priciest among them.
Aicher, the attorney who represents resorts throughout the state, says Vermont law does not exempt ski areas from liability when they are shown to be truly negligent in their operations. But, he adds, it's in the personal as well as financial interest of many resort owners to do everything possible to limit the inherent risks of skiing and riding.
"Return visits are the lifeblood of this business," Aicher says. "You want customers to have a positive experience every time."
Moreover, "Most of the areas we represent are run by people who are themselves skiers and riders," Aicher continues. "They want everyone to be safe. They're putting their own families on those hills."
The suit filed on Juliana Kane's behalf may have a better chance of succeeding if it is aimed at a private person rather than at the resort, Maass suggests. Courts have regularly ruled, however, that the "inherent risks" stipulation also applies in cases of collisions with other skiers or riders, the attorney adds.