The hostess rushes in. She leans on the bar and beckons to the bartender, a skull and crossbones on the back of her T-shirt. "There's gonna be 20 people on a boat here in five minutes," she says. "They just wanna eat."
The bartender regards her with a look that says, "Seriously?" but he nods and continues shuffling glassware into shelving behind the bar.
A waitress enters and begins counting money at the end of the bar. "There's a 20-top coming in on a boat," the bartender tells her.
"You're kidding."
It's close to 9 p.m. on a recent Wednesday at the Old Dock House Restaurant and Marina in Essex, N.Y. If it shows, the large party will be the highlight of the evening, but everyone seems to think the call was a prank.
Just in case, the hostess rushes off to set places for 20 on a long table outdoors alongside the dock. Hank Williams continues his sad serenade on the sound system.
Minutes later, a boat approaches, green lights bobbing fore and aft in the breezy, late-summer night. The engine gurgles and stops. The hostess walks through the open-air bar and adjacent patio to meet it at the dock. She returns with two men in tow and leads them to a table. "It's just two people," she says with a shrug.
So goes a night at this lakeside eatery, one of Champlain's oldest. Built in 1810 and just steps from the ferry landing, the Old Dock House has served various menus and had numerous owners over the years. Currently owned by Steve McKenna, it serves pub-style lunch and dinner seven days a week through the summer season.
Years ago, the shores of Essex enjoyed more action. Tales still circulate about government spies and scandal during the War of 1812; and about smuggling, trafficking and heavy boozing during Prohibition. But today, the Old Dock House feels more like the kind of place where modern-day boaters pop in to recount their voyages and grab a burger and beer.
The entire village of Essex — comprising a cluster of houses, a modest library, two churches, and a smattering of seasonal shops and galleries — is on the National Register of Historic Places. Its façades are frozen in time, most of its history buried deep in the past. Today, the town's population hovers just shy of 700 full-time residents, according to town clerk Bill Morgan.
For lake-faring Vermonters, Essex is an ideal escape from the Burlington bustle. Few experiences are more delicious than arriving for dinner by water, even if the journey takes a mere 20 minutes on the Charlotte ferry — or less if you happen to own a boat.
On its portside approach, the Old Dock House — which was nearly washed away by flooding in 2011 — offers a low-key, informal welcome. A stone's throw south, Linda and Ray Faville welcome guests to Chez Lin & Rays at the Essex Shipyard in similar fashion. Grab drinks and maybe a snack at either of these, but save room for dinner down the street. A short walk from the dock, the Essex Inn, sheathed in canary-yellow clapboard behind 11 stately columns, awaits diners much as it has for more than 200 years.
Rick and Karen Dalton own the inn building. They commissioned extensive renovations in 2010; in late 2013, new innkeepers Keith Castro and Lanai Monahan took over the lodging and restaurant businesses within the inn's walls. The pair welcomes guests with charming hospitality; they even pay for transient docking fees at the Essex Marina (between the Old Dock House and Chez Lin & Rays) for visitors arriving by private vessel. Castro says they hope to bring an upbeat, cosmopolitan vibe to the historic hamlet.
Service staff dress simply in black with sexy leather aprons. They speak with the easy fluency of food professionals. As we wait, a waitress chats with diners at a neighboring table. "When I go out, I try to order things I can't get at home," she tells them.
Most of the menu consists of dishes that few would bother making in their own kitchen. Castro doubles as innkeeper and executive chef, and his is a celebration spread. Dine here for wild game, imported meats cut paper-thin, heritage pork swaddled in savory sauces, crusty breads and glazes simmered down to the bare essence of their ingredients. Castro's menu is fit for a fête, but the entrées are reasonably priced in the $20-to-$30 range. The chef says he counts many Vermonters as regulars.
The menu is stocked with local ingredients, and that includes the cocktails. A "New Fashioned" — a citrusy twist on the classic whiskey mixer — packs a hefty pour of Widow Jane bourbon (distilled in Brooklyn with water from the Widow Jane mine in the Hudson Valley) and blood-orange bitters.
Matthew Thorsen
Pheasant & waffles at Essex Inn
While whiskey and roasted meat may seem to say "serious," Castro's food is not without whimsy. A first course of pheasant and waffles is a playful take on the fried-chicken classic. The nutty bird, country-fried to a delicate crisp, tastes as though it gorged on acorns weeks before its death. Perched atop an airy Belgian waffle in creamy maple gravy, the dish reveals Monahan's influence. "I love chicken and waffles," she says as she brings the plate to the table. "So I begged [the kitchen] to do this."
If the cooking is both sophisticated and fun, the restaurant's interior is classic Adirondack: Wooden walls separate hand-hewn, exposed beams and wide-plank floorboards cut from ancient North Country hardwoods. It's old-fashioned but cozy, not stuffy. It's also the kind of place where an entrée still comes with a salad — super-fresh greens from Keeseville's Fledging Crow Vegetables, tossed in a bright vinaigrette.
When the entrée comes, it's a hearty, thoughtful dish that suddenly casts a silent, hungry spell over the table. It might be tender medallions of Magret duck breast, cooked a perfect, bloody rare; or that thick-cut pork chop, seared deep brown and topped with glazed apple on a bed of braised white beans and greens.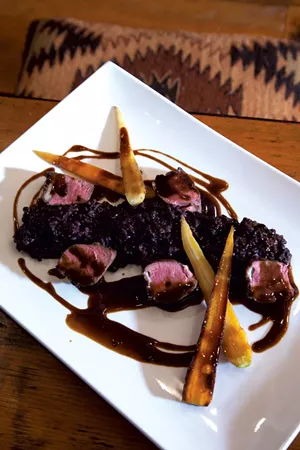 Matthew Thorsen
Lac Brome duck at Essex Inn
Castro says he and Monahan rewrite the menu weekly, keeping a few standards such as pan-roasted chicken and filet mignon for less-adventurous eaters. They view their inn as a lab. "We're a test kitchen," the chef says. "We're constantly changing things and trying new recipes, and we cook the way we like to eat."
Before taking over the Essex Inn, Castro says, he worked as a production chef, preparing packaged dinners for folks with special needs. "We did a lot of sous-vide cooking," he notes. Before that, he helmed the kitchen at Café Mooney Bay, on the Mooney Bay Marina in Plattsburgh.
In his own space, Castro seems ready to indulge his creative side, and to make the most of local agriculture — an industry that, according to local historian Shirley LaForest, is starting to blossom. "We are getting a few younger people," the 79-year-old Essex native tells Seven Days via phone. "They're coming here for farming." Near Fledging Crow, a modest farm community has started to take root on Mace Chasm Road in Keeseville. Essex Farm, founded in 2004 and offering a large CSA, is the subject of farmer Kristin Kimball's critically acclaimed 2010 book, The Dirty Life: A Memoir of Farming, Food, and Love.
When LaForest was a girl, she says, the Essex Inn was "all dirty, old, dusty rooms that hadn't been used in years." A friend lived "in one end of the building," she recalls, and the kids would wander the vacant rooms. "It was fun to use our imaginations about the people who had been there before."
Those people allegedly include spies. According to Morris Glenn, another local history buff, the Essex Inn was a hotbed of espionage in the War of 1812. "Spies and military people using the Essex ferry would hang out at the inn trying to find intelligence," Glenn says. At that time, Essex militiaman Delavan Delance owned the inn and regularly housed troops there. "It's nothing super exciting or specific," Glenn says, "except that they were here."
Two hundred years later and just down the street, two men linger over a leisurely meal at the Old Dock House. Inside the bar, we join them, sitting amid pirate flags, the Red Sox on TV and kitschy signs that declare, "Low-cut shirts are looked down upon at this establishment." Awaiting the 9:30 ferry, we chat with the friendly barkeep about the bar, made from boxcar floorboards, and drink cold Switchbacks.
As we wander away from the sleepy old town and onto the dock, Jimmy Buffett's voice calls across the water, crooning a slow Grateful Dead classic: "Once in a while you get shown the light / In the strangest of places if you look at it right..." and the boat pulls up to take us home.
INFO
Essex Inn on the Adirondack Coast, 2297 Main Street, Essex, N.Y., 518-963-4400. essexinnessex.com
The Old Dock House Restaurant and Marina, 2754 Essex-Charlotte Ferry, Essex, N.Y., 518-963-4232. olddockrestaurant.com
The original print version of this article was headlined "Dock to Table"