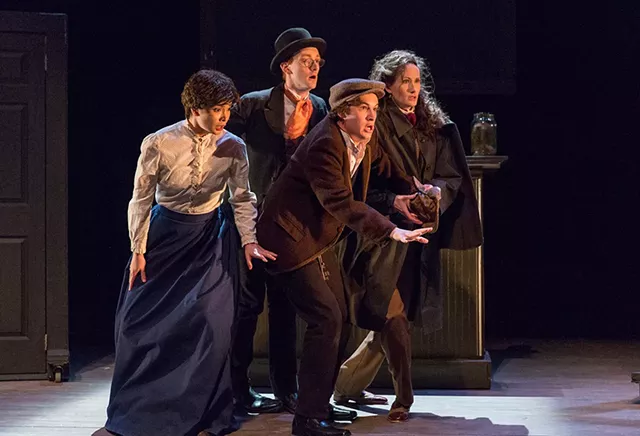 Long before Dick Tracy or Marvel's Jessica Jones, there was Sherlock Holmes. The 19th-century fictional figure has enjoyed a renaissance in recent history, portrayed in film and television by the likes of Robert Downey Jr., Jonny Lee Miller, Benedict Cumberbatch and Sir Ian McKellen.
This Friday, March 18, St. Johnsbury will rally around its own homage to the sleuthing icon with a multi-organization series of events and attractions on the town's designated Arts and Culture Campus. The event's centerpiece is an evening performance of The Adventures of Sherlock Holmes by the New York City-based Aquila Theatre, in which actor Jackie Schram will give the detective a female spin.
"Sherlock Holmes is a pretty hot topic right now," KCP Presents managing director Andrea Kane told Seven Days. "We figured [this production] would have broad appeal. This is a really fresh retelling," she added. "It's not just a woman playing a man; [Holmes] is a female character."
The festivities will begin at the St. Johnsbury Athenaeum, where director Bob Joly will read a short dialogue from The Annotated Sherlock Holmes. A librarian by profession, Joly said that he's opting to read from Sir Arthur Conan Doyle's original work to share the stories' authentic language. Additionally, he hopes his performance will be funny.
Little Sherlocks-in-training will be offered free magnifying glasses, the better to spot clues, and nearby Catamount Arts will offer a screening of The Adventures of Sherlock Holmes, the 1939 film starring Basil Rathbone as the detective. Caledonia Spirits will offer a tasting, and food and drink will be available for purchase, including tea and coffee from Café at Gatto Nero press.
In reference to Holmes' vices, the Athenaeum will exhibit a Victorian-era opium pipe, extracted from the Fairbanks Museum & Planetarium's permanent collection especially for this event. (While the detective consumed opium in one story, he actually preferred cocaine.)
Fairbanks curator of natural sciences Henry Choong explained by phone that the pipe is rather rare, "because once they started to put a stop to opium smoking in the early 20th century, [such pipes] started dropping off in the mainstream." The implement's ivory holder, which is too fragile to display, bears the inscribed name or initials "NARA," with the date April 24, 1906.
At 7:30 p.m., Aquila Theatre will take the stage in St. Johnsbury Academy's Fuller Hall. The renowned company tours nationally and is hosted in St. J by 6-year-old KCP Presents, an independent program of Catamount Arts.
Local residents can expect to see more than one Holmes-like character in town on Friday evening: KCP Presents gently suggests that "hat-and-overcoat attire" will be applauded. It will be that much easier for observers to imagine themselves in a time when detectives were civilized and solving mysteries was ... elementary.