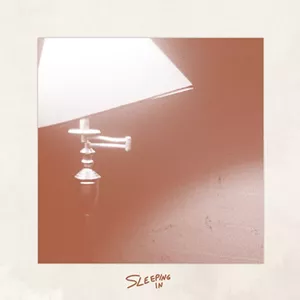 (Self-released, digital download)
A few weeks ago, I was flipping through one of those books that go directly from the new-release rack to the bargain table outside. Before deciding The Subtle Art of Not Giving a F*ck negated its own existence, I found a sort of affirming passage. It was something along these lines:
Optimists have a tough time navigating life because they have to expend unnecessary effort convincing themselves that things are working out. But pessimists are prepared for guaranteed adversity; they're even lifted when things are slightly better than fine. Accordingly, optimism can be an utterly negative experience, pessimism a positive one. Maybe that's why slacker music is so good for us bummers: It reinforces the secret bliss of apathy.
Burlington's Sleeping In channel the mirth of despondency deftly on their first full-length, let you in. With waves of noise drowning vocals that stretch hoarsely toward coherence, they've captured the mess of angst in compact form. A follow-up to the band's 2015 eponymous EP, let you in is less a collection of misfit sludge storms than an appeal to the ease buried in unease. Wall-of-sound fog clears frequently enough for melody to break through, though pretty intricacies don't disguise the band's signature fuzzed-out wince. Tunes such as "pine," "stay the night" and "angel" — the last a quasi-quiet departure — are tough constructions built to weather diverse moods.
Though the record was mostly engineered in a Boston apartment, drummer Jordan Stocker redid his takes elsewhere after the first ones didn't stick. The effort was worth it. The drums now echo as though tracked in the halls of Valhalla, particularly on "thorn & blood" and the trenchant "displace."
Throughout, guitarist/singer Mason Dixon's wrist-wrenching tremolo flutters to a stratospheric range. Adam Wolinsky's bass hums through it without mucking up the band's sonic ecology. The second guitar, helmed by JT Day, draws out the undertones, giving the shoegaze cuts their proper English.
Nineties nostalgia may be posh, but these muttered anthems are not throwbacks. Unlike their punk-inflected antecedents that decamped to emo, alt-rock and indie suburbs, Sleeping In exude an understated energy — an almost-hippie-like affirmation that letting go doesn't mean giving in.
Let you in is less the posturing of ennui than a radical defiance against giving too many fucks. What Dixon and Wolinsky sing is indecipherable half of the time, but the overarching mood suggests that it doesn't matter. Confusion is fine.
Sleeping In perform on Saturday, October 28, at the Monkey House in Winooski. Let you in will soon be available on iTunes.