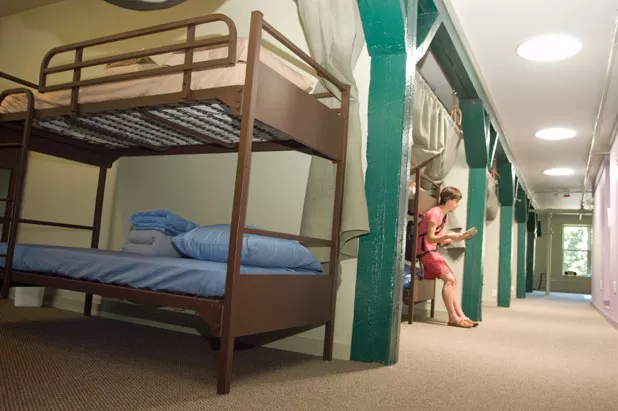 Matthew Thorsen
Frances Russell
Throughout my life, I've stayed at hostels all over the world — in Auckland, Bruges and Kuala Lumpur, to name a few. But I had never stayed at a hostel in a city where I lived … until last week. The Burlington Hostel on Main Street opened on July 23, and it was my job to check it out. To do that, I had to pack my little going-to-Grandma's bag and stay for the night.
My experience with hostels has been mixed. I'm not a raging partier, so I've always found ones that cater to backpackers (particularly those of Australian extraction) to be a bit too rowdy. But I've had great experiences at hostels for old people. Namely, those without drunken, tanned Australians swinging from the light fixtures.
Regardless of the atmosphere, you can't beat hostels for price. I might prefer to stay at the Ritz-Carlton — or at least an accommodation where I don't have to walk down the hall in my nightie to get to the bathroom. But you don't always get what you want, especially when you're on a budget.
Since Mrs. Farrell's Home Hostel in the New North End closed four years ago, Burlington has lacked inexpensive accommodation options. While we have no shortage of chain hotels, quaint B&Bs and upscale inns, the city has few beds for budget travelers. This despite the fact that backpackers swarm Burlington in the summer. Gen Burnell of the Lake Champlain Regional Chamber of Commerce says people frequently call her office looking for a hostel. Until now, she hasn't been able to help them out.
Brian and Olga Dalmer wanted to do something about that. The Connecticut couple, both of whom work in info-tech, conceived of the hostel idea last November. Brian used to live in Burlington and wanted to move back. Starting a hostel was one way to do it, though neither had prior experience in the hospitality industry.
Before moving forward with their plans, the Dalmers visited every coffee shop in town to query the patrons about whether the region needed a hostel. Most people said yes. "That was enough to get us going," Brian says.
Once they had the idea, they needed a space. Not surprisingly, few building owners wanted a hostel sited on their property. In many people's minds, hostels embody a culture of transiency, where guests have little regard for their environs. It took a while to find a decent location, says Jon Adams-Kollitz, an economic development specialist with the city's Community & Economic Development Office, who eventually helped the couple secure a spot.
They settled on the space above Anjou & the Little Pear on lower Main Street, next to Big Fatty's BBQ. The second floor of the building, owned by Dave Ackerman, was raw, open space that could be built to the couple's specifications.
My evening at the 48-bed Burlington Hostel began at 1 a.m. when I arrived at the dorm-style lodging after attending a concert at Higher Ground. The overnight staff buzzed me in, and I walked up the unfinished stairs to a red door in an otherwise nondescript entryway. A piece of paper reading "Burlington Hostel" was the only signage.
Inside the hostel, it was dead quiet. Clearly, there were no Australians staying here tonight. The lights were dimmed except at the front desk, where a young man greeted me and asked if I needed help getting to my room. I said no, since I had come earlier in the day to check in and figured I could navigate my way to my bed.
This was my first mistake. Once I left the foyer, the space was black and somewhat ominous. Heavy burlap covered the entrance to each dorm room in lieu of a door, giving the hostel a vaguely medieval feel. I felt my way in the dark to the opening in the burlap and walked gingerly into the room. Using my BlackBerry for illumination, I inched toward my bunk bed, being careful not to stumble on anyone or anything. Luckily, the dim light revealed I had the eight-bed room to myself.
Like most hostels, this one provided a towel, sheets and a blanket, all neatly folded on the bed. Most likely, they had just been removed from their packaging — they still had that new-fabric smell.
After making my bed in complete darkness with some difficulty, and doing all the other stuff one does before sleeping, I climbed into the steel, military-style bunk and tried to doze off. The place was silent, and I shouldn't have had a hard time sleeping, except that it was freezing and the sheets had a thread count of about three — they were as flimsy as a tissue. Since climate control is an issue at nearly every hostel where guests don't have access to the thermostat, I should have known to be better prepared. I pulled on a light hoodie and snuggled in.
I nodded off, only to be woken an hour later by the peal of the doorbell chimes. This happened three times between 1:30 and 3 a.m.
Once I'd gotten back to sleep, it was a matter of minutes before I was forced awake again — this time by an obnoxious night-light flooding through the burlap. I investigated, but couldn't figure out how to extinguish it and stalked grumpily back to bed. In addition to my own duvet and Egyptian cotton sheets, I should have brought an eyeshade.
I rose in the morning to the sounds of a harmonica being played, badly, from another room. It was 9:30 a.m., and I could hear most of the other 15 guests already milling about the place.
By the light of day, I could actually see the hostel. The bunk beds were outfitted in either light blue or brown sheets. The carpet looked like the kind you'd put in a child's rumpus room, with a pattern that hides stains. The walls were lavender and fern green, a color scheme that Brian Dalmer admits just about everyone involved in the hostel, from painters to inspectors, was dubious about.
I could see why. The combination has a sort of forced eclecticism about it. The colors are meant to be calming, but, mixed with the coarse burlap, industrial carpet and jumble-sale furnishings, they don't work.
Of course, no one comes to a hostel for the décor. If the price is right and the place is clean and safe, no one is going to worry about whether the paint clashes.
Once up, I dashed to the shower, which, in keeping with Brian's "earthy" theme, was also shrouded in burlap. No sooner had I turned on the water than the air-conditioning vent, placed at the same height as the showerhead, began shooting out a frosty breeze. Now, I've taken many a miserable hostel shower in my day — think prodigious mold, golf-ball-sized hair clumps, unidentifiable stains — so I'm used to doing a quick in-and-out. But, after not sleeping well, I had been looking forward to a refreshing morning rinse.
Breakfast is included in the $30-per-night fee, and one of the hostel's perks is a waffle iron. In the morning, guests can ladle out batter (made from Bisquick by one of the staff) and start their days with a stack of crispy, golden waffles. But we didn't top ours with real maple syrup; the hostel only had Vermont Maid maple-flavored syrup. Sacrilege.
In addition to the waffles, which are luxury fare in hostels, the Burlington lodging offers bread, rolls, jam and peanut butter in its micro-kitchen. While eating my toast, I chatted with a woman named Kat Tosi, who was born in Vermont but now lives in Bangkok, where she teaches at a British-run boarding school. She came back to see her pal Eugene Hütz, front man for Gogol Bordello and a former Vermonter-by-way-of-Ukraine, play at the Champlain Valley Expo.
Tosi, 40, said it was an "absolute blessing" to find cheap accommodations in Burlington, though she was somewhat befuddled by the layout of the hostel. She'd had a hard time finding her bed and thought the space could have been used better.
Eighteen-year-old Conor Zaft also came to Burlington for the Gogol Bordello show. The recent high school graduate from Idaho had been hitchhiking across the Northeast and stumbled on the hostel after searching for reasonable lodging in town. He was tired of sleeping outside. When he showed up on July 23, he was the Dalmers' first customer.
"This place is pretty high quality," Zaft said, proudly sporting his concert T-shirt from the night before. "Is it perfect? No. But they're just starting."
Indeed, they are. But the early bookings are encouraging, and the Dalmers are optimistic. If they manage the place well, they're likely to be successful. Now, if they could just ditch the burlap and invest in real maple syrup…