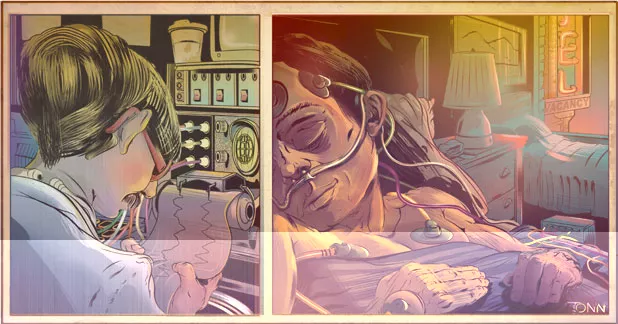 "I'm Alex. I'm the one who watches people sleep." And with that introduction, Alex Svayg, a springy, boyish 38-year-old, bounded across the carpeted floor of the hotel room and shook my hand.
It was 9 p.m. on a midweek night, and just moments earlier I had crossed the deserted, Muzak-filled lobby of the Sheraton Burlington Hotel & Conference Center. Up one story and down a generic hallway, I found the room number I'd been given at the front desk: 271.
From the outside, it looked like any other room in the hotel. But inside, I found command central for an outpost of the Fletcher Allen Health Care Sleep Center. That's right — in a hotel.
The stripped-down room still bore traces of its original use: bland art on the walls, a nondescript desk in one corner. But in place of a bed and nightstand stood two whirring computer stations. Plastic chests of drawers filled with medical supplies covered one wall. In the center of the room, a chair sat beside a small table, electrodes dangling from a hook nearby. The place looked like a cross between a field clinic and an FBI stakeout.
In truth, the work that happens in this room is fairly banal. Here, sleep technologists like Svayg monitor patients suffering from any number of sleep disorders. Doors branching off on each side of Svayg's hub lead to hotel rooms with the usual bed, television and armchair. Aside from the cameras mounted in the ceiling and the medical equipment on the bedside tables, these could be any other rooms in the neatly appointed Sheraton.
Why the hotel? Diverting patients there frees up space at the hospital, but Svayg also said that more and more professional sleep clinics are trying to exude a hotel-like atmosphere. They've found that patients sleep better there than they would in the uncomfortable — and sometimes hectic — atmosphere of a hospital.
"At the very least, you get a free night at a nice hotel," Svayg said.
He directed that comment to Mark Delbeck, who'd arrived at the sleep center a few minutes after I did. But unlike me, Delbeck was here to sleep; it would be his second overnight. In December, Delbeck was diagnosed with sleep apnea, a disorder characterized by abnormal pauses in breathing.
Six nights a week, Fletcher Allen's sleep technologists monitor six patients — four in rooms at the Sheraton and two at the hospital. The sleep center performed roughly 1500 sleep tests last year, in addition to about 2500 sleep-clinic visits. Sleep apnea is the most common diagnosis, according to clinic director Garrick Applebee, but cases range wildly. Put simply, most people seek medical attention when they're sleeping too little or too much. Sleep medicine is still a fairly young field; in the past, many doctors wrote off sleep disorders as psychological problems rather than ones due to physical or neurological ailments.
Even today, as Applebee told me in an earlier interview at Fletcher Allen, "We still have a lot of questions to answer about sleep."
Research studies with volunteer subjects have shed light on what happens to the body when it's sleep deprived, but there's still plenty of uncertainty about why we sleep.
Just a few decades ago, scientists thought of sleep as a passive, dormant part of our daily lives, but now doctors understand that sleep is crucial to good physical and mental health. Unfortunately, according to the National Institutes of Health, at least 40 million Americans suffer from chronic, long-term sleep disorders. Moreover, adults today sleep about an hour less on average than they did a century ago, a change Applebee chalked up to societal changes, including 24/7 information technology.
Delbeck, for one, knew he wasn't getting a good night's sleep. The 49-year-old arrived for his sleep study in University of Vermont sweatpants and a ball cap. Before getting wired up for the night, he changed into loose-fitting pajama pants and padded into Svayg's control room in bare feet. His recent sleep-apnea diagnosis hadn't come as a shock — Delbeck was often debilitatingly tired during the day, even after supposedly clocking eight hours of sleep. "I can actually feel my eyes closing while I'm driving, and that's scary," he said.
So, after Delbeck's initial study, in which he was diagnosed with apnea, he had returned to the clinic for a customary follow-up visit to home in on a treatment plan. This time he was getting fitted for a CPAP — industry shorthand for "continuous positive airway pressure." The machine includes a mask that fits over the patient's nose and sometimes mouth, and a tube that connects to a small motor that continuously blows air into the tube. The CPAP is a device that Delbeck could use at home; by providing a constant stream of air, it helps regulate his breathing and guarantees him a better night's sleep. It's one tool used to treat sleep apnea; in other cases, doctors might recommend something as simple as lifestyle changes (including losing weight) or as drastic as invasive surgery.
Svayg took a few minutes to show Delbeck his options, orienting him to the machine and trying on different masks to find the most comfortable fit.
"You've got to sacrifice looking pretty at night," Svayg joked. But then again, he added, "Your snoring and snorting at night isn't very sexy, either."
Svayg has been a sleep technician for 13 years, since graduating from college in the Midwest with a degree in biology. He initially planned on medical school, but after Svayg saw a man drop dead while working his on-campus job at the university gym, he realized he didn't have the stomach for high-stakes medicine. With his current gig, he said, "I get to help people, but no one dies on me."
Training for sleep technologists can vary from on-the-job learning to formal certification programs. Svayg answered an employment ad for a private sleep clinic in Ohio and never looked back.
Over all these years of watching people sleep, Svayg has seen some unusual cases. There was the man who thrashed wildly at night — so wildly that he broke his wife's nose. Another patient's sleep apnea was so severe that he stopped breathing every 10 seconds.
Delbeck's case wasn't that drastic, but he was looking forward to a change all the same. So was his bedmate. The first indications that he might be suffering from sleep apnea were his fiancée's complaints about Delbeck's snoring and unusual breathing at night. Svayg said significant others are often the first to notice a possible sleep disorder.
The second tip-off? "Deer camp," Svayg said. Hunting buddies, too, can clue in sleepers to strange habits or noises that might indicate a sleep disorder.
With the clock nearing 10 p.m., Svayg finished prepping Delbeck for the night. He hooked a series of electrodes — 19 altogether — to his skull, face, chest and feet. These, along with a black-and-white video feed of Delbeck in bed, would provide Svayg with a constant stream of information about his patient's sleep. On a normal night, Svayg monitors two patients continuously from his post, while another technologist across the hall monitors another two. On this occasion, though, a computer glitch in one of the hotel rooms meant that Delbeck would have Svayg's undivided attention. "You get the royal treatment," Svayg told him.
At about 10, Delbeck settled into bed with a book. A half hour later, he called out over the microphone, "I'm ready when you are, Alex."
Svayg slipped into Delbeck's room, fiddled with the CPAP machine for a few minutes and double-checked the signals transmitted by the electrodes. Then he wished his patient a good night's sleep and closed the door.
Back in the command room, Svayg planted himself in front of the computer monitor and watched a dozen or so lines tick across the screen. He was looking for alpha waves, an unmistakable indication that Delbeck was beginning to fall asleep. Faking it is not possible.
The readout showed that Delbeck was drowsy, drifting in and out of sleep. The real meat of the night's work would come once Delbeck descended into the phase of deep-dream sleep — when apnea is usually most pronounced. Svayg's goal for the evening was to fine-tune the CPAP's pressure and other outputs, so that Delbeck could find the right air-pressure settings at home.
"It's almost like playing a video game, trying to make the levels all even," said Svayg, clicking away at the computer to operate the CPAP machine remotely. This would likely be Delbeck's last visit to the clinic; after his diagnosis on the first occasion, and tonight's monitoring to identify a treatment plan, he'd be able to treat his apnea at home.
I didn't stick around for Delbeck's deep sleep — by midnight, this reporter had learned that watching someone sleep was enough to put her to sleep.
Not Svayg, though he admitted that it takes a special kind of person to put up with the schedule — and occasional tedium — of the sleep technologist's job. More than a decade in, Svayg said he's very happy doing this work. He has three 12-hour shifts every week and spends his weekends with his two kids.
Of course, those night shifts aren't exactly conducive to what Svayg and his colleagues seek to secure for their patients: a good night's sleep.
"We're your biggest hypocrites in the world," he said.
The print version of this article was headlined "Sweet Dreams".