Oliver Parini
Slate owner Sarah Phaneuf
The word "slate" has several meanings. It refers to a building material and a color. The material — a stone that easily splits into flat pieces — is natural; the color is rich. Slate is also the name of a home décor and furnishings shop on Church Street in Burlington. And, for owner Sarah Phaneuf, the word has added significance: It represents a new start, a clean slate.
"It felt fresh," she said of the name. "We're doing fun, new things."
That new start applies to the store owner herself: Three years ago, Phaneuf, 51, moved to Vermont from Arcata, Calif. There she'd founded Baroni Designs, a jewelry business that employed 35 people and worked with artisans in three countries, and opened a home and lifestyle store called Plaza.
After living in California for 20 years, the Cape Cod native and University of New Hampshire graduate decided to return to the East Coast. The move involved both personal and professional changes for Phaneuf, who had married Stowe resident Eric Phaneuf two years before relocating. She has since sold both her California businesses, a transition her husband helped with, and settled with her family in Shelburne.
"It's like coming home," Phaneuf said of her move to Vermont.
After a year of working remotely for the company that purchased Baroni Designs, Phaneuf decided to go back into business on her own. She opened Slate two years ago in the Church Street Marketplace storefront that previously housed used-clothing shop 2nd Time Around.
The downtown location appeals to her. "I love small, vibrant cities," Phaneuf said.
Slate sells furniture, rugs, pillows, pottery and other household items, many in shades of gray and other earth tones. It also carries a selection of less expected items, such as dog collars, leather bags, candles, soaps and potted succulents.
According to the store's website, it promotes "gorgeous product made by ethical and sustainable vendors."
"Sourcing is what I love," Phaneuf said on a November afternoon at Slate. "I love curating good product and building a brand ... People are so appreciative of having a place that sells beautiful things for everyone."
As she talked with Nest, a designer was busy transforming the store into a seasonal set piece: placing ornaments and reindeer figurines on a table by the front door and planning for the floor-to-ceiling evergreens that would soon fill the windows.
The in-house transformation for the holidays is a "microcosm" of the interior design work that Slate undertakes for clients, Phaneuf said. A newer aspect of the business, it has grown through word of mouth from friends of friends and customers who happen into the store, she added.
Photos Courtesy Of Jason Duquette Hoffman
Interior design by Slate at Stone Mill lodging in Middlebury
Phaneuf charges $75 an hour for design services. Projects range in scope and size, from selecting and placing accessories such as lighting and plants in private homes to a recent makeover at the Stone Mill in Middlebury. For the latter job, Slate designed four lodging units at the newly renovated 1840 building on Otter Creek. Phaneuf also established a small Slate retail outlet in the Mill's Public Market, along with Dedalus Wine and Cheese, Arcadian 2Go, the Vermont Book Shop and others.
"The cool thing coming out of this [project] is the joining of communities," Phaneuf said.
The developers of Stone Mill, Stacey Rainey and Mary Cullinane of Community Barn Ventures, explained by email that they had met Phaneuf as "fans" of her store. When they considered vendors for the Middlebury project, "Slate was at the top of the list."
"Sarah's style is modern and warm, and I can't think of anything in her store that I don't like and want in my own home!" they wrote. "More than anything else, though, we liked Sarah, and, as with every other person on the team that made this project possible ... this connection was the single most important draw for us."
The Slate design team includes Heather Babin, the store's operational manager, who joined Slate a year ago. She moved to Vermont in 2012 to open City Sports on Church Street and later managed a second fitness-wear outlet, Athleta, also on the Marketplace.
Babin said she was drawn by the chance to work for a locally owned business that operates on a smaller scale. At Slate, her responsibilities include ordering merchandise, coordinating deliveries and "visual merchandising," or arranging displays.
Working with home décor offers more challenges and opportunities than arranging items such as sneakers and sweatshirts, Babin remarked: "There's more components, so you have much more freedom to be creative. It's harder, and more fun."
For an interior design project, Slate typically receives the inventory for a client, then transports the items to the home and arranges them. "It really is the most impactful for the client," Babin said.
While the store's interior design process is a collaborative effort, Phaneuf said her first step is to walk into a home and take it all in. She pays attention to her "gut instinct" — how she feels when she enters the space.
"And then I listen to the client," Phaneuf continued, "to whatever they want to tell me."
After identifying a client's priorities and balancing them with the available budget, the Slate design team determines how it can make the biggest impact. The team typically starts with the big picture — a color palette, large pieces of furniture — and moves on to smaller household accessories such as rugs, lighting and pillows.
The process is built on a connection with the client, Phaneuf emphasized, and should be fun for both parties.
"This is home décor; it's not medical supplies," she said. "We are learning about this family and who they are and what they're looking for."
Last year Slate worked with Megan Ruddick on her vacation house in Stowe. The Massachusetts resident had heard about Phaneuf through a mutual friend.
"I saw her shop, and I was blown away," Ruddick said in a phone interview. "Sarah has a very cool vibe. You walk into her store, and you want your house to look like her store."
Working with Phaneuf and Phaneuf's sister, Ann Fox of Rye, N.H., Ruddick started from scratch on furnishings for her alpine townhouse. "We wanted it to be very comfortable and a little more contemporary," she explained.
The result is an inviting home with a blend of textures and layers that came together naturally, Ruddick said. Most of the hues are neutral, with occasional pops of color — including a leather sable bench in the mudroom.
"It works so well together, but it's not matchy-matchy," Ruddick added. "It feels great. My kids want our house in Hingham to look more like that."
How to Create a Cozy Atmosphere at Home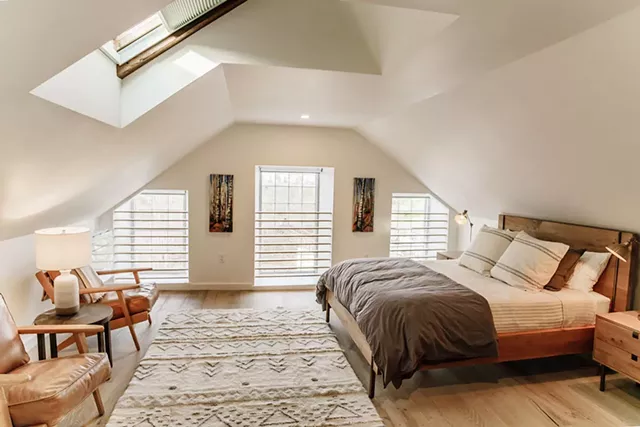 Photos Courtesy Of Jason Duquette Hoffman
Interior design by Slate at Stone Mill lodging in Middlebury
Seven tips from Slate owner Sarah Phaneuf
Lighting: Use illumination to create a soft ambience. Try candles and lamps with warm-tone bulbs rather than overhead lighting, which can feel harsh. A lamp can bring warmth to an entryway, bedroom or sitting room. Light a naturally scented candle or a group of unscented white pillars together on a tray for a warm and inviting space.
Textiles: Snuggle up with your favorite blankets. Use chunky knit throws and soft blankets as sofa, chair or other furniture accent pieces. Add pillows! They're a great way to make a space feel complete, and an opportunity to bring in texture, color or pattern. In addition to sofas and beds, try pillows in unexpected places such as an entry bench or inside big baskets. A couple of floor pillows, in a zippered washable fabric such as a heavyweight linen, can be beautiful and functional additions to living spaces; they can be used as lounging, extra seating or a foot rest.
Rugs: An area rug, such as a Turkish Oushak or Moroccan Berber, can define and complete a room — and help keep your feet warm. Durable indoor/outdoor styles are easy to care for and available in an array of aesthetics, from refined neutrals to fun and bright patterns. Wool is always classic and easy to maintain.
Faux Fur Accents: Fur pillows and blankets are the ultimate cozy accessory. They add texture and interest when placed on an ottoman, chair, sofa or other favorite piece of furniture. Try faux fur in neutral browns, grays or white. Fur accents also help trap and soften sound.
Plants: Bring some life into your home with living plants and interesting pots. A large potted plant or a grouping in similar pots or baskets can add life to any room in the house. Not only are plants beautiful but, as studies have shown, they can boost mood and productivity and purify the air.
Accent furniture: A small piece of furniture can fill an empty space. A lonely corner or blank wall could perhaps use some shelving, a small table or a bookcase. Try keeping these spaces simple and uncluttered. Group accents by color for an interesting minimalist presentation. Consider taking the sleeves off your books and grouping similar colors together.
Seasonal bedding: Change your bedding with the transition into winter (or summer). Your bedroom should be a sanctuary. Bring in warmer, heavier textiles for winter — linen/wool blends, down comforters, cozy throws. In the summer, lighten up colors and weight with linen blankets or summer quilts.