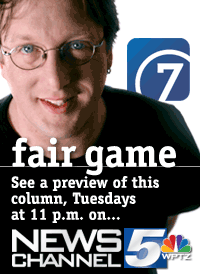 UPDATE: Republican Brian Dubie conceded the governor's race to Democrat Peter Shumlin after this column went to press. For the latest election coverage, check out our staff blog, Blurt.
******
The poorest of Vermont's poor really should care who won yesterday's election. But some of them have more immediate problems. While Republican Brian Dubie and Democrat Peter Shumlin were slashing and burning each other on the campaign trial, the Douglas administration was quietly doing the same to the state's safety net.
As "Fair Game" previously reported, all state agencies have been asked to cut 6 percent of their expenses to help close next year's budget gap. Meanwhile, the projected $38 million in savings from "Challenges for Change" has yet to materialize.
On top of that, the so-called "modernization" effort at the Agency of Human Services has required more staff time and resources than anticipated, causing severe delays in getting people approved for food stamps, health care and fuel assistance.
This has placed a greater burden on local community-action organizations, such as the Champlain Valley Office of Economic Opportunity, as they advocate for their low-income clients.
To address the backlog of applications, AHS and the Department for Children and Families have a new cost-saving plan: Let private nonprofits take over the initial screening for a key state welfare program: "General Assistance" (GA) provides funds for emergency housing, medical treatment and other acute needs.
"A lot of these agencies are already helping people who are in crisis," said DCF commissioner Steve Dale. "For years, there has been no case management and no help to solve the underlying issues; it's been a Band-Aid approach."
The community-action nonprofits are equipped to provide the necessary one-on-one support and guidance, Dale noted. The idea is that, with fewer people coming to the state for help, DCF and AHS workers can focus on the backlog of applications for a variety of other welfare programs. In some cases, the wait between filing an application and receiving aid has been three months.
Erhard Mahnke of the Vermont Affordable Housing Coalition questions whether the state had the authority to make such sweeping changes without legislative approval or input from various homeless shelters and other nonprofits. "What we're really seeing is essential safety-net services devolved to the private sector," he said.
The legislature did give DCF approval earlier this year, but only to run pilot projects through community-action groups in St. Johnsbury and Morrisville.
Then, in late September, the Douglas administration decided to fast-track the program's expansion. Dale said he plans to convene a working group of stakeholders before the end of the year and craft legislation for lawmakers to review in January. The legislation would make the GA change permanent.
Here's the catch — not all the nonprofits are staffed, funded or trained to handle the new caseloads. That means people in need aren't necessarily being helped any faster or better.
Jan Demers, CVOEO's new executive director, said her organization had to stop taking applications in Burlington because existing staff couldn't handle it.
"We were not prepared for the numbers. And our space is so small," Demers said of CVOEO's North Street office. "We really couldn't fit everyone who walked in for help."
The plan is to hire and train more workers, said Demers. But none of the community-service providers has received state funding to make that happen. Most are trying to figure out what kind of staff and state support they need.
CVOEO's Burlington office is waiting on $85,711 that's supposed to cover it for 36 weeks. Its offices in St. Albans and Middlebury will receive $46,427 and $34,820, respectively, for 39 weeks of work, Dale said.
Mahnke said the community-action organizations are desperate for new revenue, but may not know what they're getting into by signing on to administer the GA program. "Turning the advocates into the gatekeepers isn't a good idea. It's like taking away someone's defense attorney."
Campaign Coverage
The general consensus is that Vermont Public Radio provided the most in-depth, robust and comprehensive campaign reportage of Election 2010. The station really stepped up its game.
VPR's growing roster of news talent contrasts with the dwindling ones at many media outlets. Led by John van Hoesen, the team of Bob Kinzel, Ross Sneyd, John Dillon and Jane Lindholm — along with reporters Susan Keese and Nina Keck — provided listeners and online readers with a healthy dose of interviews, debates, field reporting and issue-oriented stories.
VPR was also the only media outlet that found the cash for a statewide poll that probed not only who voters might back in the election but which issues mattered most to them. It was impressive.
Fret not, though; print is not dead.
The team at the Burlington Free Press — particularly Nancy Remsen and Terri Hallenbeck — made an excellent tag team, both covering daily campaign news and delving deeply into the candidate's voting records and backgrounds. Kudos also to Aki Soga and Michael Townsend, who chimed in on the paper's blog and put Q&As with the candidates on the paper's front page.
I had high hopes for Vtdigger.org and the Vermont Press Bureau — the capital bureau for the Rutland Herald and Barre-Montpelier Times Argus — after both provided indispensable coverage during the most recent legislative session. But neither hit a home run.
Vtdigger's Anne Galloway did a ton of work delving into the finances of the major candidates, but other contributors failed to match her efforts, and the site often filled up with campaign press releases.
The Vermont Press Bureau opted for day-to-day coverage over analysis or depth.
But the biggest disappointment this year came from the TV side — specifically WCAX. In the last week of the campaign, "WGOP-TV" lived up to the old nickname given it by my predecessor, Peter Freyne.
The station ran a poorly sourced story alleging Democrat Peter Shumlin had flip-flopped on closing Vermont Yankee. The claim came from the conservative website Vermont Tiger, which got it from an anonymous source.
WCAX also ran a piece claiming Shumlin campaigned during a memorial service for a fallen Vermont Marine.
Both stories synchronized nicely with Republican Brian Dubie's press-release machine. Hmm.
Finally, the station buried Republican Tom Salmon's DUI video — except when it provided an opportunity to bring up Shumlin's speeding-ticket video.
The best part of the WCAX "news" story on the Salmon video: The announcers spoke over one of the most damning parts, when Salmon asks the trooper, "You know I'm the auditor, right? It's like the state treasurer, the governor, lieutenant governor."
Earlier this year, WCAX made a big deal out of Shumlin "flashing" his Senate ID and joking with a trooper about driving him next year — suggesting he was trying to curry favor to get out of a speeding ticket.
Bye-Bye BT?
Burlington Telecom's deadline on a lease payment came and went last week. CitiCapital was expecting a check for almost $500,000 on October 29.
It's the fourth time BT has missed a lease payment this year; the other three were largely covered by a $1 million reserve fund.
In a written update for the Vermont Public Service Board, BT's attorney William Ellis said the company is still in talks with CitiCapital. Management consultants from the Quechee-based company Dorman & Fawcett have been running day-to-day operations at BT since the previous general manager left for a job in Alaska.
In the same letter, Ellis criticized Department of Public Service commissioner David O'Brien for communicating directly with CitiCapital to express his concerns about BT. O'Brien sought details on the negotiations between BT and CitiCapital, and asked if the latter would give BT customers advance notice before "pulling the plug."
"Not only did the Commissioner's letter contain erroneous information (the City is not in default of the Lease Agreement as he states), it was not helpful and could hamper negotiations," Ellis wrote.
No word yet if CitiCapital will claim BT is officially in default of its $33.5 million lease. That would enable it to seize the utility's assets — whatever they're worth.
The other option? CitiCapital restructures the lease with a longer repayment plan.
A criminal review of BT won't be completed until year's end. That's the word from Orleans County State's Attorney Keith Flynn. Attorney General Bill Sorrell asked Flynn to conduct the investigation because he and other attorneys in his office had worked for the same firm that represents the city and BT. That's a conflict of interest.
The Indictment of Innocence
Storyteller Malcolm "Mac" Parker got a reprieve of sorts last month. His state trial, which was scheduled to begin this week, has been put on hold for six months.
"In early August of this year, federal agents raided the home of Mr. Parker and confiscated voluminous materials relating to the film project, Birth of Innocence," Parker's attorney, Wanda Otero, noted in her request to indefinitely delay the state trial.
State and federal authorities are investigating Parker's 10-year, $12 million-plus fundraising scheme for a feature film that has not yet been completed. Of the $12 million, almost $4 million was paid out to a spiritual guru and advisor who has since disappeared.
The state Department of Banking, Insurance, Securities and Health Care Administration asked the judge to only grant a six-month stay, based on a letter from U.S. Attorney Tristram Coffin. Coffin asked the state to seek a temporary delay, not a permanent one, so federal prosecutors could potentially take their case to trial first.
"If the government brings federal criminal charges, the resolution of those charges might resolve your litigation, saving the parties and the court substantial resources," wrote Coffin. At least somebody is thinking about saving money instead of spending it.
But Wait — There's More!
"Fair Game" went to press before election totals were available, but you'll find an online addendum — complete with commentary on the winners and losers — on the Seven Days website.