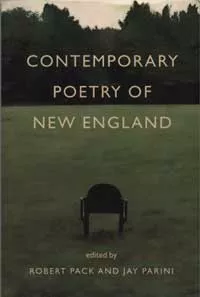 April was a worrisome month, with its earthquake and freakish temperatures. Some people are concerned that the climate in Vermont is changing. So isn't it comforting to know that some things never do? Take, for instance, the academic poetry industry and its latest product: Contemporary Poetry of New England, a $40, 220-page anthology published last month by Middlebury College Press and University Press of New England.
Editors Jay Parini and Robert Pack set out to offer "a vivid portrait of a region, its colors and smells, its physical and emotional textures, and the people who make a life in its isolated valleys and remote hills, its small towns, its busy urban centers." Parini, a professor at Middlebury, and Pack, a retired Midd prof and former director of the Bread Loaf Writers' Conference, claim that readers will find "a wide array of poets in this volume."
Not surprisingly, more than half the poets represented — 30 out of 58 — have a teaching position or residency at a college or university. One was "recently a poet-in-residence at Philips Andover Academy." Eight more namedrop their undergraduate alma mater, and the list of colleges and universities is definitely weighted towards the Dartmouths and the Middleburys. Most of the non-academics are heavy hitters like Julia Alvarez, Galway Kinnell, Erica Jong, Mark Doty, Richard Wilbur, Ellen Bryant Voigt and David Budbill — writers who have graduated from the need to establish scholarly credentials.
Absent from the "wide array" of poets are some of the less traditional, "outsider" schools of verse: political feminist and gay poets like Ellen Bass, Marge Piercy and Letta Neely; major New England African-American poets like Michael Harper, Patricia Smith, Marilyn Nelson and Affa Michael Weaver; and slam poets, many of whom fit into the first two categories as well.
There are actually nine slam venues in New England — in Burlington, Worcester, Hyannis, Cambridge, Brockton, Boston, Hartford, Wallingford and Providence — all of which serve as small epicenters of unique, regional poetry that never appears in The Atlantic, the New England Review or at Bread Loaf. But certainly all these voices are influential and, of course, contemporary; they're just not sanctioned by the folks who own the New England literary trademark.
These poets don't write about the wooded, white, collegial, landscape Pack and Parini want to preserve. Like it or not, the regional character of New England is changing as family-owned farms and businesses are replaced by strip malls and housing developments. The population of the area is becoming increasingly diverse, which creates conflict. Speaking of which, New England is also known around the country as a hotbed of liberal activism. Where in this volume is the Yankee outrage over injustice?
Such themes are a significant part of the contemporary New England experience. Editors of a volume so titled have the opportunity, and the responsibility, to confront them. Pack and Parini have chosen, for the most part, to deny and avoid them.
But don't take my word for it. Consider these fun statistics:
Number of poems:
• in the anthology — 178
• that mention trees, leaves, or wood — 106
• that mention deforestation — 3
• that mention chain saws — 3
• that mention a dump truck — 1
• that refer to dead, white New England writers — 13
• that mention snow — 27
• that mention winter — 33
• that use the word "gray" — 18
• that use the word "green" — 27
• that mention Starbucks — 0
• that mention Wal-Mart — 0
• that mention domestic abuse — 1
• that mention refrigerators in the yard — 1
• that mention landscapers — 3
• landscapers who are people of color — 2
• other racial minorities depicted in the book — 0
• in which people become trapped under ice — 2
• that made me laugh — 1
• that mention animal psychics — 1
• that mention billboards — 2
• that mention illegal drug labs — 1
• in which men drink beer — 3
• that mention spring — 22
Overall, Pack and Parini do pick some real gems — in particular T. Alan Broughton's "Ice Fisher," Joel B. Peckham, Jr.'s "Mud Season," Lesley Dauer's "Playground" and Carol Frost's "Country." But they take few risks, sacrificing the accuracy of their "wide array" claims for the safety of the "right" names. Is this really the tradition of the oft-cited Whitman and that Dickenson?
On the other side of the literary tracks, readers might recall this April, Burlington was to have been the host city for "Brave New Voices," the National Youth Poetry Slam. This annual event brings together poets between the ages of 14 and 19 for a literary festival that includes two days of performance poetry competition.
In the aftermath of September 11th, the national sponsoring organization lost most of its funding. The Vermont committee responsible for organizing "Brave New Voices" — of which I was a member — was forced to cancel.
A smaller version of the slam takes place this week in Ann Arbor, Michigan. Fifteen teams of four to six teen poets will compete, including a team from Vermont. With luck, "contemporary New England poets" Charis Boke, Ken Holmes, Carol Anne Penney, Taylor Sacco, Sarah Sapienza and Greg St. Peter will kick some modern Midwestern butt.