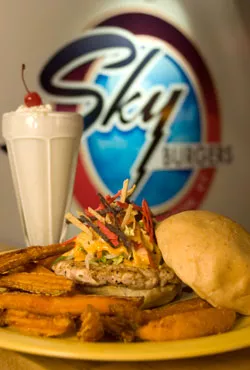 With its slick logo, goofball aesthetic and catchy but generic name, Burlington's new burger joint is easy to mistake for a chain. It's not. Sky Burgers' owner and namesake is a local — Stephen "Sky" Kenney, longtime manager of Splash on the Waterfront. Located on up-and-coming lower Church Street in the spot formerly occupied by Tilley's, Sky Burgers is the first of two patty-centric restos planned for the Queen City in 2010. The other, Bank Street's Farmhouse Tap & Grill — with a focus on local meats, cheeses and charcuterie — should be open by early summer.
For a city of its size, Burlington doesn't offer many casual lunch options, and that may be one reason why Sky Burgers, just over a week old, is already attracting an impressive noontime crowd. It doesn't hurt that burgers, shakes and crispy fried things never go out of style.
This isn't a place where items are chosen for their local or organic provenance. Given that, the fare isn't cheap — but neither is it shockingly expensive. An 8-ounce burger is $9; a side of chicken fingers, $6.50. Adult beverages range from populist draft Bud Light and Meridian Chardonnay to swankier Switchback and half-bottles of Veuve Clicquot.
Sky Burgers strives to be fun and hip and sometimes succeeds. Calling the "kidz" grilled-cheese sandwich a Burgerless Cheezeburger is kind of cute, but when the Lolcats-style lingo pops up all over the menu, it backfires. Asiago "cheeze" sounds like a processed American rendition of the classy Italian original.
There's also plenty of whimsy in the signage — bathrooms are labeled "Daddy'Os" and "Baby Dolls," and the walls offer mottos such as "We guarantee fast service no matter how long it takes." Servers are referred to as "food transportation experts."
All the FTEs we encounter are genuinely pleasant and helpful. One volunteers that the burger meat is ground in-house and is "very fresh." It's also cooked to order. A 6-ounce, medium-rare Mama Sky Burger arrives with a juicy red center and a colorful topping of homemade roasted red pepper marmalade dotted with plump yellow raisins and soft hunks of roasted garlic. A meat-free patty, topped with balsamic-laced roasted veggies, means that vegetarians won't have to stick with salads.
Kenney confesses to a penchant for turning classic entrées into bun-covered sandwiches. Those who want to see how well he succeeds may be inclined to sample the Fish Taco Burger, laced with Holy Chipotle Aioli and topped with a pile of freshly made (but under-vinegared) slaw. For an extra buck, swap the standard French fries for crispy Onion Petals with an extra side of the smoky, spicy mayo. The cut of the onion pieces makes 'em easier to eat than their ring-shaped cousins.
The drippy BBQ Pork Burger, slathered in a homemade sauce, pairs nicely with the thick, steak-fry-style sweet potato fries. Other snacks from the fryer include green beans — robbed of nutritional value by a coating of super-crispy batter and a hot oil bath — calamari-like Squidly Stix and fries smothered in chili and "cheeze."
Since Sky Burgers is so new, the menu is still compact. But in a couple weeks, says Kenney, he'll start offering some specials — displayed on the city's most expensive menu board, a big, flat-screen TV. They'll include Mischka's Meatloaf, Macadamia Nut Crusted Chicken and the exotic-sounding Singapore Salad.
Stripped of all its gimmicks, Sky Burgers offers plenty of fodder for burger fans — including quirky, house-made sauces not found at most chain eateries. It doesn't have localvore cachet and it's not haute cuisine, but if you're seeking a quick, filling downtown lunch with an emphasis on fun, it may just hit the spot.