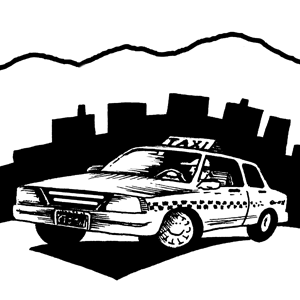 Good riddance, I thought as I patrolled the city streets in my taxicab. We had made it through January, the cruelest month for us cabdrivers. Year in and year out, my revenues always dip during the post-holiday doldrums. For most of the month, the college students are still on break, and that never helps, but mostly it's that people are broke and hung over — emotionally and otherwise — from the year-end festivities. By early February, most everyone has recovered (or perhaps forgotten), and the nightlife picks up, which translates to more customers for this hackie.
A tall brunette hailed me and jumped into the backseat. She was well put together — perhaps a bit heavy on the eye shadow for my taste, but it was all working for her. She did seem out of sorts, though.
She said, "I live on Victoria Drive, OK?"
"Yup, that's fine," I said, and steered up the Main Street hill. "So, you got a rooting interest in the game tomorrow?" I asked.
It was the night before the Super Bowl, and I'd been putting that question to many of my fares. This is America, after all.
My customer gave a dismissive toss of her hand, saying, "I could not care less, and will definitely not be watching."
"Well, then," I said, "enjoy the chicken wings while you watch a chick flick tomorrow."
"That's more like it," she said, managing a smile.
As we passed through Gracie's Corner, the woman let go an audible sigh, whispering, "Men, men, men."
I chuckled and said, "Are we talking about one specific man, or — you know — the whole species?"
"Well, the 'whole species' isn't all that great, to tell you the truth, but I'm talking about the fine specimen I happen to live with."
"Hey, I understand. I hope you and your man work things out. I mean, after the Super Bowl."
After I dropped off my customer, the rest of the night went smoothly — a steady flow of business and much talk of chicken wings and point spreads. Around last call at the bars, I picked up a good-looking man who requested a ride to the airport neighborhood. He had a shaved head and wore a tailored, black woolen overcoat — a macho and snappy look.
"Could I run something by you?" he asked.
Why taxi takers solicit advice from their drivers is a question I've grappled with for years. Isn't that more appropriate to ask of friends, priests or shrinks? Do supermarket cashiers, tax preparers and flight attendants face this, as well? Or is there something singular and soothing about a warm, rolling metal vestibule that encourages such behavior? I'm still wondering.
"Sure," I said, always the amenable service provider. "Fire away."
"So I'm at this club with my girlfriend, and I notice an ex-girlfriend hanging out and dancing. It turns out she's with, like, my boys. So, of course, I walk over to say hello. It's nothing. You know — hey, what's up, nothing more than that. When I get back, my girlfriend is, like, livid, and she demands to see my cell. I guess she wants to check for texts or something? Anyway, I go, 'No fucking way — not in the club, for sure.' So she storms out."
"Aha," I said. "I get the picture. She's, like, real jealous. You know, when you see her again, talk nicely. If you're supportive and understanding, she might eventually be able to move past her insecurity."
"Oh, I'll be nice, but I'm not gonna feel guilty for something I haven't done. I'll never forget when I was about 11, my dad came home, probably a little buzzed, and he starts play-wrestling with me. Then he suddenly gets real serious and looks me in the eyes, and says, 'Son, if you ever kill somebody, don't feel guilty about it.' And I live by those words to this day. Feeling guilty gets you nowhere. Particularly, like I said, when I've done, like, nothing wrong."
Jeez, I thought, the things fathers say to their sons. It's no wonder there are problems with the whole species. I suppose mothers and daughters have their challenges, as well, but I can't speak for the distaff half of humanity. Not from personal experience, anyway.
As we passed Al's French Frys, I asked, "So what street exactly are you on? Just keep going to the airport?"
"Nope, I actually live in the Mayfair Park neighborhood. You take the right just before the Ethan Allen Motel."
As they say in Boston: Then the light dawned on Marblehead.
"Wait a second, man," I said. "You don't live on Victoria Drive, do you?"
"Yeah, I do. Why?"
"Well, I'm pretty sure I drove your girlfriend a couple of hours ago. Is she, like, a tall and attractive brunette?"
"Oh, wow — that's her, dude. How was she?"
"Well, she wasn't pleased."
I pulled up to the house on Victoria Drive for the second time that night. As the guy paid the fare, I asked, "Do you got big plans for the game tomorrow?"
"Not really," he said. "I mean, I am gonna watch it. It is the Super Bowl."
"Skip it," I said. "Instead, spend all evening watching chick flicks with your beautiful woman."
"You're thinking that'll get me out of the doghouse?"
"It might," I replied, chuckling a bit. "It's worth a shot."