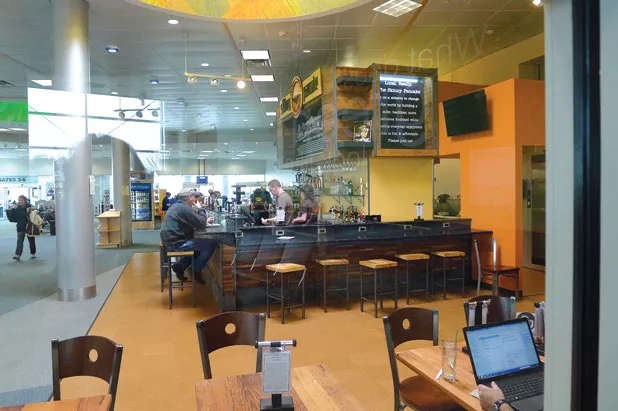 The Skinny Pancake at the Burlington International Airport
To call the Skinny Pancake in the Burlington International Airport an "outpost" or "satellite" of the Skinny Pancake in Burlington and Montpelier wouldn't do it justice. With a cozy alcove of salvaged-wood tables, an L-shaped marble-and-wood counter, a full bar, and several craft beers on tap — including the Alchemist Brewery's Heady Topper — the place appears even airier and more elegant than its urban counterparts.
Vermont's third Skinny Pancake opened in the airport's north terminal on Saturday after "a long night" of final prep, says Benjy Adler, who co-owns the growing chain with his brother, Jonny. A second location in the south terminal is likely to open next week. So far, the company has hired 28 people to staff the two spots and a Chubby Muffin counter that opened in the departure lounge a few weeks ago.
Topped with the words "Local • Really," the lengthy, bilingual (English and French) menu sports breakfast selections heavy on eggs, Cabot cheddar and Vermont Smoke and Cure bacon. Sweet and savory crêpes anchor the lunch and dinner menu, among them the familiar Hot Apple Crispy, with local apples, honey and whipped cream, and the Johnny Crêpe, with locally raised pulled pork, cheddar, caramelized onions and house barbecue sauce tucked into a Butterworks Farm-cornmeal crêpe. (Both cost about 25 percent more at the airport than downtown.)
Other noshes include salads; panini; a local cheese board; pork wontons stuffed with locally raised pig and local root slaw, served with a spicy apricot dipping sauce; poutine with Maplebrook Fine Cheese cheddar curds; and a Vermont Salumi sausage sandwich with onions, peppers and mustard.
Bar staff tap Vermont-made spirits for several signature cocktails, including an Elder Negroni with Barr Hill Gin. Let's hope everyone makes their flights on time.