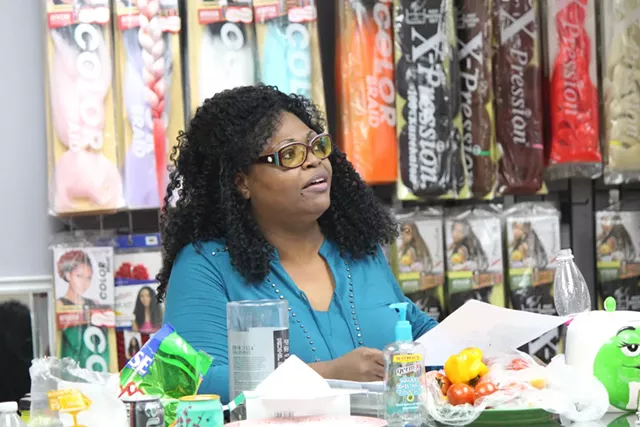 Paul Heintz
Ebony Nyomi leads a Black Lives Matter-Vermont meeting Monday in Winooski
Ebony Nyoni stood behind the counter of her Winooski beauty shop Monday night and addressed some three dozen Vermonters at a meeting of the state's fledgling Black Lives Matter chapter.
"I'm tired, fed up with the system," she said. "I'm tired of waiting for the next black person to die at the hands of a policeman. I'm tired of being rejected. I'm tired of the noises that politicians make. And I'm ready for change."
Nyoni had planned Monday's meeting after last week's fatal police shooting of Keith Lamont Scott, a 43-year-old African American man, in Charlotte, N.C. But over the weekend, a local act of racism brought the simmering national debate to her doorstep: the Saturday night theft of a Black Lives Matter flag from a University of Vermont flagpole.
"I've never seen a Black Lives Matter meeting this big. Like, oh my goodness," remarked Senowa Mize-Fox, a purple-haired community organizer who sat on the floor of the overcrowded boutique, holding Nyoni's infant girl in her arms. Mize-Fox, who lives in Burlington, said she had been "moved to tears" by the hundreds of people who had protested the flag's theft that afternoon on the UVM campus.
Nyoni quickly dispensed with the pleasantries, advising her audience that this would not be "another meeting of sad stories." Rather, she said, the group would mobilize its forces to enlist Vermont's religious, law enforcement and political leaders in the fight for racial justice. It was time, she argued, for a real conversation about race in the Green Mountain State.
"I am sick of this noise that's coming from our political apparatus — telling us that these systems, which are nothing more than systemic racism, are somehow or another OK," said Mark Hughes, a Marshfield resident and cofounder of the group Justice for All. "Institutionalized racism needs to go, and I'm here to stand with Ebony to make sure that that happens."
Near the end of the meeting, Nyoni pulled out a sheet of paper and asked who wanted to become the first "official" member of Black Lives Matter-Vermont. Edwin Owusu, a 35-year-old musician and community organizer from Essex, jumped up from his seat near the back of the room.
"I'm doing it! I'm doing it!" he said with a smile on his face as he rushed through the crowd to Nyoni's counter.
A day earlier, Owusu had been practicing precisely what Black Lives Matter was preaching: He had engaged Vermont's political establishment — at least, a small portion of it — at a Sunday afternoon forum on race called Raise Your Voice. Onstage at Burlington's ArtsRiot, Owusu had addressed the theft of the BLM flag — and the official response to the incident.
"Why is law enforcement not immediately telling us what happened in that situation?" he asked a small crowd of activists and politicians in the dimly lit concert venue. "Whereas, we know that if it were, like, some dark corner somewhere and someone said some black guy did something to someone, I promise you that in five minutes we assume they're going to tell us what happened."
Upset as he was, Owusu said he had reason to be optimistic about the largely white state in which he lived.
"Regardless of what anyone else may think outside of Vermont, those of us who are here know that there is more of an upside for people who are willing to have these conversations around change than in other places," he said. "At least, that's how I feel."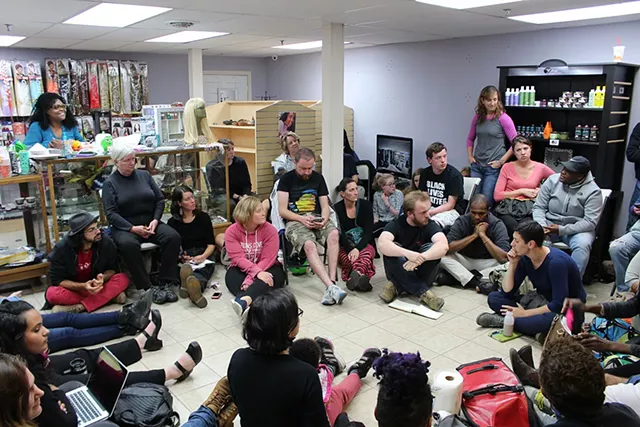 Paul Heintz
A Black Lives Matter-Vermont meeting Monday in Winooski
Jamell Rogers, a 28-year-old singer and songwriter who lives in Burlington, echoed the sentiment.
"What's on my heart right now is looking at this room and seeing people here that are willing to be part of the change," he said when he took the stage at ArtsRiot. "As a man, as a human, as a black man, that means the world to me to see people so supportive, coming out to listen, to learn, to educate ourselves, to help us with a part of our struggle."
Rogers singled out one audience member in particular: Sen. David Zuckerman (P/D-Chittenden), who is running for lieutenant governor. Half a year earlier, the musician and the politician had crossed paths at a substance abuse benefit concert in Barre.
"I met [Zuckerman] after the show and thought, 'This guy's pretty cool,'" Rogers recalled in an interview.
The two kept in touch and met again this summer at a Burlington coffee shop to discuss how they could start a conversation with a larger audience.
"I said, 'What we could do is give people the chance to talk,'" Rogers said. "'Why don't we give the floor over to community members ... to talk about not only racism but substance abuse?'"
Zuckerman agreed and set Sunday's forum in motion. In a promotional video his campaign posted on its Facebook page, the senator and organic farmer said the event was "about addressing our issues around racism in Vermont and how we can help alleviate these challenges that we're facing."
"We're going to have music. We're going to have fun. We're also going to hear stories and experiences from individuals," he said, promising the event would be "a good time."
Zuckerman's video didn't entice his Republican rival, Randy Brock, to attend. Instead, it drew a cutting rebuke from the former state auditor and senator. In an open letter he sent Zuckerman and the media Monday morning, Brock accused his rival of "trying to score political points by exploiting an incredibly sensitive and difficult national issue."
"Combatting racism requires leadership and maturity, not a political campaign rally with music, a cash bar and the promise of a 'good time,'" Brock wrote. "People in America are dying, David. Do you think it's appropriate to pass out lawn signs and pamphlets with your name and campaign logo on them at an event billed to be a conversation about the reasons behind those tragic deaths?"
Brock's missive was an extraordinary departure for a levelheaded politician better known for analytical op-eds than biting social commentary. It was an even greater departure because Brock, who is African American, has rarely mentioned race in his 12 years in public life.
"I don't get offended very easily. I have pretty tough skin," he explained in an interview. "But I found that entire approach pretty offensive."
Brock, who was born in 1943 and raised in Philadelphia, said that one of his earliest memories was of a childhood trip to the segregated South. At a train station in North Carolina, he recalled, "I went to take a drink from a bright, shining water fountain — and my mother held me back and pointed to a sign above the water fountain that said, 'white.'" She redirected the young Brock to a rusted fountain, marked "colored."
"I have a few memories like that," he remarked.
As a former police officer, Brock said he was "torn" over the Black Lives Matter movement because he had "seen this from several different perspectives."
"Often there are accusations made that police have behaved improperly when they have not behaved improperly," he said. "But at the same time, you look at the instances in which unarmed folks, who are often black, are either searched or shot in ways that probably wouldn't happen had they been white."
Unlike Nyoni, Mize-Fox and Hughes, Brock said he had not experienced racism in Vermont, despite moving "in very wide circles — from business people on the one hand to my neighbors up here [in Swanton] to the [National Rifle Association] crowd."
"That's why I live in Vermont," he said.
According to Brock, he's never believed his own race should factor into the political discussion.
"I haven't raised it, and nobody else has. It's no more relevant than the color of my hair — if I had any," he said, adding, "You can't legislate what's in people's hearts."
Despite his reluctance to discuss the subject, Brock said he felt it necessary to speak out after hearing Zuckerman and a supporter make remarks he found offensive. Brock pointed in particular to the way the ponytailed senator described internal biases in a July interview on Vermont Public Radio.
"Theoretically, all of us have to examine ourselves and how do we react when we see a person of color when you're walking down the street or a person with long hair or a person with any stereotypical characteristic," Zuckerman told the radio station.
"It trivializes the whole race issue here to make that kind of comparison," Brock said.
According to Zuckerman, that wasn't his intention.
"I was not trying to equate or compare, as he has indicated, that because I have long hair I face any level of injustice remotely that people of color do," the liberal legislator said.
And while Zuckerman admitted that he had handed out campaign literature and yard signs at Sunday's event, he said he did not widely publicize it — beyond the Facebook post — and did not intend to exploit the fight for racial justice for his own political gain.
"It really wasn't about me," he insisted. "It was about the community of color and the day-to-day opportunities and challenges they have."
According to Owusu, Brock raised some "valid points" in his open letter, particularly concerning Zuckerman's "long hair" remark.
"I remember hearing that and thinking that could be a little jarring," he said.
But the way Owusu saw it, Zuckerman's heart was in the right place.
"He has my backing, because whenever we talk about these issues, he says these will become a highlight of his platform if he becomes lieutenant governor," he said.
And, unlike Brock, Zuckerman took the time to reach out to him and his community, Owusu argued.
"If you can't come and be part of the process, then you don't know how it was represented or came across in the room," he said. "All kudos to Mr. Brock for his service, but on this issue he has not gone deep enough with his analysis to say that Mr. Zuckerman has politicized this event. I think it's far from it."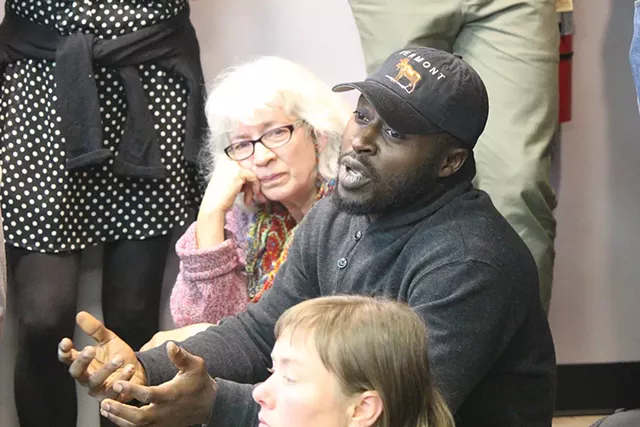 Paul Heintz
Edwin Owusu addresses a Black Lives Matter-Vermont meeting Monday in Winooski
For his part, Rogers recoiled at the notion that he had been exploited for political purposes.
"If anything, we were using each other to bring awareness," he said. "The people Zuckerman is going to bring to the table are people I'm not going to be able to bring to the table."
Rogers added, "I respect what Brock has to say, but we need to bring race into politics."
No doubt we do. But as Brock himself pointed out, it can be perilous to do so.
"I think a lot of people are very reluctant to talk about race because we so often create this political environment in which people can't honestly express themselves," he said. "And I don't think that's particularly healthy."
Zuckerman would surely agree.