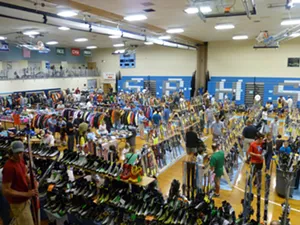 South Burlington High School's Ski Swap
The ski-swap season kicks off this weekend with the
South Burlington High School Ski Swap
from 9 a.m.-4 p.m. on Saturday, September 26. Below, SBHS Alpine Ski Coach Al Dworshak offers tips to help families get the most out of the swaps.
Get out all of last year's equipment and try it on. What still fits? What can be handed down to siblings? What is in poor condition? Make a list of things you need before visiting a swap.
Arrive at the sale early for the best selection. If you prefer a more relaxed atmosphere, the afternoon is a great time to come.


When looking for skis, check them over from top to bottom. If the bases or edges have minor scratches, they can easily be repaired. If there are any gouges, or the core of the ski is showing (it's usually a different color than the base), they can still be repaired but it will be more costly. Make sure there is no delamination along the sides of the skis where the layers of metal, fiberglass and wood come together. Next, hold the skis together and look down at them from the tip, then look at them from the tail, to make sure they are symmetrical. Is the binding solidly attached to the skis? Make sure there is no rattling.

[jump]
To pick the right size, recreational skiers should stand beside an upright ski. It should measure to your nose.


If you buy skis at a swap, always have them checked at a shop and fitted properly to your boots. A good deal at a swap is no excuse to compromise safety.


When looking for ski boots, remove the inner boot liner and slip your foot into the empty boot shell. Snug your toes up to the front of the shell. You should be able to slide one finger down the back of the shell between your heel and the back of the boot. You want a snug-fitting boot, but not tight enough to cut off circulation and cause cold feet. Are the soles of the boots worn on the heels and toes from walking in parking lots? If so, that can present a safety issue with binding release. Are the liners that you took out in decent condition? Are the tongues attached?


When you put the boots on, make sure that all the buckles are working properly. Sometimes there is a Velcro strap above the top buckle. Make sure it fits snugly. Tap your heel to the floor to get your heel into the back of the boot. Walk around for at least 10 minutes to make sure they're comfortable. You may even want to bring along your favorite pair of ski socks to try on with the boots.


If it's a snowboard you're in the market for, look carefully. A lot of good boards are passed over because they don't have flashy graphics or colors. "Plain Jane" boards are often pre-season prototypes from local manufacturers and are just as good as the top-shelf boards — at a fraction of the cost. Also, make sure the board you pick fits your ability. A lot of boards may be priced right, but they may not be right for your riding style.

Snowboard boots are not like ski boots. They should fit like a good pair of sneakers (albeit a bit stiffer).



Nordic skis, boots and poles and snowshoes are also available at many swaps. If you don't see what you're looking for, ask a volunteer.

OTHER UPCOMING SWAPS:
Colchester Ski/Skate Sale
Colchester High School
Saturday, October 3, 9 a.m.-4:30 p.m. and Sunday, October 4, 10 a.m.-2 p.m.
Smugg's Ski & Snowboard Sale

St. Michael's College
Saturday, October 10, 9 a.m.-5 p.m. and Sunday, October 11, 9 a.m.-2 p.m.
Montpelier Rec Department Ski & Skate Sale
Montpelier High School
Saturday, October 24, 9 a.m.-2 p.m.
Cochran's Ski Sale
Camel's Hump Middle School, Richmond
Saturday, November 7, 8 a.m. - 4 p.m., and Sunday, November 8, 10 a.m.- 2 p.m.
Consignment drop-off is Friday, 6 - 8:30 p.m.
Waitsfield Ski & Skate Sale
Waitsfield Elementary School
Saturday, November 14, 9 a.m. - 5 p.m. and Sunday, November 15, 10 a.m.-2 p.m.