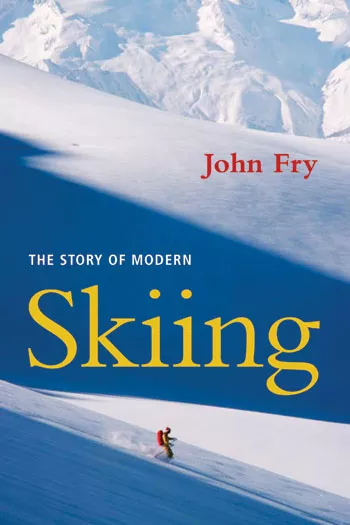 Envision "a macho sport that called for resolute participants willing to endure waiting times of forty-five minutes" before boarding a lift. "Tow operators often were willing to trade a ticket with anyone willing to pack the snow for an hour by sidestepping the hill first thing in the morning." Rain, meanwhile, left most participants pushing their cars out of thigh-high mud at the end of the day after shouldering their skis long distances.
Sound like a day at a Vermont ski resort with only a few trails open, earlier this so-called "winter"? Not exactly - this is how modern skiing began after World War II, according to John Fry, a longtime ski editor and part-time Vermonter. In The Story of Modern Skiing, Fry shares his unparalleled knowledge of snow business in a 380-page volume stuffed with history, photos and, as he points out, more than 500 footnotes and endnotes and an index filled with 1000 names and places. Whew.
"The files in my head are bulging with information and a perspective that probably nobody else has," says Fry in a phone interview, shortly before fleeing his home in Westchester, New York, for the snows of Colorado.
Fry is the former editor-in-chief of Ski magazine and the founder of Snow Country magazine, among other publications. He also helped launch the popular National Standard Ski Race (NASTAR) and the Graduated Length Method of ski instruction, which he tested at Killington. When the time came to put the cap back on his pen, however, Fry found that he still had more writing to do. "I felt that when I retired, it would be almost criminal of me just to walk away from the sport and not give something back," he says.
Modern Skiing began as a memoir; when publishers seemed cold on that idea, it morphed into a highly readable historical account. While Fry sprinkles the pages here and there with his personal experiences, the book is primarily about skiing's storied people and places - many of them in Vermont.
Modern skiing began just north of Burlington, according to Fry, in the folded hills around Montréal, where New Yorkers and Bostonians found more reliable snow than they did in the Adirondacks and Green and White Mountains. "Most Americans don't realize that many of the ideas - the ski trains, the rope tow, the first ski school - they were all in the Laurentians," says Fry, who discusses such Canadian contributions throughout Modern Skiing. "It's the first book not to treat the 49th parallel, on the U.S. border, as if it were a defining thing."
Skiing evolved from a primitive sport - with 45-minute lift lines, volunteer snow-packers rather than grooming machines, and washed-out parking lots - to a fashionable weekend activity. And Vermont's impact on that evolution was profound, Fry shows in his book. The first rope tow in the United States appeared at Suicide Six, near Woodstock, while instructors at Jay Peak pioneered the parallel turn. Walt Schoenknecht, who founded Mount Snow, widened ski trails in a way that would be imitated by resorts all over the country. (Happily, though, his plans to detonate an atomic bomb for a skiing amphitheater on one side of the mountain were never realized.)
"Vermont was enormously influential," says Fry. "It was also the popular place for people to go for a ski week."
Sun Valley, Aspen and Stowe were the three top destination resorts in the 1940s and '50s. For Eastern skiers, trips to Idaho and Colorado were often too much hassle, and the West's loss was Stowe's gain. It was "the capital of eastern skiing," hosting international ski races, Fry points out.
Among ski racers, Fry pays tribute to double gold medalist Andrea Mead Lawrence, whose parents owned Pico, and to the Cochrans of Richmond. Members of that family were all "coached by their father Mickey on a rope-tow hill in the back of the family's house in Vermont, where the kids could race daily through the gates." Fry likens former U.S. Ski Team director and World Cup creator Bob Beattie, who went to Middlebury College, to a combination of Vince Lombardi, Pete Rozelle and Howard Cosell.
Today, Whistler, British Columbia, typically wins top honors for post-slope partying. But Modern Skiing reminds readers that the word "hot" was once associated with New England's social offerings rather than its snow-shunning weather. As Fry writes, "In 1967, a third of America's dozen best après-ski places were in Vermont: the Wobbly Barn at Killington, the Blue Tooth at Sugarbush, Sister Kate's at Stowe, and the Five Flys in Manchester."
Modern Skiing also heats up economic and political debates. In five sections - "People and Place," "Technique and Equipment," "Alpine Competition," "Diversity" and "The Culture and Business of Skiing" - Fry examines not only the where and who of the sport, but also the why and how. He takes a long view that offers refreshing honesty and surprising insight.
One controversial episode Fry discusses is the 1977 ruling by a Burlington judge and jury that awarded $1.5 million to a skier who became paralyzed at Stratton Mountain. The decision led to increased insurance costs for resorts nationwide, along with a ban on dangerous aerial stunts during hot-dog competitions. It ultimately engendered an international circuit of freestyle skiers who held their own contests.
Fry's book covers the growth of other disciplines besides alpine skiing. He discusses Jake Burton and snowboarding, the ski ballet of Rutland's Suzy Chaffee - whose photo is an acute reminder that Spandex was once ubiquitous - and the ski-mountaineering accomplishments of Vermonter Jan Reynolds. Fry also includes the growth of Nordic skiing at Trapp Family Lodge, the achievements of Vermont's world-class cross-country skier Bill Koch, the launch of the first cross-country skiing magazine, Cross-Country Skier, in Brattleboro, and his own memories of using skinny skis on a Vermont golf course.
"A full moon washed the snow-covered fairways in an eerie pallor, and the Green Mountains were etched in jagged black lines against the sky," Fry writes. "I was able to gaze up at the winter stars and the alabaster full moon as I coasted along the surface of the snow as if in a dream."
Readers hoping to learn more about the 10th Mountain Divi-sion or international skiing lore will have to look elsewhere - The History of Modern Skiing offers little information on either subject. And, given the fragmentation of snow-sliders into telemarkers, mogul skiers, powderhounds, snowboarders and more, some may find other holes in Fry's narrative.
But with nearly 400 pages of material, Fry explains, he had to leave something out. "There's a virtual publishing industry of 10th Mountain Division books," he says. "And a European might criticize that my book focuses on North Americans, but that's who is going to buy it."
It's impressive how much Fry actually does pack into a volume that would fit in a skier's backpack along with a couple of sandwiches. Modern Skiing is full of helpful timelines, appendices and glossaries, along with ski trivia. For instance, Fry notes that Dr. Ruth Westheimer was skiing in the Catskills when she met her husband, a man who was short enough to ride the T-bar with her.
Other interesting tidbits: Difficult slopes were once designated by the color maroon - for blood, perhaps? - rather than today's black diamonds. Snakes, eggs and swallowing are images ski teachers once used to describe efficient turning technique.
While some of the ski facts are fun, so is Fry's voice, which occasionally pokes fun at the industry that spawned his own career. Chronicling the Olympic Winter Games, he writes, "Comparable to the notion that a sucker is born every minute is the quadrennial prediction by politicians - encouraged by audacious, avaricious developers - that the Winter Games will bring lasting benefits to any city that bids for them."
Fry also quotes John Kenneth Galbraith, the Harvard professor emeritus of economics, who believed Vermont's economy "was sustained by a succession of capital losses . . . Investors flee the city and buy old inns, ye olde shoppes, and ski areas; they lose money operating them; then they sell them to the next idealistic investors, who continue the cycle."
In the cycle of skiing, where does Vermont stand today? Fry says Stowe remains his favorite resort. And, while he laments the loss of the ski culture he recalls in Modern Skiing, he resists waxing overly nostalgic about the sport's past. "Ski equipment is better, so, like thousands of people, I was skiing better at the age of 50 than I was at the age of 20," he says. "The variety of skiing is better, the trail design is better, and the snowmaking allows you to ski when it was impossible before."
That is, when temperatures dip low enough for snowmaking. The author is unequivocal when discussing recent warming trends. "Emphatically, it's global warming," says Fry, who lives in a passive solar home. "It's very alarming; skiers, who are naturally environmentalists, should set an example in the kinds of cars they buy and how they design and live in their homes."