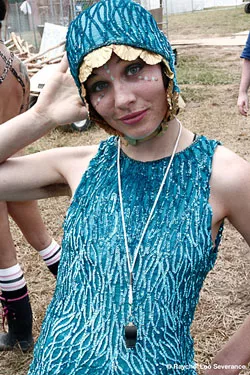 Trish Denton/Babette Bellowness
What happens when cabaret meets art school? Dr. Sketchy's Anti-Art School, that's what. This "school" pairs life-drawing classes with socializing, including booze, comedy, games and prizes. The models, its website promises, are culled from "the most beautiful burlesque dancers, circus freaks and the most rippling hunks of man."
Dr. Sketchy's, a vaguely naughty-sounding phenomenon that's spread virally around the globe, was founded five years ago in Brooklyn by artist and author Molly Crabapple. Finally, it's coming to Vermont, just in time to get us out of the house for mud season.
Waitsfield's Big Picture Theater is hosting a series of four such classes/events — the last Thursday of the month, March through June. The model? Trish Denton, aka Babette "Babs" Bellowless, of Burlington's Spielpalast Cabaret. "She'll just pose, not perform," says organizer Dot Greene, who learned about Dr. Sketchy's during a visit to Richmond, Va. "People do have to participate at some level," she warns, "not just stand around and gawk."
As of press time, about 10 people had signed up for Vermont's debut Sketchy event via its Facebook page. Greene says the venue can accommodate 50. Artists can use any medium and must bring their own supplies; music, model, tables and chairs will be provided. To contort a phrase from Dr. Sketchy's website: Sign up, grab your Bristol and get drawing!