Courtesy Of Lake Morey Resort
Frozen trail on Lake Morey at sunrise
For anyone whose vision of ice-skating involves tight loops at an indoor rink, dodging the flailing limbs of children and hearing "All I Want for Christmas Is You" blasted through speakers, the skating loop at Lake Morey Resort in Fairlee may come as a surprise.
The four-and-a-half-mile loop, which the resort touts as the longest outdoor skating track in the United States, traces the edge of the lake under open sky. On the interior of the lake, resort staff clear a dozen smaller rinks. And if you bring your own skates, it's free to enjoy.
File: Jeb Wallace-brodeur
Ice skaters on the lake
The family-owned Lake Morey Resort was originally built in 1905, though the building has since been expanded. In the summer, visitors might play a round of golf on its 18-hole course or take a hike at nearby Echo Mountain. In the fall, when there's not a pandemic, the resort's halls often fill with conference attendees. But in the winter, it's all about the ice, which is usually thick enough for skating by mid-January.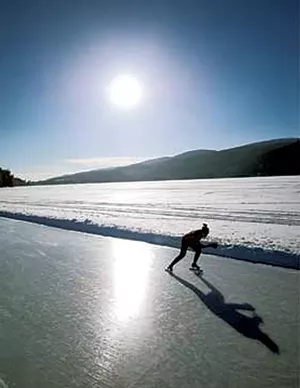 File: Jeb Wallace-brodeur
Ice skater on the lake
During a normal winter, the resort would host three separate pond-hockey tournaments for teams from all over New England, according to business development director Sarah Howe. On a sunny weekend day, there might be 500 to 700 people out on the skating loop. While things will look different this year, and hockey tournaments are on hold, Howe is hopeful that skating can remain a socially distanced winter outlet for locals.
"We think that people will be just as interested in doing it this winter as any other winter," she said. "It's one of the activities in Vermont that people can [still] do, especially as an alternative to skiing."

Courtesy Of Lake Morey Resort
A historic photo of summertime at Lake Morey Resort
Though the skating is free, the resort does rent out skates, helmets and more from a large ballroom by the shore. Mostly it rents Nordic skates, Howe said, which have longer blades that are flat instead of concave, so they don't cut into the ice as much. They're typically better for longer distances on rough outdoor ice, whereas hockey or figure skates offer better grip for stops and turns. Skate rentals are free for overnight guests.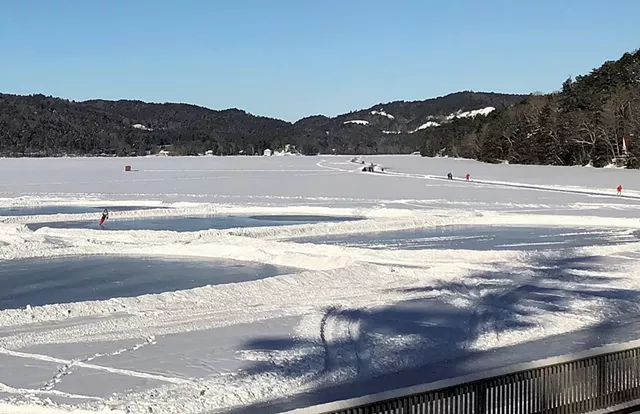 Courtesy Of Lake Morey Resort
Small skating rinks on the lake
Not everyone feels confident with their feet strapped to a metal blade, so the resort also stocks Kicksparks — sleds with handlebars and metal runners that originated as a means of transportation in Nordic countries. Users wear regular shoes and push themselves forward by kicking a foot back, balancing on the runners as they slide ahead. The contraption resembles a dogsled minus the dogs.
File: Caleb Kenna
Ice skater on Lake Morey
"It's an alternative for someone who maybe isn't comfortable on skates. [There's] less balance required," Howe said. "We'll have some people who maybe are disabled, and they'll use this instead."
For those who prefer an alternative kind of winter traverse, the resort's golf course will be open for cross-country skiing and snowshoeing, and equipment for those activities is also available for rent. If sitting is more your thing, Howe said many people set up ice-fishing rigs on the lake, complete with chairs and warming huts.
Courtesy Of Lake Morey Resort
Ice skaters on Lake Morey
Of course, the traditions around ice-skating — huddling up with a mug of hot chocolate and taking an indoor break to warm your toes, for example — will be different at Lake Morey this year. The resort's lounge is open for lunch by reservation. Except for guests of the resort, who must pledge that they're free of COVID-19 symptoms, skaters shouldn't expect to be able to use the restroom inside the building. As an alternative, the Town of Fairlee will supply public restrooms at the town beach parking lot.
Typically, most of the resort's guests come from outside the state, Howe said, so she's not sure how the winter season will shake out in terms of lodging. Visitors to Vermont are currently required to quarantine for two weeks. Howe said she wasn't aware of any visitors who were planning the kind of long-term visit that would require.
Courtesy Of Lake Morey Resort
Aerial view of the skating trail
The hotel itself is relatively unassuming, though it does offer a pool, a movie room and some truly psychedelic carpeting. The main attraction is undoubtedly the scenery, visible through wide windows surrounding the lounge. In some of the rooms overlooking the lake, the view from the windows doesn't even include the ground — just water, mountains and sky.
"It feels like a cruise ship," Howe said.
Courtesy Of Lake Morey Resort
Small skating rinks on the lake
Skaters should be aware that pond ice can be fickle. While the skating trail is regularly cleared of snow, the quality of the surface is dependent on the weather, Howe explained. The resort has a Zamboni for hockey tournaments but doesn't use it to smooth the trail.
"A warming day, where people are not using the ice, and then a hard freeze at night makes beautiful, flat ice," Howe said. "But on a beautiful sunny, warm day, you have, typically, a lot of people using the ice. Multiple days of that can create rougher conditions."
So, though it may seem counterintuitive, pray for a cold snap if you're planning a skating trip.