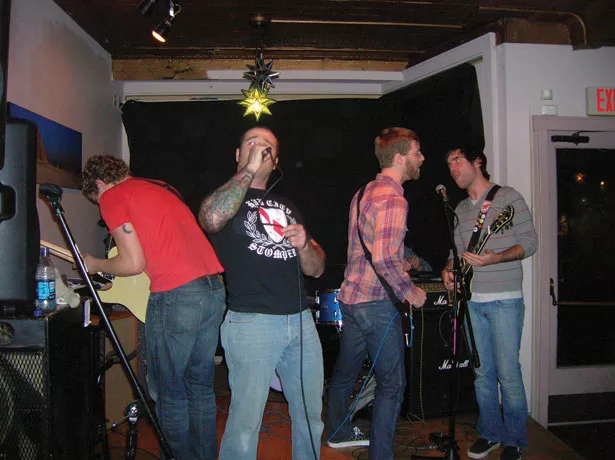 Playing ska music is inherently problematic for two specific reasons. First of all, the typical skinny-tie-wearing, porkpie-hat-clad outfit has, on average, like, 10 members. It's hard enough to coordinate the schedules of your average power trio, let alone a ragtag assortment of guitarists, keybordists, horn players, vocalists and dancers. Musicians are a notoriously flaky lot, and that's especially true of the band-camp flunkies who usually populate ska ensembles.
The second debacle owes more to the rudimentary nature of the genre and likely explains why its popularity ebbs and flows. Frankly, there's only so much you can do, musically speaking, when every rhythmic pattern is based on the upbeat. Perhaps not coincidentally, it's also the same reason that most current reggae bands tend to sound alike. Well, that and synapses dulled by extraordinarily good weed.
There's actually a third, if somewhat ancillary, problem: Coming up with a good band name that includes the word "ska." Best ska pun ever? Mephiskapheles. Hands down.
Local newbies Husbands address these issues - even the name thing, which they wisely ignore - head on. They have a mere five members - guitar, bass, drums, keys and vocals, no horns - so they're a relatively lean, mean skankin' machine. In ska terms, they're practically a solo act. And, Husbands borrow heavily from third-wave ska, a period categorized by the integration of myriad genres into the ska template, leading to an explosion of hybrids from the late 1980s through the mid-1990s. Specifically, ska-punk.
On a recent Friday evening, I journeyed to The Monkey House in Winooski to catch my first glimpse of Burlington's ska-punk revivalists.
I arrive with barely a second to spare. The first distortion-fueled riffs emanate from the stage in the corner just as the bouncer stamps my hand. (Which has yet to wash off, by the way. I swear, by the time I retire, the back of my right hand is going to have a quarter-sized black smudge still imprinted in it. That just can't be healthy.)
It's still relatively early in the evening, but a sizeable crowd has formed around the floor-level stage. I make my way towards the bar, zig-zagging through a throng of head-bobbing hipster types. No one's skanking yet - the only dance you're allowed to do at a ska show. But like I said, it's still early.
The evening has a decidedly PB Army feel to it, so I order a Pabst tallboy just as the band finishes its first number - a high-energy, if somewhat ragged, tune with a few rusty changes - and receives a modestly enthusiastic response. With little banter or fanfare, they launch into another song. And then another. Gradually, as the sound man irons out the mix - always a challenging endeavor at the Monkey - and the band loosens up, the sound solidifies. Still, no skanking. But the crowd is growing more receptive, the head-bobbing more pronounced.
Their fourth tune - I never was able to get my hands on a set list, or the full names of the band members - is an all-out oi! assault reminscent of The Bouncing Souls, with a nifty little rocksteady bridge. I'm beginning to feel a bit nostalgic and start to recognize influences en masse. My thoughts read like a "who's who" of third-wave ska-punk. Mustard Plug, Skankin' Pickle, Operation Ivy (duh), MU330, Voodoo Glow Skulls, Less Than Jake. The list goes on as bands I'd long forgotten about reenter my consciousness. It's as if Husbands are some sort of mystical time-traveling conduit to my teenage years. Which reminds me of my other favorite ska pun: Flux Skapacitor.
They tear through the remainder of their set, again with a healthy dose of raw-punk energy and a bare minimum of crowd interaction. No one ever does skank, as far as I can tell. Perhaps everyone else is awash in two-tone sentimentality, too.
Husbands are still a relatively new band and, as such, display many of the predictable shortcomings. Their changes are sometimes sloppy. Tempos surge and drag. The band tends to play like five musicians instead of one unit. These things take time, but if they keep playing, they'll no doubt smooth the edges. Judging from the studio tracks available on Husbands' MySpace page, they may have already.
But, with very few exceptions - Skavoovie & The Epitones and Let's Go Bowling come to mind - ska has never been about musical virtuosity. Nor has punk, for that matter. It's supposed to be fun. And in that regard, Husbands are a genuine throwback in the best sense of the term. Bring on the fourth wave.