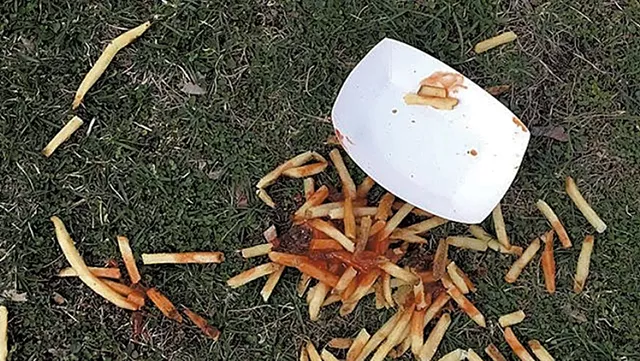 Today's standard first-year college student was born in 2001. When the first smartphone came out, this person was 6 years old. Generation Z, as today's teens and young adults are called, were the first to grow simultaneously with technology and, as a result, they often use the internet in ways that are foreign even to millennials, one generation older.
Snapchat streaks and "finstas" (google it) are concepts that can confound older Americans, even dedicated smartphone users. TikTok, a video-sharing app, is a booming online space dominated by teenagers. News outlets often mistakenly credit viral online trends such as "OK, Boomer" to millennials when, in fact, they originated with members of Generation Z.
Then there are the memes — the viral jokes that get shared and manipulated across social platforms. Often absurdist, and the more specific the better, memes have become an online diary, a platform for political commentary and a source of community connection, including among students on college campuses.
This fall, Seven Days covered Facebook groups at the University of Vermont and Middlebury College dedicated to sharing memes about the student experience. Yet another campus meme presence exists on Instagram. More than a dozen accounts with "UVM" in their name offer tiny, unique windows into college life, as students document extremely specific sights around campus, including bananas, socks and squirrels. The university itself manages none of these accounts; but if you search "UVM" on Instagram, they might just beat out the school's official presence.
Allow me to introduce myself: I was born in 1996, which puts me right on the cusp of two generations. (Yes, we're adults now, and they let us write for newspapers.) I am either one of the youngest millennials or one of the oldest Zoomers; regardless, it puts me in a position to observe both groups. Follow me, then, into the weird world of Instagram and college students. I will be your lantern in the dark.
@squirrelsofuvm
Squirrels and college campuses: It's a thing. From Rice University to Pennsylvania State, students and staff have dedicated Tumblrs and Twitters to the fluffy rodents who share their environment — often some of the only wildlife city dwellers encounter on a daily basis. They scurry, they steal food, they chatter, and they're one of the leading causes of power outages. This account is home to all of the squirrel content you could ever desire. The owner of the account put it this way: "I actually don't like squirrels that much. I started it ironically because they're just so strange. I began posting these pictures as a joke, but now it's a part of me ... Now people submit pictures of them to me everyday."
@uvmtrashcup
This account is dedicated to random scraps of dining-hall food mixed together in cups to form the kind of gross concoctions that build up in your drain stopper after you haven't done the dishes for a week. Why is it that when foods that are normally dry get wet, it's suddenly the most disgusting thing in the world? This account repulses every cell in my body, but as an objective reviewer I have to admit that it holds a certain terrifying power, like a train wreck or a magazine story about botched plastic surgery. I can't look away.
@uvmcampusbananas
Say you're in the mood for more than 300 photos of bananas in situations where bananas normally would not be. You've come to the right corner of the internet. Students submit photos of bananas from around campus: bananas on the ground, bananas on desks, bananas in showers, students dressed as bananas.
The owners of this account said in a message that they've started seeing bananas in strange places and that they truly have no idea why — but that's the fun of it. "I love the ones that make me wonder what on earth happened," they wrote. In November, due to the large influx of submissions, the owners of the account had to stop accepting photos of banana peels. Now only whole bananas make the cut.
@uvmsocks
I was initially suspicious that this was just a cover for someone's foot fetish, but the captions appear to reveal that this is just a sad, soft soul who loves funky socks. Carry on.
@stmikesfoodontheground
Did you think UVM was having all the fun? This account based at Saint Michael's College documents the bread crumbs of consumerism, the wasted remnants of human excess: food on the ground. UVM has its own version, too: @uvmfoodontheground. I still don't know who kept dropping jars of salsa out of the dorm windows during my sophomore year of college, but the memory haunts me to this day.
Honorable Mentions
@tinyhatsofuvm
Many moons ago, the hat du jour among hip youths was very large. Called the "slouchy beanie," it sagged off the back of your skull like a strange growth. But today, the pendulum has swung in the opposite direction: Hats are small. Very small. In fact, the beanie of 2019 probably doesn't even cover the wearer's ears. This is fashion, not frostbite protection. This account is dedicated to tiny, ridiculous hats. I'm a little worried that at some point @tinyhatsofuvm will mistakenly post a photo of someone wearing a yarmulke, and we, as a society, will be forced to collectively cancel the account. But until then, let's enjoy the ride.
@uvmdepressionmeals
Once when I was in college, the campus dining hall closed for spring break, and I was so broke I spent the week living off peanut butter and frozen vegetables in my dorm room. Then my grandma sent me a Subway gift card, and I nearly cried with gratitude. This account is a beautiful ode to all of the sad stuff that college students call a meal: animal crackers and a bowl of queso, plain chunks of artificial crab, Apple Jacks and plain Greek yogurt. The captions often include reminders about mental health services. Go ahead and eat your feelings, unless your feelings tell you to eat garbage, in which case talking about your feelings with a professional is probably the better approach.