James Buck
The Downes family
Life was still normal for Felix and Kermit Downes when the fraternal twins turned 5 on March 3. The boys celebrated at home, a three-story Victorian duplex on Burlington's Howard Street. They had cheese fondue for dinner and two cakes for dessert — double chocolate and lemon meringue, both with sprinkles. Their grandmother, Sharon, who lives in the downstairs apartment, watched them blow out their birthday candles.
Four days later and more than 100 miles away, the first Vermonter was diagnosed with the coronavirus. Not long after, the boys' preschool closed, and both their parents started working from home. The twins stopped visiting their "Mimi," knowing that a COVID-19 diagnosis for the 81-year-old, four-time cancer survivor could prove fatal.
To avoid the virus, the boys' parents, Keith and Michelle, followed the guidelines recommended by experts and took self-isolation seriously. They canceled plans with friends and only brought the boys outside to visit the playground — until that closed, too. Though state officials allowed restaurants to offer food delivery and takeout, the family cooked all their own meals at home.
The Downes did everything right, and then everything went wrong. All five members of the family and Sharon's roommate, Chris, contracted the virus, turning their germ-free fortress into a coronavirus hotbed.
While everyone in the Downes household is expected to recover, their experience shows how quickly the virus can spread under one roof, ravage the inhabitants' physical and mental health, and strain familial bonds.
"One of my initial reactions ... was just frustration and anger at not having control over it and feeling like what we had done didn't matter," Michelle said. "But it did. It [was] all we could do."
The dominoes began to fall when Chris, who asked to be identified only by his first name, developed flu-like symptoms on March 24. That day, Michelle went downstairs to ask whether Sharon and Chris needed anything from the grocery store. A few days later, Sharon got a fever, though she didn't tell her son, Keith, for about 10 days.
On March 28, Keith returned from a family hike up Snake Mountain more tired than he expected to be after such a short trek. The next day, chills and a fever crept in. The virus' signature dry cough rattled his chest for weeks.
As Keith got sick, so did his wife. Michelle came down with a splitting headache and couldn't take full breaths. Anxious and afraid, she lay down and told Keith to check on her to make sure she was still breathing.
Despite their severe symptoms, Michelle, Keith and Chris were all told that they didn't qualify for a coronavirus test, even though the Vermont Department of Health had recently relaxed its testing protocols. Keith was frustrated, he said, but not with state health officials.
"The national government has been negligent," he said, adding that Vermont officials "were doing the best with what they were dealt."
Meanwhile, the virus kept spreading in the Downes' house. By April 2, the twins were knocked down by fatigue. The next day, as Chris' condition worsened after more than a week of illness, he ended up in the hospital. He tested positive for COVID-19 on April 6.
With a confirmed case in the Downes household, doctors referred Keith and Sharon for a drive-up nasal swab test at the Essex Junction fairgrounds. By April 11, the results were back: Mother and son were both coronavirus-positive. Michelle's doctor told her she didn't need a test, since she was undoubtedly infected, too. The Downes assumed that both Kermit and Felix had COVID-19, though the twins weren't tested, either.
Nearly 1 million Americans have tested positive for COVID-19, including more than 800 in Vermont; 40 people in the state have died.
The Vermont Department of Health is not tracking the number of households with multiple COVID-19 cases, but it's well known that the virus spreads quickly in close quarters. The disease has killed nearly 20 residents of Vermont nursing homes and has infected dozens more at a state prison.
"Some respiratory viruses spread more easily than others, and unfortunately this one spreads pretty efficiently between people," said Patsy Kelso, the state epidemiologist with the Vermont Department of Health.
At the Downes' duplex, the two units share a fenced-in yard but have separate entrances. Sharon and Chris live in a 1,000-square-foot apartment downstairs, where they share a bathroom, kitchen and living room, high-touch places where germs thrive. Those conditions made it difficult for the roommates to avoid cross-contamination.
Keith, Michelle and the twins live upstairs, in a three-bedroom, two-bath unit of about 1,440 square feet. Even with a spare bedroom, the adults decided there was no hope of trying to outrun the virus.
"We were like, 'We're just all going to get it,'" Michelle said, "'and we're all going to be fine.'"
Despite toughing it out in the same building, their individual experiences with COVID-19 would be very, very different.
A Dad Finally Slows Down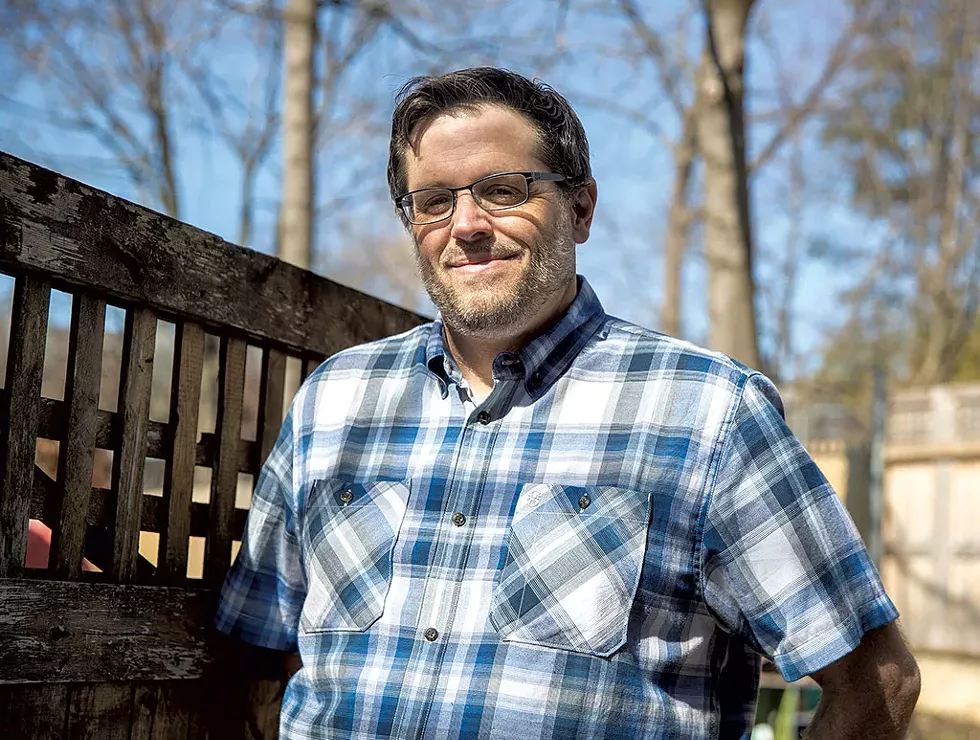 James Buck
Keith Downes
A serene beach vacation would be absolute hell for someone like Keith Downes. After he and Michelle married in 2010, the newlyweds honeymooned in Nepal, where they climbed a 20,000-foot mountain and explored the remote wilderness. He's run marathons and was on the crew team in college and graduate school.
Keith has slowed down since having kids, but even at 50, he loathes sitting still. For him, having the coronavirus was akin to being shipwrecked on the sandy shores of Bermuda. But instead of a beach, he was confined to his couch.
"I do not like to sit around the house," Keith said.
But that's all he's done since March 11, when his job as an energy-efficiency consultant at Burlington-based Guidehouse went remote. And then, two weeks later, he got sick.
It started with fever and chills, not unlike the seasonal flu. The symptoms waned after three days but then boomeranged back with a vengeance. For a week, Keith was so tired that he could barely leave the couch. If he tried to stand up, he'd collapse into a coughing fit that left him gasping for air.
He ate cough drops like candy but had no appetite for real food. He lost 15 pounds.
At the same time, Keith worried about his mother downstairs. After Sharon was diagnosed with throat cancer in 2014, her voice box was removed. She breathes through a hole in her neck and communicates primarily by writing messages on paper. Her roommate helps her make phone calls.
"If she felt as sick as I did, with her age and health condition, she'd be in the hospital," Keith said, adding, "I thought if she got it, there was a reasonable chance she could die."
Indeed, about 80 percent of coronavirus fatalities in the United States have been among adults age 65 and up, according to the Centers for Disease Control and Prevention. Older people with underlying medical conditions, such as Sharon, are at higher risk.
Keith also knew that his mother wouldn't take the threat seriously. She's fiercely independent and doesn't always take direction well. For instance, Michelle will ask her not to feed the twins sugary foods before dinner; Sharon will do it anyway. Or, as Keith tells it, Sharon ignored signs of throat cancer for so long that the disease was too advanced for radiation therapy to be effective.
Keith says his mom's laissez-faire attitude is "a virtue and a burden."
He's taken to watching her movements closely, like a parent waiting for a teenager who missed curfew. He was particularly annoyed when Sharon drove a very symptomatic Chris to the hospital, even though Keith insisted it was safer for him to be in such close proximity.
But for all of Keith's worries, his mom was able to beat back the virus, handily.
"She looks better than she normally does," Keith said dryly.
'Mimi' Shrugs Off Illness — Again
James Buck
Sharon Downes
Sharon Downes may not be able to speak, but she gets her point across well enough with pen and paper.
"Does no good to worry," Sharon wrote in a spiral notebook during a Zoom interview last week. She displayed the succinct message to the camera: "I took precautions."
Sharon sat at her dining room table while Keith helped facilitate the stilted exchange. She listened intently, looking into the camera. Depending on the query, she'd shrug or smirk as she crafted her response, licking her thumb to turn to a fresh sheet. The answers were usually no more than a few words.
Sharon thinks her roommate likely brought the virus home, but she can't be sure whether she caught it from Chris or the runner who coughed on her when she was out for a walk one day. Either way, Sharon only came down with a mild case.
"Not too bad," Sharon wrote. "Was more annoyed that I was tired."
Perhaps that's an unsurprising take for someone who's beaten cancer four times. With that perspective, a little pandemic doesn't seem so scary.
"Attitude helps," Sharon wrote. "I've had a very good life."
Before she moved to Vermont, Sharon and her late husband, Howard, lived in Miami, Fla. They adopted Keith when he was only weeks old. Sharon worked as a school teacher and then later with Howard, a landlord who leased small office spaces to startups. She used to take flying lessons, but Keith couldn't recall that she ever piloted a plane.
After Howard died in 2000, Keith dropped out of grad school and took over caring for his parents' second home in Stowe. He later moved to Burlington and bought the Howard Street duplex in 2005, two years before he met Michelle.
While Sharon was visiting Vermont in 2014, Keith noticed his mom's voice sounded different, and she had a bad cough. The symptoms heralded the cancer that would eventually steal Sharon's voice. In 2015, she had a laryngectomy and moved into Keith and Michelle's downstairs apartment.
Sharon signed up for HomeShare Vermont, a program that matches roommates based on compatibility. Chris, who moved in about a year ago, pays an affordable rent in exchange for helping Sharon make phone calls.
When she got sick with the coronavirus, her everyday activities became harder or impossible to do. After getting dressed in the morning, she would need to recharge on the couch. She had to postpone her physical therapy regimen, she said, displaying hand weights and colorful exercise bands for the camera.
Doctors told the Downes family that they can leave the house once everyone is symptom-free for three days. Sharon can't wait. She misses grocery shopping.
But she's also enjoyed the time she's spent with family. Because they all had the virus, they could dispense with social distancing; they even celebrated Easter together. Felix and Kermit hunted eggs at her apartment, and they played games and ate dinner together.
"Love having the twins," Sharon wrote, smiling. "They are a lot of fun."
The COVID Kids
James Buck
Kermit and Felix Downes
Kermit and Felix Downes aren't used to seeing their dad lie down all day. The engineer was normally busy, busy at work, but he'd recently been super tired. That actually wasn't so bad, as far as the twins were concerned.
"I snuggled with my dad a lot," Kermit said, bouncing on his mother's knee during a Zoom interview from their kitchen table.
Health experts believe children can better fight off the coronavirus than adults, though kids can still catch and spread it. Of the two blond-headed boys, Kermit showed more symptoms. He napped deeply, coughed at night and, as Felix described in an awestruck tone, "Kermit even throwed up in his bed!"
The virus also sapped Kermit of his typical competitive energy. Instead of racing Felix outside in the yard one afternoon, Kermit wanted to play the coach. It was a strange turn for the kid who always angles to be out front.
But enough about Kermit. "What about me?" Felix asked during the video interview, a mischievous grin spreading across his face. "That wasn't normal when I was just laying in my bed every day."
Aside from being sick, the virus changed the twins' normal routine. Their preschool, Stepping Stones Children's Center, closed in mid-March — so long ago that Felix says he can't remember what his classroom looks like. He misses his teachers and especially playing soccer with his friend Emmett, who, Felix admitted begrudgingly, usually wins. The brothers have been brushing up on their skills in the backyard, preparing for a rematch.
"We're gonna be really good players, because we're playing soccer a lot," said Felix, eyes wide.
They've also been getting more screen time than they're usually allowed. Michelle has taken to plopping the twins in front of the computer for virtual yoga classes. Or, when she needs a respite from their boundless energy, which is fully back after a few days' lull, she bends her own rules and lets the boys have a snack and watch a movie in the living room. She's met with confused, if not elated, looks.
"Sometimes, I kind of wish they weren't so asymptomatic and were a little more tired," Keith said with a laugh.
Just like their mom and dad, the pint-size pair has oscillated between joy and sorrow during this new age of the coronavirus. The boys were sad when the playgrounds closed but even sadder when they thought about their grandmother getting sick and going to the hospital.
"Mimi is an old person, and old persons don't usually beat it, but she might because she's doing so well," Felix said. "She's doing good."
How was she feeling now?
"Well, we haven't gone to Mimi's yet [today], but we could, right now," Felix said, considering.
"That's because she already had the coronavirus," Kermit said.
Added Felix, with enthusiasm: "And we do, too!"
A Mom Undone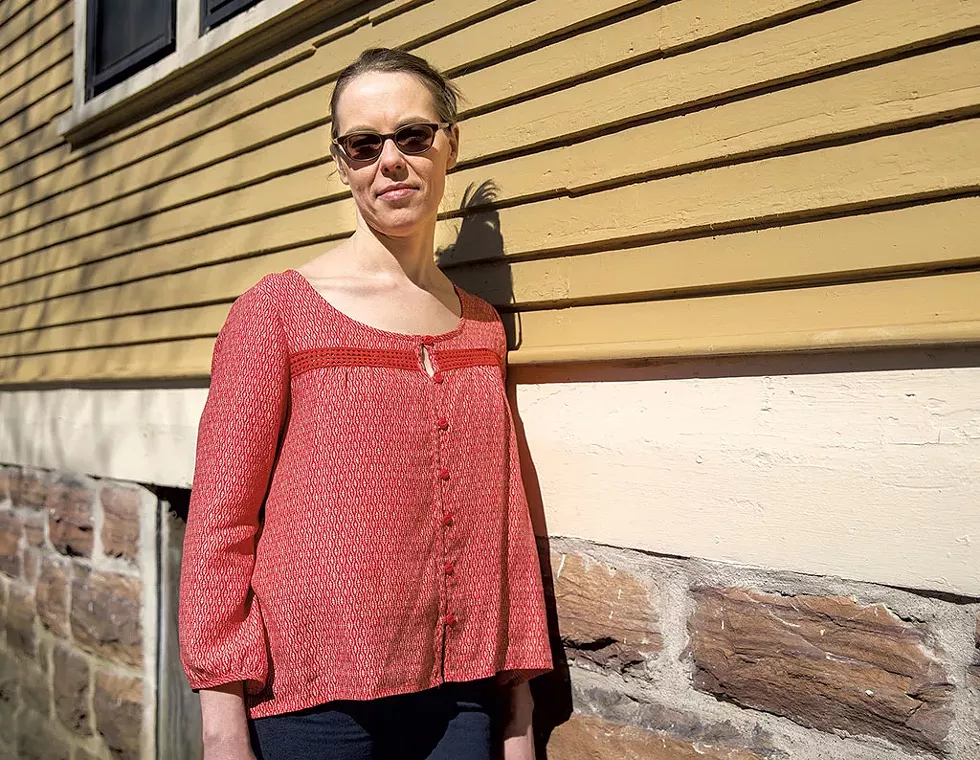 James Buck
Michelle Downes
Michelle Downes likes to have everything in order. She makes an expert grocery list. When the family vacations, Michelle can squeeze luggage in a small sedan like she's playing Tetris. The 39-year-old makes plans and executes them — skills she puts to use as a mom and as a project manager for IBM, where she's worked since 2003.
The coronavirus, though, upended Michelle's organizational tendencies and shattered her family's normal routine. She and Keith typically split household duties 50-50: One parent walks the kids to preschool each morning, and the other picks them up. Michelle starts the laundry, and Keith folds the clothes. They both cook meals.
Michelle already worked from home, so that was no change, but she was used to a quiet home office with few interruptions. Not anymore. The kids were around 24-7.
When Keith was at his sickest, Michelle watched Kermit and Felix for 14 hours a day, queuing up Winnie the Pooh to entertain them while she logged onto a work conference call. She couldn't toss the twins downstairs to their grandmother's apartment, nor could she unload them on Keith's cousin, who would sometimes babysit before social distancing became a thing. And, of course, Michelle was sick.
"It wrecked me," she said. "I was an emotional disaster."
Nothing was simple anymore. The Downes had stocked up on food on March 24, but they were running low on supplies after two weeks in quarantine. Michelle spent an hour scouring the virtual shelves in a local grocery store's online shopping portal but then couldn't schedule a curbside pickup. Another store's service was backlogged for two weeks, so Michelle asked if she could cut the line, seeing as her entire household was sick. The answer was no.
"To lose control of that ... was really overwhelming," Michelle said, adding that a friend eventually brought groceries to their house. "Having food is a basic need, and so it just felt like so much was falling apart for us."
In a way, it was. The Downes recognize that they've been spared the worst during the pandemic: They haven't lost income; they don't work on the front lines; they're all getting better. But Michelle wasn't prepared for the isolation that the coronavirus causes, even when trapped in a house with three other people. In her darkest place, Michelle craved what she couldn't have: physical contact with friends and family, and a confidant in Keith.
"It wasn't that he was completely unavailable," she said, "but our relationship was suffering."
Keith and Michelle met in 2007 through a mutual friend. Michelle eventually moved to an apartment around the corner from Keith's house, and soon enough, she spent more time there than at her own place.
During their quarantine, the couple's bond began to fray. Michelle started to distance herself from Keith. Everything he did annoyed her, from how he parented the twins to the way he ate dinner. Michelle started questioning whether they ever had anything in common, until it dawned on her that her aggravation was a symptom of fear. She was afraid her husband might die.
"It's not a nice thing to think, but just recognizing it made it OK to feel that way," Michelle said.
As they were healing from the coronavirus, the couple started healing their relationship. They carved out time for one another; they watched "GLOW" on Netflix after the kids were asleep. And Michelle worked on her self-care by doing yoga and having virtual cocktails with friends.
Michelle realized that her anxiety paralleled how she had felt when her mother-in-law was diagnosed with throat cancer. Michelle, Keith and their newborn twins were with Sharon when the doctor explained that she'd lose her voice.
"She was just deadpan, fine, and I'm like bawling my ass off," Michelle recalled. The same dynamic holds today, she added: "I'm overprotective of her, and she's more fine than I am."
Michelle knows her family was right to take precautions against the coronavirus, but in hindsight, she envies her mother-in-law's carefree approach.
"I do wish I had worried less," Michelle said.
Late last week, Michelle was relieved of at least one worry. The grocery store called. A package of food would be on the Downes' doorstep the next morning.
The Renter's Recovery
The view wasn't great from Chris' hotel room, but he had no complaints. For about a week, the fiftysomething was holed up on the fourth floor at the Holiday Inn in South Burlington, which overlooks Interstate 89. The hotel has been transformed into a 150-bed recovery center for coronavirus patients with no suitable place to self-isolate.
Apparently, Chris fit the bill. All of his family lives out West, where he was born and raised. Post-high school graduation, Chris served two terms in the Air Force between 1985 and 1992 before going to college and graduate school. In 2017, he was offered a spot teaching executive leadership courses at Champlain College.
"I thought, Wow, Vermont. I've heard of Norman Rockwell, so let me see what it's like to live in New England," Chris said.
He quickly learned that rent isn't cheap, so he signed up for HomeShare. He also switched jobs and took a position as a social worker with a company that contracts with the Vermont National Guard. He helps service members access financial and marriage counseling, among other programs.
Chris was putting in normal shifts until he was directed to telework on March 23. He started sneezing the next day. Even though he figured it was just allergies, he stayed mostly in his room, coming out only to use the kitchen and bathroom he shared with Sharon. Then came the fever, chills, and complete loss of taste and smell.
At first, Chris was told he didn't qualify for a coronavirus test. But his symptoms progressively worsened, and doctors at the White River Junction VA Medical Center decided that he needed to be tested and, ultimately, admitted for treatment. After four days in a negative pressure room, Chris was discharged to a hotel designated for coronavirus recovery.
Just as Chris thought he was getting better, the virus roared back, igniting a burning sensation in his chest. His arms hurt, and he felt like he was suffocating. What the hell is happening here? Chris recalled thinking.
He went to the University of Vermont Medical Center emergency room and ended up staying for four days. This time, doctors put him on oxygen.
"You feel like your life is on a razor's edge," Chris said. A hospital is "not a place to aspire to be for any length of time."
As the Downes family healed together, Chris recovered in a hospital bed. Being treated for COVID-19 is a lonely experience, Chris said, but it helped that he had doctors and nurses who cheered him on daily. "You're not alone," they told him. "There's a better day." The medical staff are his heroes, he says.
Without that kind of support, "I could see how many people just succumb and just die off," Chris said. "It does become a psychological battle, because you do think, Wow, am I ever gonna get over this?"
It seems like he will. Chris has been coughing less and less, and he hasn't had a fever for a few days. Now that he can taste and smell again, Chris reported that the catered hotel lunches were actually quite good.
It was quiet there, too. He didn't see any other patients, and he only heard workers softly padding down the hallway, making their rounds. Chris was grateful that doctors referred him to quarantine and rest there, even though the Downeses were already sick. Now that he's nearly symptom-free, he left the hotel and returned home on Monday evening.
While Chris was laid up in bed, his brother, whom he hadn't spoken with in years, called to check in. Chris confessed he was frightened that maybe he'd beaten back the virus only for it to return. Even now, when he feels so close to being well again, Chris is skeptical that he's banished COVID-19 for good.
"It's just a wicked little virus," he said. "I hope it's finally all over."


---
Curious about what it's like living at home with COVID-19?
Watch a panel of local experts discuss best practices on this previously recorded Facebook Live video.
Panelists include:
Epidemiologist Patsy Kelso (Vermont Department of Health)
Dr. Jan Carney (associate dean for public health and health policy with the UVM Larner College of Medicine)
Michelle Downes, a Burlington mom whose family has been living with COVID-19