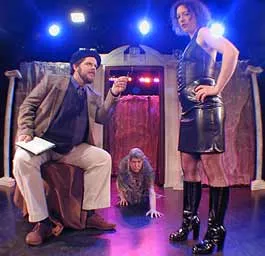 If you want help unraveling the knot that is The Probable Pirandello's Wife, playwright Herb Propper is the last person to ask. "Why don't you see it yourself and tell me what it's about?" he says with a guffaw. "I think it's a metaphysical exploration of really complex, neurotic, erotic relationships between people and their imaginations."
Right.
The plot of the play, per-formed this week at Burlington's FlynnSpace, is slightly less abstruse than Propper's description. Luigi Pirandello was an acclaimed Italian playwright, most famous for his clever "dreamedy," Six Characters in Search of an Author. In Propper's account, Pirandello is already famous and lives in a remote villa with his troubled wife, known here only as "Wife." In each scene, a new character enters — a schoolgirl, an old man. But while they interact with Pirandello and his Wife, talking, arguing, even seducing, these characters aren't real. They are fantasy friends, either invented by Pirandello's overactive imagination or his Wife's delusional mind.
The play takes this strange fact for granted: Most of these ghostly characters will gladly admit they don't exist. The Wife has conjured up a lover, a young cavalier with a mane of black hair, but she is always facing away from him. The script offers little explanation for these strange beings, who demand more attention as the play progresses and slowly, torturously tear the Pirandellos' marriage apart.
Propper is a professor emeritus at Johnson State College, where he still teaches theater off and on. Back in his own college days, he scored a role in Six Characters and fell in love with Pirandello's heady, unpredictable prose. He has penned four of his own plays since.
This latest project began a couple years ago, when he began to wonder what Pirandello's wife was like. Much like Zelda Fitzgerald, she is remembered only as the loopy spouse of a famous writer.
Casting the couple — or any historical personage — is a unique challenge for a playwright. Fortunately, Propper is well equipped for the task. Aside from teaching theater history, he is also certified in psychodrama — a method of therapy that encourages clients to "act out" their fears and emotions. What he calls "spontaneous theater" has enriched his script with improvised psychology and opportunities for characters to interact with the audience and with onstage ghosts. Although Propper calls his play "an ongoing work in progress" and an "experiment," his dialogue achieves the "sort of poetic" ring that he admired in the original Pirandello. Characters deliver riddlelike lines that are as provocative as they are ambiguous. "Sometimes," the Wife says to her daughter, "I wish you were a ghost so you could haunt me."
"I really have no idea what people are going to feel like, seeing it," Propper concedes jovially. "I'm interested in hearing their reactions."
The actors from Green Candle Theater are mumbling to themselves as they pace in erratic circles around the FlynnSpace. Each actor is lost in thought, struggling to remember lines. Tracey Girdich flips through the hefty script in her three-ring binder as Jillian Mack searches the rows of chairs for her mug of coffee. Meanwhile, Bridget O'Connor wanders along the aisles, chuckling to herself: "I should really be looking at my lines. But I guess I should already know them by now, right?"
It's the first tech rehearsal for Pirandello's Wife, and the actors are running through the whole show for the first time in the black-box FlynnSpace. The set is minimal: a doorway, a few freestanding pillars, a birdbath, a potted plant and two office chairs. These unassuming objects will provide the ingredients for the morbid lust and madness of Pirandello and his Wife.
Propper actually lets you read their minds. "I love seeing what people are thinking," says the energetic O'Connor, who plays Pirandello's aloof daughter, one of the three "real" characters. "When Pirandello thinks of someone, they're there."
Playing an imaginary "Father,"Seven Days political columnist Peter Freyne echoes O'Connor's zeal. "Listen to the way the words bounce. They bounce!" He giggles at the notion. "Plays can't just be 'fuck you, fuck you.' I started reading the script and I couldn't stop."
John Carl plays the Wife's fantasy lover, a challenging role for anybody: At one moment, he's a smooth playboy. When she wills him to be younger, he morphs into a naïve adolescent touching a woman for the first time. Then, inexplicably, he transforms into a goose-stepping fascist, speaking with a comical German accent.
In real life, Carl is an easygoing guy with sleepy eyes who manages a comic book store in Burlington. And how does he feel about not being real?
"Whenever you're acting, you're not real," he suggests. "But the role is liberating, really. The play is being created while we do it. And Tracey's given me a lot to work with."
Indeed, Girdich might be the shining antihero in this magically dark play. A Circle in the Square veteran who plays the Wife, she has a personal attachment to the show: As Green Candle's artistic director, she pushed to have the script produced, and has embraced Pirandello's Wife with tenacious affection.
"I like the power," Girdich says, "the challenge of creating a mutable character."
The mutation is more than a descent into madness. The Wife and Pirandello squabble over possession of their imagined friends, passing them back and forth like tennis balls.
This is not your average community theater fare.
And Green Candle is not a professional — that is, paid — company, therefore limited rehearsal time has left some kinks to work out. Cook is a seasoned actor but a new and relaxed director, so the company's warm-ups are short and simple — breathing exercises and some basic improv games. Even as they perform, each actor has trouble projecting into FlynnSpace's terraced seating, their words lost in the air by poor acoustics. Alex Ball, who plays Pirandello, could use some coaching — his style is offhand, even indifferent. For a tormented artist in an unpredictable world, Ball needs to be more, well, ballsy.
But for a mostly amateur cast, these actors are giving the play the devotion and seriousness it deserves. They understand the ideas of the work; all that's left is to find the gut-level emotion of it.
Girdich is finding that intensity now. Two minutes before the cast will begin its dress rehearsal, she's sitting alone on one of the office chairs, dead center-stage. With legs crossed, she remains still as the crew tests the lights above her. The changing spotlights cast shadows across her face, accenting her cheekbones, then her eyes, as she scans the empty horseshoe of seats around her.
An ominous, old-timey piano tune plays through the backstage speakers. On this bare, lonely stage, you can almost see the confident Girdich transforming into a less certain person, as if the unfinished set reflects her character's derangement. Suddenly, she abruptly stands and flutters backstage. Girdich has vanished fully into the mind of Pirandello's Wife.