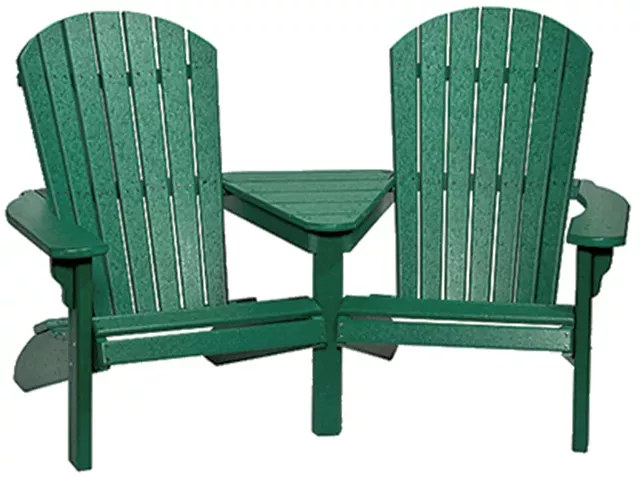 The Fan Back Settee from Livingston Farm
Although the Adirondacks are located in New York, the chair named after the mountain range has become an icon of New England — particularly of the region's summers. From the 9-foot-tall red chair that graces the lawn of Wendell's Furniture in Colchester to the clusters of yellow Westport models dotting Middlebury's Bread Loaf campus, Adirondack — or Adirondack-style — chairs are a Vermont classic, too. Nest checks in with three local purveyors of the outdoor staple to learn more about the chairs' materials and history, as well as about customer favorites.
Lamoille Woodcraft
5075 Route 7, Ferrisburgh, 877-9239; 992 Route 15, Hyde Park, 888-6653
A blue poly chair from Lamoille Woodcraft
Clint Coakley joined the Mennonite Church when he was 22 years old. At the time, he was a statistics professor at Virginia Tech — but, as he says by phone, he became "increasingly uncomfortable in that environment as a Christian and Mennonite." That's when, he adds, "I began looking for something else to do."
Encouraged by members of his church, Coakley started teaching himself outdoor furniture making. After a five-year search for a place to settle down, he and his family moved from Virginia to Wolcott, Vt., in 2001. He established his woodshop and business in the neighboring town of Hyde Park — and Adirondack chairs were one of the first items he sold.
Lamoille Woodcraft opened its second outlet, along Route 7 in Addison County, in 2012. Here, visitors can find single Adirondack chairs, as well as benches and settees, available in both wood and poly — a type of recycled plastic. On a recent visit to this location, a shop assistant explains how, over time, a chair made from Vermont white cedar ($199) will weather from yellow to a silvery gray.
Coakley's second wooden option is made from pine, which can be sealed. Both woods are less expensive than their poly counterparts. The store's best seller is a deep-green poly single chair ($299). "It's very fitting here in Vermont with the landscape," Coakley says. "It's a very natural color."
Livingston Farm
"'Adirondack' is a very loose term," says Livingston Farm office and yard manager Tina Coleman. The store, at the intersection of Route 116 and Stony Hill Road in Bristol, entices passersby with a rainbow of Adirondack-style chairs made from poly. The Fan Back Folding Chair ($290) is the company's most popular item, and no wonder: It can be ordered in 20 colors, from lime green to imitation cherry, cedar or "weatherwood."
Owned by Dave Livingston of Bristol, the business has occupied its current location since 2006. Over the past decade or so, Coleman says, buyers have gradually come to favor poly chairs over the traditional wooden ones. The recycled plastic, she explains, "lasts and lasts and lasts" and requires "zero maintenance." In fact, poly is so popular that Livingston Farm no longer keeps wooden chairs in stock on-site; they have to be specially ordered. Rockers, gliders, settees, ottomans and tables are available, too.
Sterling Furniture Works
Sterling Furniture Works' cypress Westport chair
When Marc Leone joined Burlington's Sterling Hardwoods in 2010, he brought a whole new department with him: custom furniture. Owned by David Wilson and Bruce Schulman, the South End company has been in business for about four decades. Today, Leone keeps busy with a little bit of everything, from designing and fabricating replacement architectural elements to making custom dinner tables, cabinets and retail fixtures. A recent job was the handsome wood counters for the shop's next-door neighbor, Speeder & Earl's Coffee.
Currently, Sterling Furniture Works offers only one outdoor chair design: the Westport ($350). Staff usually refer to it as their "lawn chair," Leone says during a recent visit. The studio's floor models are made from — what else? — hardwoods: reddish cypress and walnut. The cypress, Leone says, has proven longevity and weathers to a nice gray over time.
He also notes the Westport's comfort and striking visual appeal. "True Adirondack chairs are way more boxy," Leone says. "There's a lot more angles and slopes on them." Sitting in the Westport situates one's hips below the knees, he elaborates, while a "true Adirondack" chair has a flatter seat. Does it matter? "If [a customer] knows the distinction," Leone says, "they tend to be really clear about it."