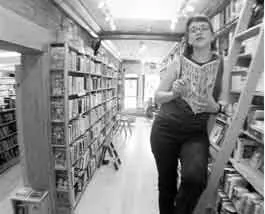 Matthew Thorsen
Kerrie Mathes at Crow Bookshop
A woman's monthly "period" starts and she can't find a tampon! Before long, her human body shape-shifts into a Godzilla-like creature that terrorizes the city. Blood surges through the streets, until she reaches a pharmacy with a supply of the secretion-absorbing plugs. Her PMS-induced nightmare is over.
This scenario — which every female past puberty can probably relate to — comes from Heavy Flow, an "alternative" comic book by Julie Doucet. This isn't your mother's cartoon fantasy. Like many other works in a thriving underground genre of comics, it has a new and darker dimension.
"Julie's storytelling is about real-life issues," suggests Sarah Ryan, a 31-year-old Colchester resident and serious comics devotee. "It's very liberating."
Ryan and her friend Kerrie Mathes are among a growing number of local aficionados who appreciate these literary comic books and graphic novels. Although such material is rooted in an art form that traditionally attracts young male readers, the demographic seems to be changing.
"Even little old ladies buy them now," reports Mathes, 30, whose job at the Crow Bookshop in downtown Burlington has allowed her to stock the shelves with these illustrated volumes — though the remainder of the store's inventory is used books. "Many of the artists are in their thirties and forties or older," she says, "but still produce work that can reach all ages."
The medium of comics has gained respect, Mathes adds. Cartoonists like Art Spiegel-man, Daniel Clowes and Chris Ware contribute to the New Yorker magazine. Spiegelman won a 1992 Pulitzer Prize for Maus, an autobiographical look at how his Jewish family — depicted as mice — fared under the Nazis.
Scott Witmer, a recent University of Vermont graduate, is fond of Joe Sacco's graphic novels. "It's really comics journalism," explains the 22-year-old enthusiast. "He gives first-hand accounts from places like Bosnia and Palestine. When he interviews someone, he'll draw them. No matter what's being said, that keeps their identity safe because they're just cartoons."
In one panel of Safe Area Goradze: The War in Eastern Bosnia 1992-95, Sacco chronicles crimes against humanity. A man observes civilians, presumably Muslim, being led away by Serbian police: "They saw a young couple, a husband and wife… They took them from the bus… They never came back."
Not all alternative comics are socially relevant, or even angst-ridden, however. "Some are light-hearted," says Mathes. "There are more simplistic styles, too, almost like 'Peanuts.'"
But one entity has no place in the world of adult comics: the superhero. "I find them offensive," Mathes says of the preternaturally muscular champions and their busty babes.
Earth Prime, also on Church Street, caters to the action-adventure market with a selection of guy-friendly comics and corresponding merchandise.
"I was never into Marvel," echoes Ryan, referring to the publishing empire that foists Spider-Man, Captain America and the Incredible Hulk on a public obsessed with BLAM! CRUNCH! KER-POW! violence.
---
In Ghost World, a short graphic novel by Daniel Clowes that was adapted as an independent film last year, an adolescent named Enid has a particularly sour outlook: "I hate this fucking magazine," she says, while thumbing through her pal Rebecca's copy of Sassy. "These stupid girls think they're so hip, but they're just a bunch of trendy stuck-up prep-school bitches who think they're 'cutting edge' because they know who Sonic Youth is."
GADZOOKS, she's cynical.
"There is freedom of expression in these comics," Ryan notes.
Consequently, they're in a section marked "For Grown-Ups" at the Crow Bookshop. "People don't understand that the word 'adult,' in this case, doesn't mean pornographic," Mathes explains. "They're just mature in terms of content."
Witmer points out that the notion of comics as a child's pastime has been turned on its head: "This is almost subversive because the format itself is so accessible, so easy to read."
Comic books have a checkered history. In the 1950s, when paranoid McCarthyism was in full throttle, a U.S. Senate subcommittee on juvenile delinquency investigated suspect artists for corrupting the morals of American youth. In a few instances, careers were ruined. A code of ethics was devised, fostering censorship.
But many comics have long been considered family fare. Before television came along, each strip in the Sunday "funnies" was a full page — as opposed to one-third of a page or less these days, Witmer says. "People looked forward to them as a regular form of entertainment."
Some of the UVM alum's knowledge on the subject can be traced to the independent study he designed for his final semester, titled "The History of Modern Comics." Witmer, a Delaware native, recalls, "I had a hard time finding someone at the university who knew anything about it to advise me. Finally, I got a professor of Islamic and Chinese studies. Comics were outside his area of expertise, so he got a whole new education."
Mathes earned an A in her a writing class at Community College of Vermont last year for a 14-page paper, "My Life in Comics." In one passage, she quotes a comic critic describing the "stereotypical" reader as "a nerdy teenage boy with fantasies of rescuing Amazonian, scantily clad helpless damsels in distress."
Amazonian would seem to apply to both the standard superhero side-chick and the typical target of a Robert Crumb piece. He has always demonstrated an affinity for full-bodied, big-buttocked women — frequently headless and in lewd positions. Even so, many alt-comics folks admire the eccentric artist, best known for his "Fritz the Cat" series and the "keep on truckin'" perspective of his '60s-era character, Mr. Natural. In a classic cartoon, the bearded sage declares to a clueless fellow: "Come here, I'll let ya in on a little secret! The whole universe is completely insane!!"
---
Crumb was the title of a 1994 documentary by Terry Zwigoff about the cartoonist's oeuvre. The same filmmaker directed the movie version of Ghost World.
Although Spider-Man and its ilk continue to interest Holly-wood, graphic novels are now being snapped up for the big screen. Road to Perdition, which opened last week, is derived from a graphic novel by Max Allan Collins and Richard Piers Rayner.
While Perdition presents a bleak 1930s tale about gangsters, it's practically giddy compared with My New York Diary, by Montréal-born Julie Doucet. Her journal is unlikely ever to be captured on celluloid. "Might as well study what I like," mutters Doucet's alter ego, a Reagan-era art-school student. "It's all so absurd. And when I think about the bomb over our heads… It's a horrible world and nobody cares."
Similar themes drove Mad Magazine, another early inspiration for many in the comics culture. "My grandmother had a collection of Mad," Sarah Ryan remembers. "I liked the political satire and really loved the drawings, especially by Sergio Arago-ness. He'd put little visuals in the margins."
The margins of society are a comfort zone for "sequential art," as graphic novels have been called. Nonconformity plays a big role in this demimonde. "That's how I got into it," confesses Mathes, "by feeling outside the mainstream."
That sensibility is evident in Eightball, by Clowes, a bizarre mixture of contemporary topics underscored by the true story of Leopold and Loeb, two wealthy young Chicago men who committed what they hoped would be the perfect crime in the 1920s. The book is rife with irreverence and misanthropy, such as when comics critic Harry Naybors is questioned by a well-read detective investigating a child's murder: "Do you remember what Chekhov said about critics? Something about a swarm of horseflies, wasn't it?"
---
"Comics are a great outlet for creative people," Sarah Ryan contends. One glance at Chris Ware's Jimmy Corrigan, the Smartest Kid on Earth provides ample proof. The folded dust jacket opens up to reveal a sort of board game with diagrams, doodles, Kama Sutra-like line drawings, quirky text and at least one shopping list. As a portal to the author's complex thought process, it's an intriguing brainteaser.
Ware has dubbed his 380-page effort "a new humorous fiction." He also absolves "the fashion-conscious reader of common guilt feelings associated with the public consumption of garish and lurid children's literature."
Ryan accepts that absolution. "Comics have always been such a kiddy or teen thing, so there's a lot of crap out there," she says. "But it can be a thinking woman's piece of art."
That's precisely what Mathes discovered, after encountering a comics-fueled synchronicity as she prepared to move from Iowa to Vermont in 1996. A letter arrived from a stranger, James Kochalka, one of this area's most popular cartoonists.
"He had seen my fan letter in a comic book called Silly Daddy," Mathes recalls. "He wrote, 'I just want more girls to read my comics.' I wrote back, 'I already do read them and, by the way, I'm moving to your town in a month.'"
Since then, they've become friends. Kochalka even included Mathes in his 2001 The Sketchbook Diaries. "For some reason, he draws me with horns," she says, laughing. "But that's OK. James gives himself elf ears and makes his best friend, Jason, a dog."
Mathes sees to it that the Crow Bookshop, where she's worked for more than four years, carries an assortment of alternative comics and graphic novels. Just across Church Street, Borders has a few adult-titles shelves dominated by superheroes and Japanese anime.
Several minutes of searching yields a few nuggets. A Contract with God and Other Tenement Stories, by Will Eisner, is a 1978 book that reflects his memories of growing up in the Bronx during the 1930s. A blurb on the cover boasts that he "revolutionized sequential art."
Eisner's work is quite wonderful, but surely R. Crumb ought to share in some of that acclaim. On the other hand, the idiosyncratic cartoonist would probably not expect much, since he knows the universe to be completely insane. And that's no laughing matter.