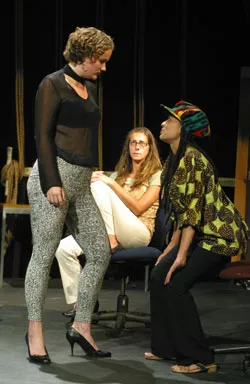 Nicole Starrett, Cael Barkman and Anita Natarajan
Writing under a pseudonym, an author wields words more freely than he might under his own name. Pamphleteers during the American Revolution challenged British rule with gallows-risking rhetoric. Bloggers today opine, gossip and break news in ways that might jeopardize their day jobs. But with outrageousness all the rage on the modern American stage, why would a contemporary playwright adopt a pen name?
Jane Martin's plays frequently center on women's issues. Keely and Du (1993), a wrenching study of the intense passions surrounding abortion, earned her a Pulitzer Prize nomination. Still, the reclusive Kentucky writer has never appeared in public or given an interview. She releases statements only through Jon Jory, who directed the premieres of most of Martin's works when he headed the Actors' Theater of Louisville.
But Martin's mask may have slipped with Anton in Show Business (2000) — Jory's directorial swan song after 31 years at the ATL. The script's satirical skewering of regional theater — Jory's home turf — led The New York Times to ask him directly if he was Jane Martin. "Oh, I can't tell you that," he demurred. Martin-watchers considered Jory's coy non-denial a tacit admission that "Jane Martin" is his nom de plume. In politically correct times, perhaps a Jon felt he could write more boldly about women as a Jane.
Anton in Show Business mixes brazen theatrical stereotypes with a sensitive look at sisterly bonding. It further stirs the gender pot by having the all-female cast also play male characters. In the Waterbury Festival Players' current production, F. Reed Brown skillfully directs a spirited ensemble in the quirky farce. Most of the actresses embrace their roles with gusto. But the script also has eye-rolling elements that are too "inside baseball" even for a theater critic who is, ahem, inside baseball. They stop the dramatic momentum cold, through little fault of the team on stage that is doing its best to power through the playwright's excessive navel-gazing.
Anton's lead characters are a mismatched trio of actresses, traveling to San Antonio to star in a regional production of Anton Chekhov's Three Sisters. Holly, an ultra-glam TV starlet from L.A., seeks to boost her classics cred as a way of jumpstarting a film career. Casey, veteran "queen of off-off-Broadway" from New York, has done 200 plays without garnering a paycheck. Lisabette, a perky Texas native and recent drama school grad, is greener than her mom's garden okra when it comes to the hard realities of life as an acting pro.
The schemer, the cynic and the naïf join the Chekhov project with different agendas. But the women form a surprisingly tight bond as they confront the circus around them. The theater company's producer rhapsodizes endlessly about conceptual malarkey; pretentious directors rant and bully; self-absorbed sponsors act like pompous asses. Compared with these folks, the crazy actresses are the asylum's sanest inmates. And in the end, they fall in love with the Chekhov, and start to feel — and behave — like three sisters.
Martin uses the play to editorialize mercilessly about the current state of the American stage. The verdict for regional theater is particularly dire. The stage manager laments that it "once showed a lot of promise, but has since degenerated into dying medieval fiefdoms and arrogant baronies producing small-cast comedies, cabaret musicals, mean-spirited new plays and the occasional deconstructed classic, which everybody hates." Much of the satire works — we're sitting in a regional theater, watching the play, so we're in on the joke.
One character's observations become exceedingly tiresome, however. Disruptive audience member Joby, seated in the house, peppers the performers with pretentious critiques. She forces them to stop the action on stage, break the fourth wall and address her concerns. While we share the actors' annoyance, the interruptions disturb the emotional connections we are forging with their primary characters — "Casey," for example, not "The Actress Playing Casey." Martin's carefully constructed play-within-a-play layer cake sags under the weight of this dense and unflavorful extra tier.
Despite the script's imperfections, director Brown has cast a perfect leading trio. Nicole Starrett shimmers as the impossibly gorgeous Holly. She exudes the starlet's predatory sexuality with a feline gait, stalking the stage in stilettoes and ensnaring other characters with her physical charms. But behind the seemingly unflappable exterior, Starrett conveys Holly's all-consuming career hunger, and the tinge of sadness at its heart.
As the wide-eyed Lisabette, Krissy Kenny plays the perfect foil to Starrett's sloe-eyed Holly. With a Texas accent as broad as the Lone Star State, Kenny's perky incarnation of the ingenue flashes a toothy smile, shakes her cascade of red curls and always remembers to look heavenward and apologize to Jesus when she swears. Kenny conjures refreshing eagerness and earnestness, which provide counterpoint to the seen-it-all perspectives of her stage sisters.
Cael Barkman puts Casey at the center of the women's friendship. Casey's tough cynicism masks deep vulnerability. Barkman gives a witty bite to Casey's bitter digs, but uses her eyes to reveal that the sardonic worldview is a survival mechanism. Like Olga (Casey's part in Three Sisters), she plays the quiet role that turns out to be the most compelling.
Of the performers juggling multiple parts, Sophia LaPaglia chews the scenery — in a good way — as Wikéwitch, the power-mad, foul-mouthed Polish director with a God complex. She narrows her eyes and leans forward to spit his lines cholerically at the confused actresses. She reinforces Wikéwitch's need to intimidate with macho swagger and a quick temper.
Ramona Godfrey's biggest roles are as drama queen producer Kate and cowboy actor Ben. But her best performance comes in a small scene as the gay male costume designer Jackey, persuading a resistant Holly to wear a severe Russian outfit for the Chekhov. Godfrey, swathed in head-to-toe lamé, uses flirtatiousness and flattery to build gay man/straight woman trust, without resorting to clichéd, swishy gestures.
Only Anita Natarajan has persistent weak spots. She recites lines — with more than a few stumbles — rather than owning them, especially in the stage manager's rather long speeches. As the grating Joby, Brittany Rhoads tries to make the best of the thin material, blending sweetness and rudeness in a passable passive-aggressive mix.
Donna Collins' wide array of costumes adds great polish to the play. Holly's dresses feature bold prints and elegant fabrics, and the snakeskin-patterned pants hug every curve. Visible scene changes occur throughout the play as the performers and stagehands manipulate elements of Ed Demler's simple set design, such as a movable door, modern office chairs, and a Victorian table and chairs for the Chekhov vignettes. A clever detail: Two large radiators on the back wall fold out to reveal beds.
Waterbury's artistic director George Pierce deserves credit for programming unusual choices. This summer, the Festival Players are staging four plays in their third season, none of which you'll see anywhere else in Vermont. (Tom Stoppard's Rough Crossing has already run; still to come are Kenny Finkle's kid-friendly comedy Indoor/Outdoor and Frederick Knott's thriller Wait Until Dark.) Uncommon offerings are sometimes imperfect ones. But at Pierce's Playhouse, a game effort is always guaranteed.
As is your ticket price: Pierce promises a refund if "you believe you did not see a high-quality show." His refreshing attitude happily undercuts Jane Martin's cynicism about regional theater.