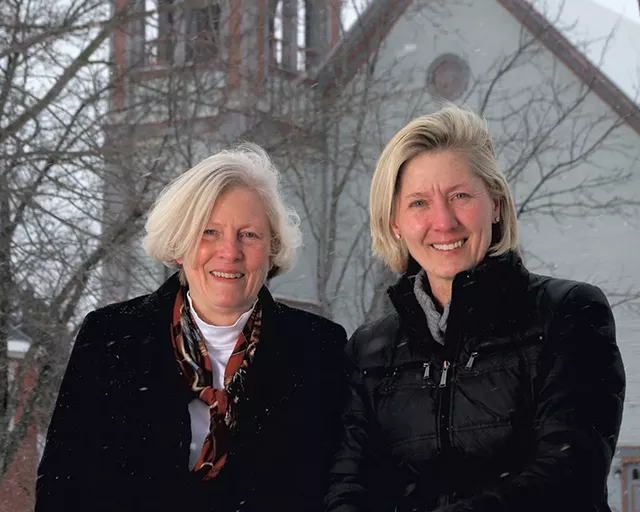 Robert c. Jenks
Jane Kitchel (left) and Kitty Toll
At the Danville Town Meeting lunch last week, Sen. Jane Beattie Kitchel and Rep. Kitty Beattie Toll squeezed into pint-size seats next to one another in an elementary school cafeteria and dug into the ham and baked beans.
As tradition dictates, each had been tasked with bringing a dish to share. Kitchel made pickled beets; Toll brought spice cake. Well, actually, Toll carried the cake into the building. Kitchel baked the cake on her sister's behalf.
"I had to go to the Cabot informational meeting last night," Toll explained. "Janie's the better cook anyway."
In their personal lives, the two sisters look out for one another. Kitchel cooks; Toll offers technological advice — and the occasional wardrobe consultation. But their sisterly solidarity may be tested this spring at the Vermont Statehouse, where they both serve as Democratic state legislators.
Toll and Kitchel are almost certainly in a unique position in U.S. politics: two sisters chairing the powerful appropriations committees of both the House and Senate. As Vermont lawmakers determine how to spend the state's money next fiscal year, the Beattie family and tiny Danville (population 2,196) will have an outsize influence over the outcome.
Nearly two months after Republican Gov. Phil Scott pitched his version of the 2018 budget, Toll and her colleagues on the House Appropriations Committee are close to completing their own write-through. Once the full House signs off, Kitchel and the Senate Appropriations Committee will take a turn.
Toll's and Kitchel's budgets are certain to differ — not just in their details but in their approach to closing the state's $70 million budget gap. They'll also both have to determine whether to challenge Scott's pledge to avoid new taxes and fees.
In April or May, two women who grew up around the same dinner table will face off across a Statehouse committee table to resolve the differences between their respective budgets. Will the state close a prison or stop funding public television? Will childcare subsidies get a boost, or should the state colleges — or is neither feasible? Kitchel and Toll will be the chief negotiators tasked with answering such questions.
Kitchel, 71, and Toll, 57, insist their status as siblings will have no bearing on the outcome — that the decisions come down to policy and the will of the two chambers they represent. And, while end-of-session budget bargaining has been known to fray tempers and trigger outbursts among negotiators, the sisters say that's not their style.
"I think people are going to be disappointed," Toll said. "I've never fought with my sister. We're polite to each other."
House Speaker Mitzi Johnson (D-South Hero), who appointed Toll to succeed her as Appropriations Com-mittee chair this year, is even more emphatic. "I think it's irrelevant," she said of the sisters' relationship. Toll, she argued, is a committed House member who will represent her chamber's point of view regardless of who else is at the table.
Still, there's a fascination — in the halls of the Statehouse and on the streets of Danville — about how Kitchel and Toll will divvy up the dough.
"It's going to be interesting to watch the conference committee," said Rep. Johannah "Joey" Donovan (D-Burlington), whose legislative service overlapped for six years with that of her brother, former senator Jim Leddy.
"It's an interesting dynamic," echoed Scott, who'll ultimately have to negotiate with the Beattie sisters on the final budget. "But they are two different people."
Family Affair
Kitchel and Toll indeed have their differences — 14 years separate the sisters, after all — but they are clearly cut from the same cloth. Both have sweet, reserved smiles, the same wave to their short blond hair and trim builds that belie their ages. They speak with the same cautious style, and they base their politics in the same socially conscious vein.
Kitchel is the second-oldest and Toll the youngest of 10 children raised on the family dairy farm of Harold and Kate Beattie in the hills outside Danville village.
"We grew up in a family where we were very connected to public service," Kitchel said. Their mom and dad were once named Danville citizens of the year.
They were reared on the McDonald dairy farm, where their mother was raised. In addition to milking cows and harvesting hay and corn, Harold Beattie served on the town selectboard. But it was their mother who ran the farm, as well as a gourmet kitchen. She was active in the Vermont Farm Bureau, served on the district environmental board and spent one term in the Vermont House.
"She was very strong," Toll said of their late mother, with whom she shared the first name Catherine. "Our father played games with us. He read stories to us ... He had a softer side than my mother."
Politics were frequently discussed at home. The Beattie parents were supporters of Democratic governor Phil Hoff and active in his party, but they were also friendly with U.S. senator Ralph Flanders, a Republican.
Though the Northeast Kingdom was and is tilted toward the GOP, the Beatties were socially liberal Democrats, Toll said. "They believed in taking care of people," she added.
Their parents would send one of the children to raise a red flag from the barn as a signal that they had leftovers to share with two neighboring men, Earl and Ray, who lived together, according to Toll. Earl, who typically dressed in women's clothes, and Ray would come to the house to pick up the food — no questions asked.
That was a powerful lesson in acceptance and helping others, Toll said. "Sometimes you need more than a friend and a neighbor. You need real assistance," she said. "That's very, very important to me."
Decades later, Toll's and Kitchel's political views hold true to family tradition: Both Democrats lean socially liberal, fiscally moderate. As they delve into their budget-writing duties, both say their intent is to balance the budget without raising taxes, but neither will take that option off the table.
Discerning the differences between the two sisters' politics is tough. Neither is prone to championing causes or particular bills. But a look through organizations' legislative scorecards reveals some differences between them.
The liberal advocacy organization Vermont Public Interest Research Group last year gave Toll a 92 percent rating for her votes on issues ranging from voter registration to renewable energy. The group rated Kitchel at 55 percent, a mark that reflected her support for restrictions on wind turbine siting.
Vermont Businesses for Social Responsibility, another left-leaning group, also scored Toll higher. In a 2013-14 scorecard, she earned an 86 percent rating while Kitchel scored 60 percent. The difference: Kitchel voted against a toxic-chemical regulation bill that Toll supported.
The group Gun Owners of Vermont last year listed them both as "anti-gun" because they voted for a 2015 bill barring felons from possessing firearms.
Kitchel and Toll are the only ones among the 10 siblings to run for office, though politics appears to be in the blood. The family has always been close, according to brother Marty Beattie, who owns Marty's 1st Stop market in Danville.
All but one of their living siblings remain in the Danville area. Oldest brother Harold Jr. died in 2012. They still gather nearly every Sunday for dinner. Toll hosts. Kitchel cooks. Marty Beattie is the grill master. "Jane is the best cook in the family," he confirmed. "Kitty's very good at organizing."
Having grown up 14 years apart, the two are almost of a different generation, according to Kitchel. She occasionally refers to her sister as "Baby Kitty."
"We always thought she was the most indulged," Kitchel said. "We would have to cook supper."
The older sister still indulges the younger. When Toll is too tired, Kitchel will drive — even if it's not her turn. Nearly every legislative day, Kitchel makes lunch for Toll, as well as for several of her Senate colleagues: sandwich, chips, fruit and baked goods included.
"That's her therapy, like somebody else would knit," Toll said.
Her own therapy, Toll said, is raising money for community organizations. Her church's capital campaign is within $6,000 of its $200,000 goal. "I just find that exciting," she said. "I won't be done with that until I find the last $6,000."
Beattie said that it's true his sisters don't fight. "They have a lot of respect for each other," he noted, adding, "It's competitive."
Kitchel showed off some of that sibling rivalry when she heard her brother had weighed in on their relationship.
"Did he tell you I'm thrifty and she's not?" she asked.
In fact, he did not.
"She does spend more than I do," Kitchel asserted, referring at least in part to the well-tailored dresses, jackets and suits Toll sports.
Sartorial critiques go both ways between the sisters. On the Friday afternoon before the legislature recessed for town meeting, Toll was trying to help her sister assemble a legislative newsletter and had instructed Kitchel to come up with a different photo.
"It's a terrible picture," Toll said, calling up on her computer the one Kitchel had chosen. It showed the older sibling standing in front of a Statehouse staircase — with an open smile, her hair finely coiffed, and a bright green cardigan sweater that seemed, in Toll's view, outdated. "She's much more attractive than that," Toll said.
Kitchel capitulated on the photo but later proclaimed that she had managed to finish the newsletter without her sister's technological assistance.
Road to Montpelier
Terri Hallenbeck
Kitty Toll and Jane Kitchel at the Danville town meeting
Toll was 5 and hadn't yet started school when her mother took office in the Vermont House. "I spent many days in the halls of this building," she said last month during a break in Appropriations Committee hearings.
She remembers getting her knee wedged between the wooden spindles that line the balcony of the House chamber. Eventually, legislators noticed her plight. There was talk of sawing through one of the spindles. "I just remember bursting into tears," she recalled.
And yet, she was smitten. "I remember the smell of the building," Toll said. "I always knew I'd be back."
The middle school language arts teacher married auto dealer Abel Toll and had two daughters before she returned to the Statehouse. In 2008, she ran unopposed to become the first woman since her mother to represent Danville in the House.
Kitchel took a different path to Montpelier. When their mother served in the House, Kitchel was already away at college. After graduating, she landed a job as a state social worker, a career that would last 35 years and put her in charge of the Agency of Human Services, the state's largest division.
Much of that time, while Kitchel and husband Guil raised a son, she made long commutes from Danville to Montpelier or Waterbury. When she retired in 2002, she had no desire to keep that up
"I didn't know I was going to do this. I was recruited to run," Kitchel said. "It was, 'Do I want to spend more time in the legislature?' I spent a lot of time at the other end of the table."
Just as daunting was the notion that she could lose — as a Democrat challenging a Republican incumbent in the relatively conservative Northeast Kingdom. Nevertheless, she ended up as the top vote-getter in the two-seat Caledonia district and became its first female senator.
The way Toll tells the story, she served as her sister's campaign manager that year. Those aren't the words Kitchel uses: "Well, she helped," the senator countered.
As the two sat next to each other last week during the Danville Town Meeting lunch, they had a chance to get their story straight. Was Toll the campaign manager?
"She was not always as public as she is now," Toll said, inferring that she helped Kitchel come out of her shell during the campaign.
"I don't remember seeing you in West Fairlee," Kitchel responded, referring to one of the many rural campaign stops she believes were essential to her victory.
Whoever gets credit, one thing is clear: Kitchel was not a typical freshman legislator. As a nod to her 35 years in state government — she knew the programs as well as anybody in the Statehouse — Kitchel was appointed vice chair of the Senate Appropriations Committee during her first term, in 2005. She became chair in 2011.
When Toll was appointed to a seat on the House Appropriations Committee during her second term, in 2011, she did not have far to go to get up to speed. During their 40-minute shared commute from Danville to Montpelier, Toll peppered her sister with questions about state programs.
"I kept notes," Toll said. "What does DVHA mean? What is this special fund?"
She didn't — and still doesn't — ask her big sister what to do with those programs or funds, Kitchel said.
"It's not, 'Tell me how to close the budget gap,'" the older sister made clear.
Kin-dred Spirits
While the Beattie sisters' dual chairmanships of the appropriations committees may be unprecedented, it is not unusual for family members to serve together — in Vermont or elsewhere. The National Conference of State Legislatures noted 27 instances of statehouse family ties across the country in 2016. The list was incomplete, as it didn't include Vermont.
Currently in Vermont, Sen. Dick McCormack (D-Windsor) and Rep. Curt McCormack (D-Burlington), who are brothers, are both serving their second stints in the Vermont legislature.
Recent Vermont history offers other combos. When Donovan took her seat in the House in 2001, brother Leddy had been in the Senate since 1999.
John Bloomer, a former state senator who is now Senate secretary, served with his mother, Judy Crowley, and his stepfather, John Crowley, in the early 2000s. (Before Bloomer's time in office, his father, uncle and grandfather all served in the Senate — and as its president pro tempore.)
Former governor Madeleine Kunin served in the House in the 1970s with her late brother, Edgar May, who was four years her senior. But the stickier situation came when she was governor in the 1980s and he was chair of the Senate Appropriations Committee — a scenario not dissimilar to that of the Beattie sisters.
"It was interesting," Kunin said last week. "I'd say 95 percent of the time, we agreed. The 5 percent we didn't ended up in the spotlight."
Even two people who agree politically can come down on different sides of an issue — whether they are siblings or not, she noted. One year, she wanted funding for a juvenile detention center. He fought it.
"He felt, if you build it, they will come," she said, recalling that her own view was that kids were already being held in adult prisons and needed their own facility. She won. But, then again, she was the governor.
Kunin predicted that political observers would be watching the sisters for similar signs of dissent. "I'm sure they'll do fine," she said.
When Johnson won the speaker's job last December — and left her perch atop the House Appropriations Committee — many observers thought Toll a likely candidate to replace her. But, some wondered, would it be wise to have two siblings as lead negotiators of the budget?
Rep. Bob Helm (R-Fair Haven), one of four Republicans on Toll's 11-member committee, said Johnson asked his opinion before appointing her chair.
"I said, 'You know, I don't think that makes any difference ... especially with those two,'" Helm recalled, offering a nod of respect to both women's judgment.
'Budget Tricks'
Any year is a tough year to write a state budget, but Toll takes over in an unusual time. There's a new governor, a new House speaker and a new Senate president pro tem. And the first of those three proposed a budget that the second and third largely rejected.
While Toll's committee accepted minor portions of the governor's plan, including $4.5 million in promised administrative savings, it dismissed the heart of Scott's proposal: to require level-funding of local school budgets while putting the savings toward childcare and higher education.
So far, Toll appears to be taking a page out of her sister's playbook in responding to the governor's pitch. They both speak with a caution that is free of sound bites and intentionally non-incendiary.
That's a tone Kitchel deliberately cultivated during her 35 years in state government. "I don't blow up," Kitchel said.
Kitchel's predecessor in the Senate Appropriations Committee, Susan Bartlett, was prone to declaring governors' budget ideas "DOA" when she thought they were. Here's how calmly Kitchel couched her criticism of Scott's equally dead-on-arrival plan: "It just seems like there's a lot of policy in this budget. That's well beyond the jurisdiction of Appropriations."
Toll has apparently been listening carefully. She also downplays any sense of outrage and declines to incite. As she explained her committee's approach to the governor's plan, Toll put it this way: "The education piece has not been well received."
But for all the softness that tone exudes, both she and Kitchel share a no-nonsense demeanor that suggests neither the former social worker nor middle-school teacher were easily had. Kitchel often cuts to the chase when a witness sitting before her committee drones on. Toll is still learning the ropes of being a chair.
During a February committee meeting, Toll had a particularly tense exchange with Administration Secretary Susanne Young about the governor's budget proposal. Growing frustrated as Young declined to concede that the plan was unworkable, Toll said in a calm, measured voice, "If local control isn't working, I think we need to make the decision instead of just disguising it."
She was suggesting, it seemed, that the governor should acknowledge his plan would undercut a cherished democratic ideal. But a few minutes later, Toll felt compelled to clarify, lest her subtlety be misconstrued.
"There's press in the room," she said. "I want to make sure it's clear I'm not suggesting we take local control away."
In the next week or so, Toll's mettle will truly be tested as she and her committee figure out how to plug the last $18 million of a $73 million hole. The first $55 million used all the easy tricks. The rest could require cuts to programs that have survived previous budget crunches.
Then the House will ship its plan over to the Senate, where Kitchel's committee will revise, rework and rewrite.
The sisters insist there's been no Kitchel-Toll version of the budget written on their commutes between Danville and Montpelier. In discussing what's to come, they display the sibling competition their brother mentioned.
"I don't know what she's going to do with the budget," Kitchel said, before adding, "I'm not going to tell her all my budget tricks."
The differences between the House and Senate budgets are more likely to reflect the inherent differences between the two chambers than between the two women, they both said. Toll has 150 House members to answer to. Kitchel has just 30 senators to consult. On that score, even Kitchel conceded she might have the easier task.
When they sit across from each other at a conference committee table in the final week of the session, the two sisters won't be arguing over whether Toll appreciates the tuna sandwiches Kitchel makes or whether Kitchel dresses as sharply as she could.
"It will be a House-Senate issue, not a Jane-Kitty issue," Toll said. Then, without missing a beat, she added, "But not if she minimizes my effort in her campaign."