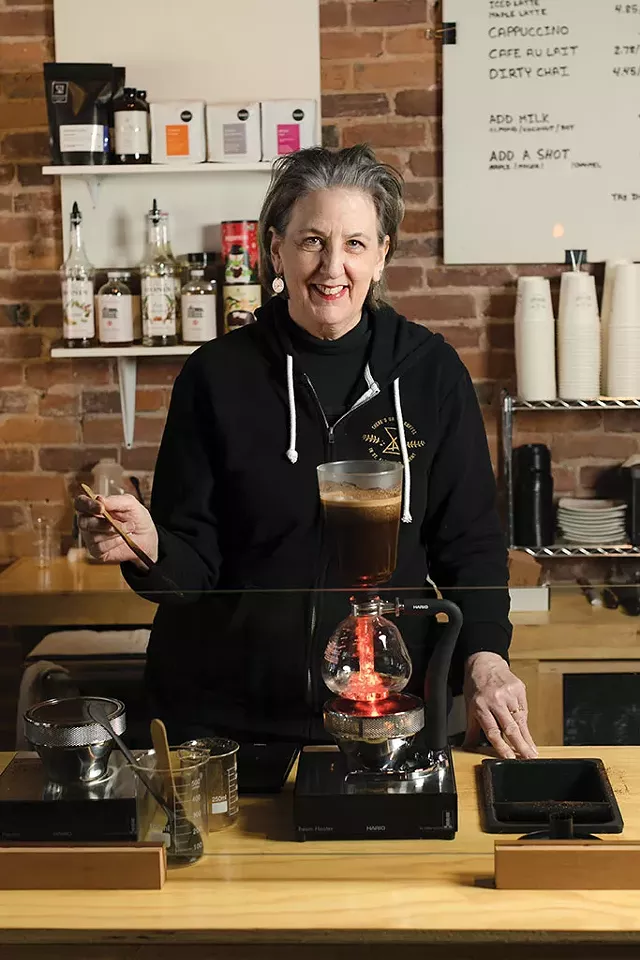 Brent Harrewyn
Owner Karen Scheffler
Twenty-two minutes south of the Canadian border, St. Albans is known for its long-running maple festival, its sizable dairy cooperative and as the former home of the largest railway in New England. The city is more cowsmopolitan than cosmopolitan. But walk into Catalyst Coffee Bar, and you might think you've stumbled across the international line and into a hip Montréal café.
Lining one exposed-brick wall are intimate seating nooks — some with soft, comfy chairs; others with tables and plugs for the laptop crowd. On the other end of the technological spectrum, an old typewriter invites aspiring writers to click and clack away on its keys, channeling Hemingway.
10 Lake St.
Champlain Islands/Northwest
St. Albans, VT
802-393-9808
Coffee/Tea
The counter area, however, is more like a science lab. At Catalyst, the preferred brewing method is by siphon. In a feat of physics, vacuum pressure sucks simmering water up through the grounds before it drips back down and into a carafe. The time-consuming technique was popular in the mid-20th century before falling out of favor. These days, many coffee aficionados believe it's the way to a perfect cup. In keeping with the laboratory look, the café stores milk and cream in beakers, and cinnamon, cocoa powder and maple sugar in test tubes.
Brent Harrewyn
Catalyst Coffee Bar
There are culinary concoctions, too, from Red House Sweets. The bakery shares the space, turning out everything from Tuscan breads — savory dough wrapped around sun-dried tomatoes, greens and cheese — to cinnamon-maple buns and gooey Napoleons. In true French tradition, the latter layers custard with crisp pastry and is topped with a slick of icing.
These dressed-up sweets are a satisfying counterpoint to the simple, siphon-made sips. Unlike some modern coffee shops, Catalyst is more focused on brewing a great cup than on offering bells and whistles. So enjoy a cappuccino with a luxurious layer of crema, but don't expect a full array of flavored sweeteners here.
While you can't get a hazelnut-laced coffee, who would want to? When you're in the "maple capital of the world," there's only one syrup worth having.