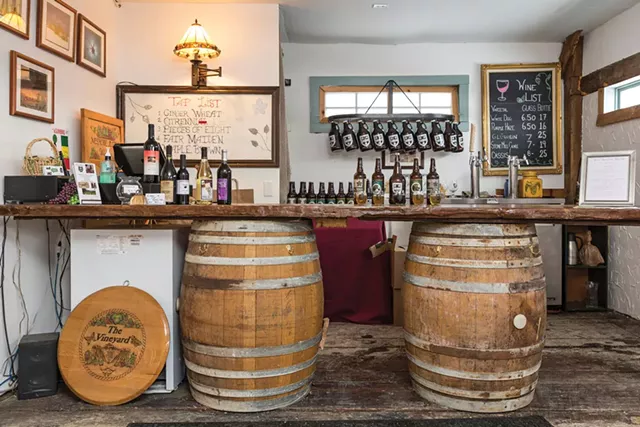 Oliver Parini
Foley Brothers Brewing and Neshobe River Winery in Brandon
In May 2014, Brandon's Foley Brothers Brewing debuted Fair Maiden Double IPA, a delicately flavored powerhouse of a beer. Hoppy but not bitter, with notes of citrus and pine, Fair Maiden won over beer geeks at the Vermont Brewers Festival in July. Word spread, and by December the beer had earned a remarkable score of 98 out of 100 on the beer-rating website Beer Advocate.
79 Stone Mill Dam Rd.
Rutland/Killington
Brandon, VT
802-465-8413
Brewery
Brothers Dan and Patrick Foley have been brewing under the family name since 2012. Other beers in their rotation include Maple Brown, a silky, malty mid-bodied brown ale; and Native Ginger Wheat, a light, easy-drinking brew with a hint of ginger.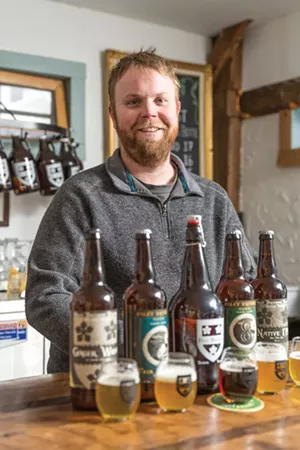 Oliver Parini
Dan Foley of Foley Brothers Brewery stands at the tasting counter.
A love of liquids runs in the Foley family — the brewery began as a side project of Neshobe River Winery, run by parents Robert and Rhonda Foley. Foley beers are informed by their makers' experience growing, fermenting and conditioning wines; working with yeasts and sugars; and guiding fruit from vine to bottle. Visitors to the shared tasting room — inside an expansive post-and-beam barn beside the family's charming historic Inn at Neshobe River — get the rare chance to sample beers and wines made on-site.
Like many fledgling Vermont wineries, Neshobe has a modest vineyard planted with cold-hardy hybrid varietals such as marquette and frontenac. It supplements its harvest with grapes gleaned from other farms around the region.
Home vineyard grapes rule an award-winning 2009 micro-vintage estate rosé. Also worth tasting are the deep, dark Purple Haze, a contemplative red blend; and the lightly acidic White Dog Chardonnay.
79 Stone Mill Dam Rd.
Rutland/Killington
Brandon, VT
802-247-8002
Winery
Perhaps the finest of these wines, the Neshobe Cassis, isn't made with grapes at all. It's a sweet, tart dessert wine fermented from black currants. Sample it in the tasting room, or keep on sipping next door as part of a "Libation Vacation" package at the inn.