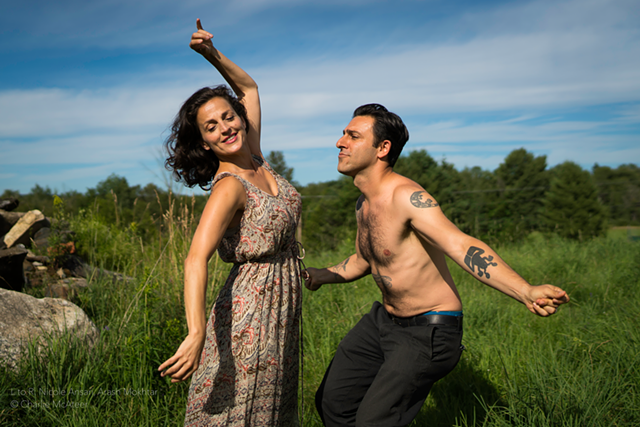 Courtesy Of Charlie Mcateer
Nicole Ansari and Arash Mokhtar in Sinners
Under the auspices of the Greensboro Arts Alliance & Residency, the New York-based Mirror Repertory Company has been bringing new and classic productions to the Northeast Kingdom town every summer since 2005. This year, as the Mirror Theater, the company is staging old favorites such as To Kill a Mockingbird and Annie Get Your Gun. The tagline for the summer 2016 season is "Lovers & Madmen."
Giving that theme a timely slant, Mirror is mounting Israeli playwright Joshua Sobol's 2008 Sinners (The English Teacher) — not in Greensboro but at the Hardwick Town House. Scottish actor Brian Cox (currently starring in the BBC film Churchill) is directing. His wife, Nicole Ansari, plays the character of Layla, a Muslim university professor awaiting her death by stoning — in accordance with Sharia law.
The play begins with Layla buried in stones up to her waist; her former lover and denouncer, Nur (Arash Mokhtar), continues silently to pile stones around her. Their relationship is revealed when he finally brings himself to speak to her.
The location, according to the script, is "any country where [stoning] could happen." The nations where that barbaric punishment exists may seem remote and foreign in Vermont, yet, warns actor Mokhtar, such practices are closer to home than many realize.
"It's easy to dismiss oppressive regimes, tyrannical theocracies, as somehow 'other,'" he explains in a phone interview. "I want to emphasize that when the differences in style and scripture are peeled away, the patriarchy reigns over us all similarly."
That's why GAAR artistic director and Mirror Rep founder Sabra Jones decided to take on the challenge of producing Sinners. And it's why the show this Saturday, July 30, is a fundraiser for AWARE, a Hardwick-based nonprofit that provides services to victims of domestic and sexual violence. Executive director Anna Pirie asserts that the production and her organization are very much on the same page.
"We work locally with people who are experiencing and witnessing abuse," she says, "but on a bigger level, we want the violence to end. We want all people to be free of violence."
The actors in this production of Sinners are Iranian or have Iranian lineage, as do choreographer Shahrokh Moshkin Ghalam and composer Fared Shafinury. But Cox challenges the Vermont audience to own the content of the show. "In the theater, you present things to an audience to see and to judge, but you cannot dictate things," he says by phone. "You can present the circumstances, and the audience has to show their sense of what they make of it; they have to decide their responsibility to it.
"These are small communities that have tremendous roots and a sense of real fellowship," Cox continues, "but also, sometimes there are brutal things that happen in their communities."
Ansari says she feels personally committed to those whose lives are dominated by patriarchal violence. "I feel an affinity and a big responsibility, as a woman who has a connection to the Middle East but lives in the West," she says. "I have the privilege of freedom of speech, freedom of loving whoever I want, and doing whatever I want. I want to use that privilege to be a spokesperson."
While Sinners addresses women's rights, "I also think it's a men's-rights issue," Ansari adds. "They are also forced to deny their own sexuality; they get caged into this sense of superiority, which is the only way for them to survive. If we want to free women, we have to free men."
Sinners is not simply an admonition against violent men but also a swan song for two individuals whose love is unacceptable in their society. To address the elements of passion and romance in the text, Cox enlisted the services of Ghalam and Shafinury. Music and dance allow the essence of the story to transcend the play's specific circumstances. Cox says the aspect of dance is "a celebration of these two people — without their constraints, or without the things that brutalize them — and their true passion, their true love. It's like a dream sequence," he suggests. "It is the essence of who they are and the essence of what is possible for them. For all of us."