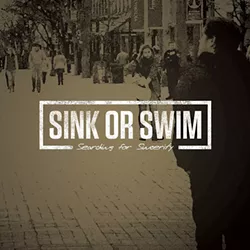 Sink or Swim, Searching for Sincerity
(Self-released, digital download)
Burlington-based hardcore outfit Sink or Swim made their debut in 2013 with a short, brutal EP, Vermont Road Trips. They've since returned with a new drummer — and a full-length album, Searching for Sincerity. Well, "full-length" by genre standards, anyway. In time-honored hardcore punk tradition, the album clocks in at 12 tracks and just more than 20 minutes.
Searching for Sincerity is a curious title for such an anarchic, sarcastic project — although there is plenty of serious stuff here. Matt Kimball (bass, vocals) and Nick Grandchamp (guitar, vocals) share primary songwriting duties. Both are hardcore scene veterans. Kimball cut his teeth on bass for Crucial Times and juggles several side projects. Grandchamp is a member of Rutland band Get a Grip, one of Vermont's most successful hardcore groups in recent years.
With the new addition on drums of Ruston Fettig (formerly of Bombardier to Pilot, currently holding down the Red Summer Sun), Sink or Swim have gathered a lineup that can pretty much do whatever they want. Fortunately, instead of math-rock wank, they favor loud, fast and fun.
It's a visceral approach, but there's nothing primitive about it. The most consistently impressive aspect of Searching for Sincerity is how creative and surprising the arrangements can be. Kimball and Grandchamp bring a lot of experience and smarts to bear on every track. The sequencing is smooth, with songs folding into each other, creating the feel of a well-planned live show.
Sink or Swim also have a talent for unabashed pop. The songs here are short but loaded with ideas both catchy and concise. There are an awful lot of earworms per square foot, and it's hard to walk away from this album without humming a few.
The vocals are, perhaps, an acquired taste. Yet it's hard to fault a band who cheerfully describe themselves as "melodic punk/hardcore with off-key vocals" for crimes against pitch: We were warned. Besides, their sheer enthusiasm is entertaining, and their rough-hewn hooks are a welcome break from the usual Cookie Monster growls and stylized screams that so many genre vocalists settle for.
Lyrically, the album is all over the map, which fits. There are vulnerable love songs ("World Without You" and "Just Mine"), manifestos against consumer culture ("Rat Syndicate") and occasional attempts to incite a riot ("Violence Party"). There's not much of a unifying theme, but at least all the important bases get covered.
The production work on Searching for Sincerity is superb. The sound is raw and powerful without losing any balance or fidelity, just polished enough to sound damn good when you turn it up. Which you should. Eric "Noodle" Wisowaty did an expert job, and the album clearly benefits from a single hand doing the engineering, mixing and mastering.
One thing Sink or Swim's proper debut makes clear: They must be a nuclear blast onstage. Catch them in Vermont if you get the chance — the band is currently fundraising to play tour dates in Norway. In the meantime, Searching for Sincerity is available at sinkorswimvt.bandcamp.com.