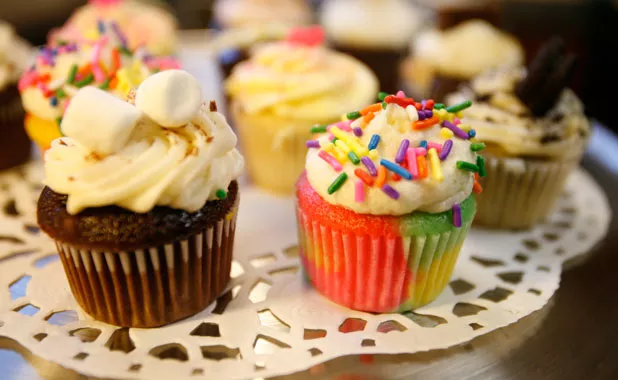 We're a nation of individuals. With tastes and lives as varied as the tasty treats on offer, sometimes we just don't want to share dessert. Enter the cupcake. The fun-sized confection has been gaining popularity ever since "Sex and the City" glamorized digging into the childhood treat at Magnolia Bakery. That spot in NYC got another push when Andy Samberg and Chris Parnell of "Saturday Night Live" threatened to "hit up Magnolia and mack on some cupcakes" in their 2005 viral video "Lazy Sunday."
By 2006, cupcakes were so trendy they had already spawned a backlash, leading Time magazine's Joel Stein to assure readers, "There's nothing inherently wrong with the cupcake. Just like there's nothing inherently wrong in the Koran." While campaigning for president the following year, Hillary Clinton offered on Letterman, "Each year on my birthday everyone gets a cupcake."
The cupcake is big business as an icon, too. Last week on Etsy.com, a search for the word elicited 21,801 results, from 20-cent gift tags to a $3200 mirror designed to make the viewer's face appear in a giant, sparkly blob of frosting.
Of course, trends tend to arrive a little later in the 802. Some may even think a state known for its health consciousness is no place for a frivolous mini-dessert craze. Think again.
While northern Vermont has no equivalent of Magnolia Bakery, cupcakes have quietly made inroads on the traditional cake market. Amy Spalding of South Burlington-based Angel's Cakes specializes in wedding cakes, but she says that in the last year cupcakes have accounted for a quarter of her orders. She attributes this to a recent trend of events that "seemed to be more about getting together as a family and not hav[ing] a lavish party." Cupcakes, Spalding speculates, "seemed to fit in with that idea of being playful."
They appear to thrive on the Internet, too. Local cupcake cognoscenti are prone to selling their wares online — with mouth-watering photos, of course — and chronicling their baking experiments on blogs. Michelle Trudell, owner of the Westford home-kitchen startup My Little Cupcake, first got interested in decorating mini-cakes after reading a feature on the subject in Martha Stewart Living. Then she discovered a blog called Cupcakes Take the Cake, run by Rachel Kramer Bussel, who has a day job as a noted erotica writer and sex columnist. That "got me totally addicted to everything cupcake," says Trudell, who now admits to sleeping in cupcake pajamas and sporting cupcake jewelry.
The former army cook and current full-time employee at South Burlington's Dynapower Corporation says she "didn't really learn how to bake" until she started making cupcakes. But the novelty of working on new flavors kept her going, she adds. Right now, My Little Cupcake's ever-growing menu boasts 40 varieties. Trudell's favorite: "Maple walnut bacon. People either get it or they don't. They either make the face like 'that's gross,' or they're intrigued and excited about it."
While Trudell gets a couple of online orders a week, she says, she does most of her business at the farmers markets in Williston (where she started selling cupcakes this year) and Winooski. She doesn't know if further expansion is in the cards, pointing out that "with the research and testing that I do, it's probably, like, another full-time job for me." Preparation for the Williston Farmers Market alone takes about 10 hours each week.
It was through their mutual cupcake admiration that Trudell met Suzanne Lowell of Hinesburg, who runs a catering company called Let Them Eat Cake. The coordinator for FlynnArts and School Programs fills her confection orders Thursday through the weekend — and, she says, "Every Thursday night I just can't wait to get home to bake."
Both Lowell and Trudell are members of the Martha Stewart Cupcakes Club, an international online group of 70 dessert bloggers who once a month bake the same recipe, blog about it and compare notes. Members can also post their pictures on the club's Flickr page. "People really become obsessed with baking," says Lowell. She recalls a fellow blogger who led a countdown to the unveiling of her new pink Kitchen Aid mixer, crowing about the appliance, "I have a new baby, get ready to meet her!"
In the past month alone, Lowell has been asked to make cupcakes for a wedding — she surrounded the traditional white cake with an arrangement of minis resembling sunflowers — and a surprise 60th birthday party for a maple sugarer, whose wife asked for chocolate and vanilla cupcakes to accompany the maple cake with maple cream.
"It's so simple," Lowell says. "It's almost like an assembly line. You have your bags and tips and drop the frosting: bloop, bloop, bloop. I find it way easier than layering cakes and doing tiers." Trudell agrees, calling work on the three-tiered cake she made for a coworker last year "so monotonous."
While cupcake batter is identical to that of a sheet cake, decorating the tiny treats is more than half the fun. "I really, really try to make them look really nice," says Trudell. "I have this level that I want them to look as good as they taste." This is evident in each strawberry cut to minuscule proportions and every perfectly placed chocolate shaving on her bite-sized Neapolitan Dynamites — marble cakes with strawberry buttercream that tastes like the berry's very essence. Trudell's other quirky varieties include Hot Chocolate and Donuts — a milk chocolate cupcake with marshmallow frosting and homemade mini-donut on top — and Strawberry Daiquiri, composed of strawberry-, lime- and rum-flavored cake topped with lime butter cream. She makes several vegan versions, so even butter banners can bite into a teeny-tiny margarita or carrot cake delicacy.
A delicate Euro whimsy is evident in the confections of Pam McCarthy, the primary cupcake baker at Cosmic Bakery and Café, the St. Albans business she owns with her sons Brian and Mike. As a child, McCarthy spent time in Denmark with her mother's cousins, who owned a bakery — as her own parents later would. Now she decorates her "substantially sized" cupcakes on evenings and weekends when she's not busy handling field services for the state Agency of Human Services.
In the springtime, those pastries may be frosted to resemble bunnies and chicks; last week, McCarthy's creations looked like witch's hats and pumpkins. At one wedding this summer, she personally shaved Callebaut chocolate curls for a slew of snowball-like, white-chocolate-frosted cupcakes. These were paired with mini Strawberry Torte Towers, cupcakes split and filled with fruit from Black River Produce and Thompson Dairy whipped cream, which McCarthy touts as "just fabulous, very high in butter fat."
After long hours at her stressful day job, McCarthy sees her cupcakes as a way to "just play. Doing the design piece is really a lot of fun for me," she says. Sharing baking duties with her grown sons — a "very rewarding" setup, she says — she's crafted other shrunken desserts: miniature apple pies, cheese cakes and mousses. Cosmic Bakery and Café also sells full-scale cakes, candies, cinnamon rolls, sandwiches and soups.
But there's just something about cupcakes. (Recently, one customer picked up 20 at once.) The ease of experimenting with tiny confections encourages customers to submit feedback and requests: Like Trudell and Lowell, the McCarthys maintain a Facebook page for that purpose. "We ask about particular flavors they'd like to see," McCarthy explains. "It gives you a barometer."
Trudell attributes the popularity of her cupcakes to "the cute factor" and ease of use: "You don't have to share, and you can just walk around with one, which you can't do with a piece of cake." Lowell reels off the usual explanations for the cupcake trend — "They're fun, they're cute, they're easy, they're bite-sized" — but she also notes the dangerous allure of that single serving: "People who are on a diet will say, 'What's a little cupcake going to hurt me? It's not like a piece of cake.'" A single cupcake is also a cheaper alternative to a shareable dessert (Trudell's treats are $1.25 apiece). But Spalding warns that, in bulk, the smaller bites are "not the budget option."
Whether you consider them a gateway drug or edible art, cupcakes aren't disappearing anytime soon: They're an eye-catching staple in the display cases not just of Cosmic, but of other local bakeries such as Mirabelles and Klinger's in Burlington. All that's missing is a brick-and-mortar Vermont cupcake store.
Would such an establishment attract the lines of customers that Magnolia Bakery and the glorious Crumbs do in New York? Spalding, who is closing Angel's Cakes at the end of the wedding season, says she once considered opening such a store herself. "There is a place for it," she says. "I wouldn't be surprised if someone did do it and had a lot of success."
Who might that person be? Perhaps a current part-time cupcake crafter like Trudell. "I've done some research," says the baker. "I think you'd have to have a perfect location. If it were on Church Street it could be huge." With any luck, lazy Sundays in Burlington could get a lot sweeter.