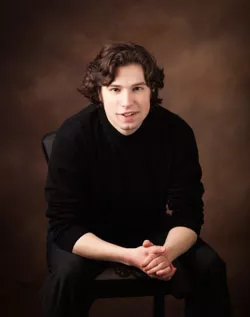 How does a Vermonter become an opera singer? For baritone Geoffrey Penar, a Shelburne native who attended schools in Burlington before switching to St. Johnsbury Academy for high school, the vehicle was musical theater. Thanks to parents who met singing in musicals, Penar grew up listening to such recordings as The King and I, began performing with Lyric Theatre as a fifth grader, and was playing leads such as Jean Valjean (Les Misérables) and Captain von Trapp (The Sound of Music) by high school.
All along, the idea of doing opera was taking root. Penar's eighth-grade voice coach, Bill Reed of South Burlington, a veteran of Circle in the Square in New York City, "heard the quality of my sound and had me listening to [baritones] Thomas Hampson and Bryn Terfel," says the young singer. And then there was his mother's spontaneous observation, made in the car while New York's Metropolitan Opera played on National Public Radio.
"I was in the backseat imitating the voices — this was when I was 13 or 14, just after my voice changed," Penar recalls, "and my mother said, 'You know, you could probably do that as a job.'"
Penar, now 23, is well on his way to turning that suggestion into a reality. Vermonters will have several chances to enjoy the homegrown baritone's strikingly rich tone and energetic stage presence in June, at the Green Mountain Opera Festival.
Penar, who spoke with Seven Days from Montréal, has just completed his first year at McGill University's master's program in opera performance. This summer, the GMOF has career-building plans for him.
Now in its seventh year, the monthlong festival offers concerts, open rehearsals and two operas at venues around the Mad River Valley, in Barre and — starting this year — at the University of Vermont Recital Hall in Burlington. GMOF also hosts an Emerging Artists Program for promising young singers; Penar was one of a dozen chosen out of 400 who auditioned this year.
Emerging artists benefit from master classes with internationally known professionals (these are also open to the public) and workshops on such practical matters as managing one's career image using social media. At festival's end, the young singers put on one opera and back up the professionals in another. This year they'll perform Donizetti's Don Pasquale, and a few will play the minor roles in GMOF's major production, Puccini's La Bohème.
Artistic director Taras Kulish says the GMOF is often called "a baby Glimmerglass" — referring to the Cooperstown, N.Y., summer opera festival, with its competitive Young Artists Program. "They basically started off like us: small, in a rural area," he points out.
In fact, one of the professionals in the impressive cadre Kulish has gathered for the festival this year, soprano Mary Dunleavy, sang Violetta in Verdi's La Traviata at Glimmerglass three years ago. Dunleavy, who has also sung to critical acclaim at the Met and San Francisco operas, is taking on the role of Mimi in Bohème for the first time at GMOF. "It's a big feather in your cap when you can say a big artist does a role like that for you first," says Kulish.
Penar is no less excited about the festival, especially Bohème. The perennial favorite appeals to young people, he says, because it's about "these poor, young people who goof around, have sword fights — it's kind of like hanging out with your friends." Ironically, he'll be singing two older characters: Benoit, the landlord who comes looking for rent from the four cash-poor young artists renting his garret; and Alcindoro, the extravagant Musetta's aging sugar daddy.
"It's hard for someone my age to play an old man," Penar admits, "but it's great to be a part of this production at all. There are so many good singers that I'll take the old-guy parts!"
Attendees of the GMOF's annual gala dinner in March at the Round Barn in Waitsfield, during which Penar sang arias, duets and musical-theater pieces, know he won't have trouble conveying a character. A performer with big gestures and amazingly elastic facial expressions, Penar clearly takes opera acting seriously — as does the opera world.
"It's definitely changed," he observes, since the heyday of Luciano Pavarotti and Placido Domingo, when voice was all. Domingo is "all right" as an actor, Penar opines, but Pavarotti "sort of checked out, like, 'OK, high-note time.'" Nowadays, stage presence is usually what makes the difference in an increasingly competitive world of young opera singers, he says.
Penar attributes his own knack for acting partly to his musical-theater background, and he still keeps some Broadway tunes in his repertoire, as is expected these days of up-and-coming opera singers. In fact, he's hoping to sing a Kiss Me, Kate tune at the GMOF's Broadway Picnic at the Round Barn Farm. The concert, whose program is still undecided, is on the opposite end of the formality scale from the upcoming "Opera Extravaganza:3+ A Gala Concert" at UVM, cosponsored by the Lane Series, that includes a Champagne reception in the lobby, where the singers will mingle in full black-tie attire.
Penar says he chose opera over musical theater, in the end, because "I really enjoy the intellectual side of it. When you get a new score, you have to translate it, and the rhythm of the music is often very mathematically complex."
And then there is the voice. Penar admits he'd love to sound like the Russian baritone Dmitri Hvorostovsky — even though "my teacher is like, 'Don't listen to that; nobody can sing like that,'" he says.
But he's working on it.
"Opera Extravaganza: A Gala Performance," Green Mountain Opera Festival, Sunday, June 3, at 7:30 p.m., UVM Recital Hall, Burlington. $50. See the full calendar of events at greenmountainoperafestival.com.