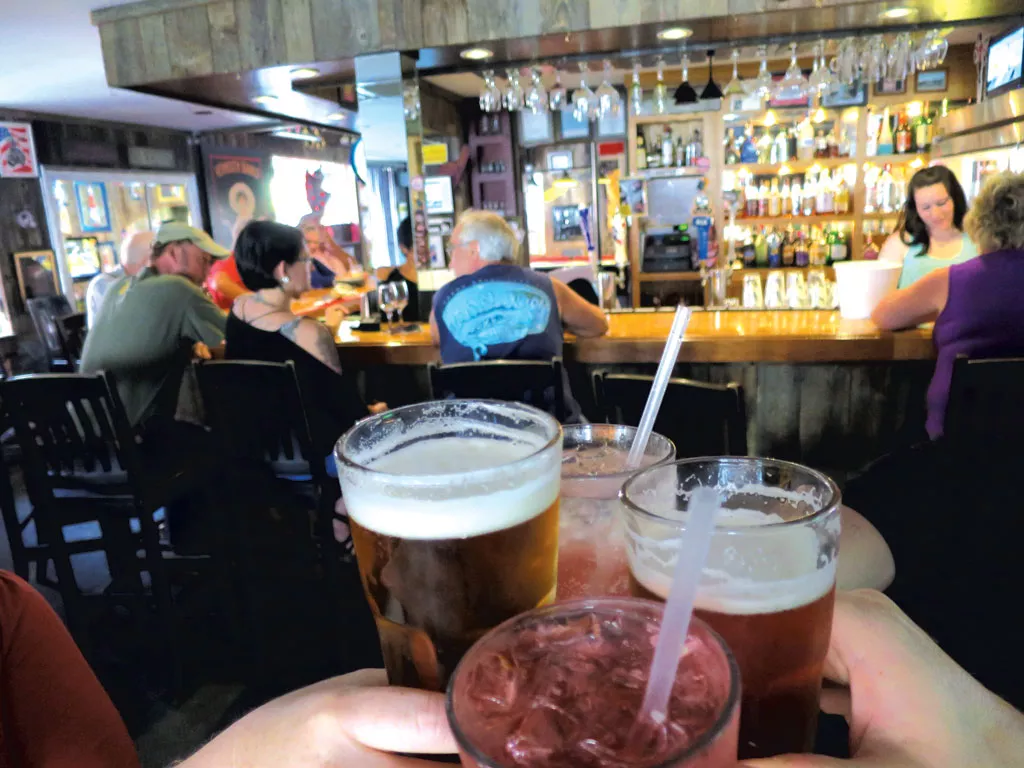 As nearly everyone there informed us, it was a slow night at Shooters Saloon, a no-nonsense tavern half a block west of Main Street in St. Albans. Fewer people than usual had signed up for the open mic night, and most of the barstools were empty. My two companions and I soon learned that many of Shooters' Thursday-night regulars were at nearby Twiggs restaurant to see the popular local band Coon Hill John. No one held a grudge, though — far from it. We were repeatedly encouraged to walk over to Twiggs and check out the scene.
That might also have been a polite way of suggesting that the urban interlopers pull up stakes and leave Shooters to the regulars. But it didn't seem that way. The bartender and patrons were friendly — in one case, a little too friendly — even if we did find ourselves on the receiving end of a few leery glances.
St. Albans is only 35 minutes' drive from Burlington, but the cultural divide is greater than that number would suggest. Talking to one of the patrons, I paused in mute confusion when she remarked that she'd just moved to St. Albans "from town." Town? I wondered. Was that how locals referred to the outskirts of St. Albans? "Burlington," she clarified. Oh, right, thought this former resident of Brooklyn, still taken aback by anyone who attributes significant urban attributes to the Queen City. Burlington. Town.
Shooters is about as unpretentious as bars get; if not for its distinct ambiance of the north woods, it might not seem out of place in some of Brooklyn's less gentrified territories. Its rough-hewn-wood-paneled walls are adorned with mirrored beer signs, license plates and signs bearing folksy aphorisms such as "Your husband called and said you could buy anything you want." On our visit, auto racing played on a weirdly low-resolution high-def TV, and a pool table welcomed Shooters' shooters in a comfortable back room.
Do such ornaments grant the bar "dive" status? Arguably. But the drink specials nudge it further into that territory. Absent here are the $12 artisanal cocktails you'll find in Town, and just two local brews were on tap when we visited (Switchback and Long Trail Brewing's Limbo IPA). But Shooters will get you drunk fast — and tackily — on such creations as the Ankles in the Air (orange vodka, coconut rum, peach schnapps, and pineapple and orange juices), the Blue Balls (blue Curaçao, vodka, peach schnapps, sweet and sour mix, and a little Sprite) and the, ahem, Wet Pussy (vodka, gin, coconut rum, the inevitable peach schnapps and pineapple juice). Bartender Nila Shaw adds a splash of cranberry juice to the last one "to make it pink."
No one was at Shooters to drink ironically, as hipsters in Town might do. The classic dive is a thoroughly unironic local tavern — no more, no less.
On "thirsty" Thursday nights, though, the place gets a little glitzier thanks to the open mic event. Hosted by Burlington's Made in the Shade Entertainment, "Vermont's Got Talent" is part karaoke and part showcase for local musicians. Performances start a little after seven, and Made in the Shade's head honcho, Kyle Stevens, 39, grants each early-bird performer a generous four-song moment in the spotlight. After 10, Stevens explained, the karaoke waiting list gets longer, so he pares back the number of songs allowed. "We want everybody to be able to sing," he said.
A musician himself, Stevens is an amiable and encouraging host. He warmed up the crowd with a Johnny Cash song ... and then a song by the Who that he performed in the manner of Johnny Cash. Made in the Shade is a one-man operation; Stevens crisscrosses northwestern Vermont every week. On Mondays he's at Back Stage Pub & Restaurant in Essex Junction, Tuesdays its JP's Pub in Burlington, Wednesdays he's at Milton's North Country Saloon, on Thursdays he's at Shooters, and on Sundays, Franny O's in South Burlington. He's been in the business for about eight years, and has had the gig at Shooters for two.
Most of the performers at this weekly talent contest sing, but Stevens said comedians and even jugglers occasionally take the stage. "If you've got a talent, we want to see it," he said. Belters can win a $25 gift card for the best rendition of the selected "song of the night," and every couple of months a crop of recent Shooters' winners competes for a $100 grand prize. (Stevens distributes scorecards and encourages patrons to vote for the best performers, but drinkers around us didn't express much interest in the tabulation.)
With many of the regulars at Twiggs or elsewhere, returning champions eagerly commandeered this night's open mic. Two-time winner Chris Parker, 41, took the stage in his Bond Auto Parts work shirt. Parker, who's been writing music for 25 years, accompanied his own emotive, Eddie Vedder-esque vocals on acoustic guitar.
Parker's open mic victories at Shooters have given him a boost. "This has actually started to work out for quite a few of us," he said. "It's starting to get us into actually playing for money." The St. Albans music scene is small, so Parker has found himself performing — at, yes, Twiggs — with other Shooters regulars, including Stevens himself.
"About 12 years ago, I used to play an open-mic night here and nobody showed up," Parker added. "You get Kyle Stevens in here, and this place is packed on a Thursday." When everybody's not at Twiggs, anyway.
The music was generally fine, and whenever I lost interest, I found mesmerizing solace in the pulsating, pointillistic red-and-green light show that played against the back wall of the stage. It hypnotized me into enduring a karaoke version of 4 Non Blondes' nefarious earworm "What's Up?" — possibly the worst song of all time.
Karaoke renditions of bad '90s pop tunes were surely the brassiest indignity my drinking buddies and I faced that evening. But my friend Jessica did encounter another when, temporarily alone at the table, she was joined by a red-faced, PBR-toting potential suitor. She found his bumbling manner more amusing than off-putting, but we still invented an opportunity to leave.
Shortly after we got up to hang around outside with the smokers, another regular open mic performer, Elliott Johnson, burst out of the bar and proclaimed, "I just ate a plate full of dicks in there."
Given Shooters' sexually inflected drink names, it's worth clarifying that Johnson had consumed neither a literal nor an alcoholic "plate full of dicks," but was delivering a blunt assessment of the four-song set he'd just completed. I actually thought his version of the Stones' "Happy" wasn't half bad, but Johnson is obviously his own harshest critic.
Still, he said, "This is a good place for anyone who likes to sing karaoke, any musician who's trying to bring their chops up to speed — or just get their chops going in the first place."
Neither my friends nor I felt much like singing that evening, so we packed it in after a couple of hours and a couple of drinks. Later, I asked them for their impressions of the place.
Jessica, a part-time bartender who delights in visiting local watering holes, said she enjoyed Shooters' unprepossessing charms, despite the unwelcome attention she received from one of its patrons. She was happy to escape the trendy, overpriced cocktails of Town. The third member of our party, Michael, was less enthusiastic, calling the place "a miserable little hovel" in an email. He added, "Let's go to a different place tonight!"
I hear Twiggs is pretty cool.