Matthew Thorsen
Jamell Rogers
Burlington-based R&B singer-songwriter/producer Jamell "NYT" Rogers lives his life according to a simple mantra: "Know your truth." He defines this maxim as having a deep understanding of oneself and to let that truth be the guiding force in one's life. His moniker, NYT, has a double meaning. For one, it's an acronym for his mantra — the "n" comes from the "n" in "know." But NYT is pronounced "night," which characterizes the darkness he's seen and overcome in his lifetime.
Rogers, 28, recently rebranded himself as Jamell NYT, in part to make his newer, melodic R&B stand out from his earlier hip-hop. For years, he's been rapping as NYT and making beats under the moniker Nawtyboi, a catchall name for his production work. Rogers plays SideBar in Burlington on Wednesday, February 8.
As he continued to grow his online presence over the last several years, Rogers found that his former name created difficulties for search-engine optimization. That's because NYT easily confuses the search robots and mostly produces results for the New York Times.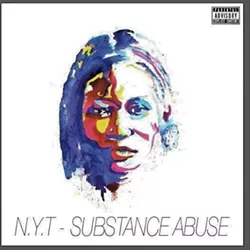 In 2016, Rogers released his first proper album, the ominously titled Substance Abuse. Its seven tracks feature a blend of icy hip-hop beats, warm acoustic guitar and finely woven vocal harmonies. But the record isn't merely a collection of well-crafted pop R&B. Rather than making a set of fun, easy-to-swallow singles, Rogers aimed for a loftier goal. Throughout the album, he takes a hard look at drug addiction and Vermont's multifaceted opiate crisis, both of which have affected him personally.
"I told myself, 'If I'm ever going to put out an album, it has to be the realest shit I ever wrote. It has to be from the heart,'" says Rogers.
Born in Poplar Bluff, Mo., Rogers has seen drug addiction ruin the lives of many people close to him, starting in his early childhood. At age 6, he was taken away from his mother, Shirley Pratt, a struggling addict. Rogers was put into foster care and sent to Vermont, as was his brother, David. In Rogers' words, he feels he was "not well received," referring to his experience in Vermont's foster care system and the fact that he never found a permanent placement.
His love of music helped him cope with the turmoil of bouncing around from group home to group home. At 14, a social worker gave him his first guitar, hoping a creative outlet would help him process his feelings and frustrations.
Rogers became an emancipated minor at age 16, but freedom from the system only led to more struggles. He spent much of his young adult years couch surfing, staying in homeless shelters and living on the street, all while attempting to stay positive and to channel his anguish into art.
Several years ago, Rogers reconnected with his estranged mother after more than a decade of fruitless searching. He received a message from her through his SoundCloud account. But he didn't see the message until six months after she'd sent it. She'd left him the phone number of a halfway house in Iowa where she'd been staying.
By the time he called, he discovered that she'd since moved out. Though it seemed like another dead end, Rogers left his contact information in case she ever returned. Fortunately, she happened to stop by the halfway house to collect some belongings shortly thereafter.
Rogers recalls the complexity of his emotions before speaking with his mother for the first time in nearly two decades.
"You dream of what it's going to be like," he explains. "I had so much anger and resentment and frustration, because you have social worker[s] telling you, 'Your mom was a fucking crackhead. She didn't give a fuck about you. She couldn't get clean, she couldn't do shit, she couldn't provide for you.' And then I get on the phone with this woman who's been hurting and lost her kids and it's just like, 'I have to forgive you.'"
After reconnecting and finally spending some time together in both Vermont and Iowa, Pratt died of a drug overdose in 2014.
"She called me the night before she died. It just fucked me up. So, when I was working on [the] album, I wanted her to be remembered and I wanted people to take from it how powerful drugs are to our society and our families," he says.
Rogers found an artful way to dedicate the album to his mother — her face is on its cover.
Over the next couple of years, Rogers lost friend after friend to drug overdoses — he lost seven close friends in 2016 alone. Meanwhile, his musical identity was beginning to shift from rapping to singing, though he does rap intermittently on Substance Abuse.
"I worked at singing for a long time. It didn't come naturally," says Rogers. That statement is hard to believe, because Rogers sounds like he was born with his soulful tenor. His voice rivals that of Abel Makkonen Tesfaye, aka the Weeknd, an artist Rogers admires and to whom comparisons can easily be drawn.
Substance Abuse, which you can hear on SoundCloud, is practically a public service announcement about opiate addiction. Nearly every track begins with an audio clip of news coverage surrounding Vermont's heroin crisis. Rogers condemns and laments the devastating effects of drug addiction with tenderness and staunch conviction. He enlisted frequent collaborator Zach Crawford of SkySplitterInk for engineering and mixing duties. Death's Bobbie Duncan worked with Rogers on the album's opening cut, "Best Shot," providing additional instrumentation.
The album's sentiments are straightforward and unambiguous. On "Nytmare," Rogers raps, "It's so hard / You're so weak / They make it so easy / They make it so cheap," referring to the endless cycle of addiction. On "The Fix," he describes a woman's personal demons: "She's got needles / Under her skin / Those empty bottles / Are her only friends / I told you once / I'll tell you again / She ain't gon' stop / Until it ends." Though it may be a taxing listen, Rogers felt that he needed not to mince words.
Rogers has become one of the most frequently booked acts in Burlington, which he attributes to his stamina, whole-hearted enthusiasm, relentless fan engagement and ability to be available at a moment's notice. He says that he only recently started gigging with his current intensity, and that he often found it difficult to get his foot in the door as a singer-songwriter.
"I'm a young, black artist singing R&B music in a dominantly white town that prefers Phish, Grateful Dead [and] a lot of jam band, folky stuff," he says. "I can play that stuff, [too.] I might play some Jerry [Garcia], I might play some Phish, and people listen and they're like, 'Oh, this is intriguing.' Then I might switch it up and play some R&B."
Rogers is currently at work on new material, which he describes as much more bright and bangin' than the deeply personal, heavy Substance Abuse. But chances are the new music will continue his pursuit of truth.