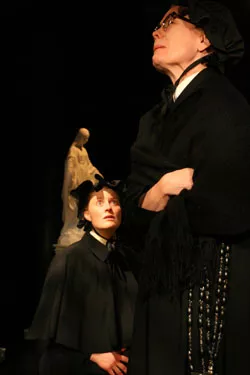 Heather Nielsen and Alison Edwards
Which emotion is most corrosive to the human spirit? Hate? Fear? Envy? Regret? Doubt certainly makes the short list of emotions that eat away at the soul. It foments mistrust of others and the self, sabotaging relationships and undermining self-confidence. In its wake, a turbulent swirl of suspicion and second-guessing can lead to misguided decisions that sometimes ruin lives.
In his 2004 play Doubt, writer John Patrick Shanley seized on a hot cultural moment — the Catholic Church's sex-abuse scandal — to examine doubt's destructive power. His au courant commentary struck a nerve. The 90-minute, one-act drama had an astonishing 550-performance Broadway run and brought home award-season booty, including the playwriting Pulitzer and Tony for Best Play. Shanley, who also penned the Oscar-winning screenplay for Moonstruck, is currently directing the cinematic version of Doubt, starring Meryl Streep and Philip Seymour Hoffman.
Meanwhile, with the regional stage rights now available, Doubt is 2007-08's most-produced show around the country; in Vermont, it debuted at Northern Stage in White River Junction last November and is now running at Vermont Stage Company in Burlington.
Shanley's unusual angle is looking at the Church's crimes from the feminine perspective. Among his quartet of characters, only one is a man: the priest suspected of abusing his charges at a Bronx Catholic school. The regrettable flaw in the VSC production is that director Sara Lampert Hoover miscast that pivotal part. Moreover, the static, uninspired quality of her direction detracted somewhat from the liveliness and dramatic intensity of the women's strong performances.
With a rigid authority structure and inflexible dogma, the Catholic Church embodies institutionalized certainty, so its recent failings provide a glittering prism for looking at doubt. Just how do teachings on clerical celibacy and papal infallibility square with priests who molested children and a Church hierarchy that engaged in a systematic cover-up?
By setting the play in 1964, Shanley undertakes a difficult task: The 21st-century audience knows facts that his 1960s characters are not supposed to know. The Church was guilty, as were far too many priests. Now, there is no doubt on either count.
This modern point of view creeps into Shanley's writing when Sister Aloysius seems too certain, too soon, of Father Flynn's guilt. The stern nun is the conscientious, micro-managing principal of St. Nicholas' School. As she grills her younger, more idealistic colleague, Sister James, about the progress of each eighth-grader, Sister Aloysius registers immediate alarm over a small incident the young nun reports involving the school's first black student, Donald Muller.
After a private chat with the priest at the rectory, 12-year-old Donald returned to Sister James' class slightly disheveled, possibly with alcohol on his breath. Sister Aloysius leaps to conclusions: "The little sheep lagging behind is the one the wolf goes for," she explains to the shocked Sister James.
While the older nun is firmly convinced of Father Flynn's sexual misconduct, and determined to take action, she knows the protections surrounding him are almost insurmountable. The patriarchal chain of command means she must report her suspicions to Flynn's boss, the clueless Monsignor Benedict. She knows he will believe the priest's denials, but rules prohibit her from approaching the bishop herself. "There's no man I can go to," she complains to Sister James. "We are going to have to stop him ourselves."
The young nun is reluctantly pulled into the principal's plan. But when the women confront Father Flynn, he uses his status to shield himself. He later seeks to cultivate Sister James' support as her hesitation mounts. Sister Aloysius tries to play a clever trump card, calling Donald's mother into her office, but she doesn't correctly anticipate the parental response. The final confrontation between the tough old sister and the determined younger priest leads to a victory that is Pyrrhic, at best, for one side.
As Sister Aloysius, Alison Edwards radiated steely resolve from beneath her puritanical black bonnet and sweeping robes. (A program note explained that the Sisters wore these severe head coverings, instead of the standard wimple, to honor their order's founder.) Her formal posture and stern demeanor reflected the principal's admonition to her younger, softer colleague: "I want to see the starch in your character cultivated." Edwards moved and spoke with plenty of starch: a firm step, unyielding gaze and crisp vocal tone.
The role represented a remarkable physical transformation from Edwards' performance last May as Martha in Who's Afraid of Virginia Woolf? The actress was literally unrecognizable as she disappeared into the role, swapping Martha's curvaceous carriage for Sister Aloysius' angularity. Although the parts seem polar opposites, like Martha, Sister Aloysius chafes at how her situation circumscribes her options. Edwards assertively played the frustrations of both characters, whose ball-busting natures bump up against society's restrictions.
Sister Aloysius' battlefield is, of course, intellectual rather than sexual; her opponent is Father Flynn, and her weapons are her wits. In the play, Flynn embodies the Church, the entire male establishment Sister Aloysius finds herself up against.
The role of Father Flynn demands a protean performance, because the layers to his character are meant to build the play's dramatic tension. He sows the seeds of doubt for the other characters and for the audience. But we neither wonder nor ultimately care about the priest's guilt or innocence if the actor doesn't manifest the character's internal struggle — which we assume him to be having — and if he doesn't seem a worthy opponent for the canny Sister Aloysius.
Mark Nash did not create a convincing Father Flynn, even in the character-establishing solo scenes. When the priest performs his professional bread-and-butter of sermonizing and coaching basketball, Nash came off as forced rather than natural. His homilies lacked the easy, practiced rhythms of preaching, sounding instead like stilted monologues.
More troublesome was the missing subtext of Shanley's dialogue, especially in Nash's pivotal scenes with Sister Aloysius. When characters volley innuendo and subtle threats between them, eyes and expressions must make explicit what words do not. But the repartee between Nash and the other actors often lacked edge; he capably delivered the dialogue, but without its implied undercurrent of menace.
Director Lampert Hoover must share the blame here; a number of poor choices didn't help Nash's cause. Jeff Modereger's set — elegantly appointed in worn emerald and oak tones — took up too much floor space, forcing the actors to walk perilously close to the audience when entering and exiting the stage. Overall, Lampert Hoover's direction felt confined, considering that most scenes featured only two actors. It didn't seem as if she had given the performers much gesture or motion to work with.
Nevertheless, the two actresses playing supporting roles sketched memorable portraits. As Sister James, Heather Nielsen showed how her character suffers doubt's cruelest blow: It shatters her innocence. Nielsen took the young nun from radiant and eager to sorrow-stricken and edgy, bright eyes growing dull with the pain of knowledge she does not want to have. In her single scene as Mrs. Muller, Pascale Armand cut a vibrant figure. She brought polish and dignity to a mother who stands by her decisions, and stands up to the powerful Sister Aloysius.
By setting the play in 1964, Shanley clearly means to bring us back to a More Innocent Time. But this makes it a little less believable that Sister Aloysius immediately thinks "clergy pedophilia" when a little boy has a bad day in class. Nuns didn't know then what we know now.
Or did they?