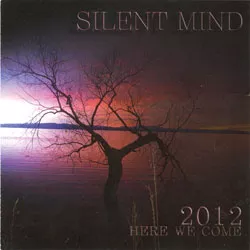 (Chakra 5 Records*, CD)
Usually in a CD review, I'll drop indie names and make comparisons to the daydreamy tunes of, say, Luna or Mojave 3. It's a little show-offy thing I like to call The Obscurity Game. But we don't have to play that game with Silent Mind's latest release, 2012 Here We Come. The band's familiar sound is mainstream and radio-friendly, only homegrown. Theirs is a generic brand of rock, well suited to local radio affiliate 99.9 The Buzz. While local startups sometimes suffer from inflated ambition, Silent Mind seems to have evolved from their first release, Acoustic Thoughts, into an unobtrusive rock trio. Is that an oxymoron?
Anyway, it's refreshing to hear a band that isn't biting off more than it can chew. The first song, "What Went Wrong," is a catchy number with some brief soloing over simple rock rhythm structures. Many of Silent Mind's songs embrace standard rock-radio-style guidelines: Begin with some low-key drumming and guitars to emphasize the vocals in the first verse, then cue the fuzzed-out guitars at the chorus.
"You're Free" follows the template to perfection. Easy-to-understand lyrics make this group sound like a local version of Seether or Three Days Grace, while the subject matter broaches relationships both friendly and amorous as well as the universal need to connect.
"Breathe Deep" begins like Phish's "Fee" and poses the eternal question, [is there] "someone else out there who breathes deep?" Silent Mind's lyrics are often not at all clever, which is actually somewhat welcome. Like Hannaford supermarket, the band employs no gimmicks, no membership cards. Just easy shopping.
In the end, however — to work the marketing metaphor — I shop locally for the variety. You can't find heirloom tomatoes in a big chain store. In the Burlington music mart, each band's ballsy attempt to create something uniquely different is what fosters creativity, one gimmick or obscure reference at a time. No reward without risk. Don't get me wrong, Silent Mind have talent and ability. But their mainstream sound probably won't play to indie-hipster sensibilities.
* This article has been corrected.