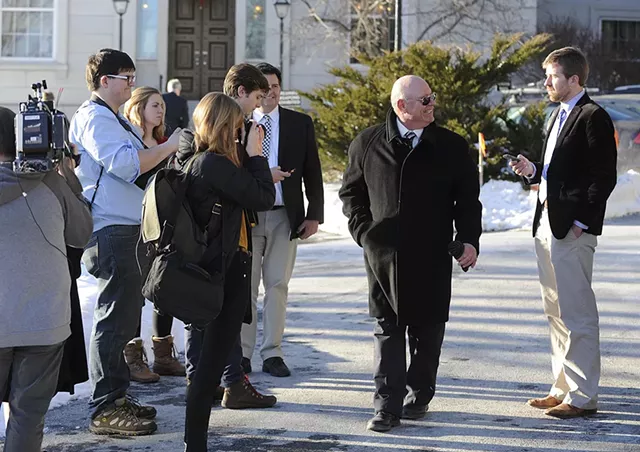 File: Jeb Wallace-Brodeur
Suspended Sen. Norm McAllister smiles at Seven Days political columnist Paul Heintz in January 2016 at the Vermont Statehouse
On the night of the Iowa presidential caucuses last February, I struck up a conversation in a Des Moines ballroom with a national political reporter covering Sen. Bernie Sanders' (I-Vt.) campaign. When I described what I do for a living, he asked me with a sympathetic smile, "Doesn't it get boring covering politics in such a small state?"
I was baffled by the question. In the five years I've worked for Seven Days — and the four and a half I've written Fair Game — boredom is a condition I have yet to encounter.
In this age of congressional paralysis, the real public-policy action is taking place in statehouses across the country. Here in Vermont, we still have a functioning government, capable of contemplating the thorniest of questions: What is the meaning of marriage? When is it acceptable to end one's own life? What is the value of human labor? Is medical care a fundamental right?
In this little state, citizen legislators ask and answer these questions in open committee rooms and legislative chambers. When we disagree with their conclusions, we give them an earful at the farmers market — or vote them out in the next election.
Covering this ecosystem and the eclectic characters that populate it has been fascinating and rewarding at every turn. Here, one can still practice journalism by getting to know and getting to grill those who make the decisions — and not just rely upon press releases, flacks and tweets. The right follow-up question or public records request can still break open a story and change the course of a debate.
I forget exactly how I responded to that reporter in Iowa, but I remember what I was thinking of his beat: Isn't it boring following the same politician for months at a time, listening to the same stump speech three times a day and racing a hundred others for the same scrap of a scoop?
It was a thrill to witness Sanders' near-victory that night and to cover what I could of his presidential campaign. I was grateful for the opportunity. But I also yearned to return to the Statehouse beat, where my reporting was more likely to break new ground.
That night at the Holiday Inn Des Moines-Airport, every major news outlet in the country was present. But how many had sent reporters to cover the issues driving the Sanders insurgency: economic inequality, political corruption and the ravages of climate change? How many had explored the anger, distrust and economic malaise that would hand Donald Trump the Republican nomination and, ultimately, the presidency?
The press has spilled plenty of ink since last month's elections wondering why voters wanted to nuke the system. But the answer is profoundly obvious: We haven't paid enough attention to the struggles Americans face.
As I hand off Fair Game and move on to a new reporting assignment, I hope to do what I can to chronicle those struggles. I want to explore the inequities in our economy and learn how we might address them. I want to spend more time on investigations and less time at press conferences. I want to write about poverty, drug addiction and homelessness.
I'm grateful to my bosses at Seven Days — particularly cofounders Paula Routly and Pamela Polston — for entrusting me with this storied column, whose previous authors taught me much of what I know about Vermont politics. How many people get to spend their working hours hectoring governors, courting arrest at campaign fundraisers and buying an assault weapon just to prove a point?
Just as much, I appreciate the bosses' willingness to let me try something new at Seven Days — an institution still willing and able to invest in compelling journalism.
Our political coverage will be in good hands: Veteran Statehouse reporter Terri Hallenbeck will be in Montpelier this winter with Alicia Freese, who has spent the past three years covering Burlington for Seven Days. I'll continue to serve as political editor and will be joined in that role by Candace Page, who spent more than three decades writing and editing for the Burlington Free Press.
John Walters, a political blogger and former public radio journalist, will take over Fair Game. In his work at Green Mountain Daily and then the Vermont Political Observer, he has written with a strong voice, a perceptive take and a provocative, combative style. These are attributes that should serve him well in his new role at Seven Days.
I admit that the weekly political column sometimes feels like an anachronism. In this age of push notifications, hot takes and half-cocked opinion, who wants to wait until next Wednesday to read yesterday's news?
But I think the political columnist still has a vital role to play: to connect the dots, call out the bullshit, comfort the afflicted and afflict the comfortable. Politicians have more tools than ever to bypass the news media and broadcast their propaganda unchallenged and devoid of context. A nervous and depleted press corps too often picks the path of least resistance, transcribing rather than challenging.
We need journalists who can tell the story behind the story, explaining not just the what but the why.
Walters has his work cut out for him.
Vermont has a lot going for it. Its small scale and historical geographic isolation have fostered a political culture that is more thoughtful, honest, caring and close-knit than others. But Vermont exceptionalism only goes so far. Our politicians may serve us better than others, but they are still politicians. And we are all still humans who lie and cheat and steal and kill, as humans do.
Our high self-regard often gets us into trouble. I can't tell you how many times I've witnessed Vermont legislators arguing that we don't need tight restrictions on campaign fundraising because they're all just so darn honest. Of their own small-dollar reelection races, they say, "Well, Coca-Cola's not buying my vote." What they fail to recognize is that in our contests for attorney general, governor and U.S. senator, those with financial stakes in the business of government throw money around with reckless abandon. Even here in perfect little Vermont, access and influence are still for sale. They just cost less.
We cherish our tradition of the citizen legislature, which has indisputably stifled the rise of a professional political class. But we are too often blind to the challenges it brings: Its part-time schedule and meager compensation makes it difficult for all but the wealthy and retired to serve. Those who still must make a living occasionally take jobs with organizations seeking to influence the legislature — and don't always disclose it. Because we don't provide our legislators with sufficient support staff, lobbyists fill the void with their own sets of "facts" and prewritten bills.
We imagine ourselves on an island, safe from the perils that plague our nation's politics. But the U.S. Supreme Court's dismantling of the campaign-finance regimen has brought the super PAC to our fair shores, too. As Vermont's 2016 gubernatorial race demonstrated, the influx of outside money does nothing but make our elections dumber and meaner.
Our next governor, Republican Phil Scott, will end a six-year period of Democratic dominance, but his election should not signal that we have a thriving multiparty system. The Democrats still have a lock on the Vermont House and Senate, along with every other statewide office. While the Vermont Progressive Party has made steady gains, the Vermont GOP remains anemic. Every election cycle, countless incumbents go unchallenged. That does not make for a healthy democracy.
Just as important as electoral competition is dogged oversight from a vibrant press corps. Since taking over Fair Game in May 2012, I've chronicled with distressing regularity how many talented reporters and editors have left or been forced out of the profession. Once-great institutions, such as the Free Press and the Rutland Herald, have become shadows of their former selves.
To be sure, there are still signs of life. Nontraditional outfits, such as Seven Days, VTDigger.org and Vermont Public Radio have labored to fill the void. And in the past year, two sets of newspaper investors have bought up two Vermont media companies: one that operates the Herald and Barre-Montpelier Times Argus and one that runs the Brattleboro Reformer, Bennington Banner and Manchester Journal. With any luck, they will fulfill their promises to invest in real journalism and the humans who produce it. We should reward them with our support if they do.
I fret about the health of Vermont's statewide press corps, but I worry more about the towns and cities that can no longer count on a healthy local newspaper. How many selectboards and city councils meet without a reporter in the room? How many businesses operate without scrutiny? How many wrongs are never righted? What are the stories we will never read?
In my time writing Fair Game, more than a few have accused me of cynicism. I hope it is true that I have been skeptical, probing and tough; I'm pretty sure that's my job. But I would argue that the true cynics are those who don't believe we can do better: the journalist who declines to cover a vexing societal ill because it's never going to change, or the politician who takes corporate cash because everybody else is doing it.
I wouldn't do what I do if I thought we were incapable of change — of working out the kinks in this beautiful, flawed democracy. I cling to the perhaps naïve notion that when we are armed with good information, we tend to make good decisions. I continue to believe that we can do better, and I hope that we will.