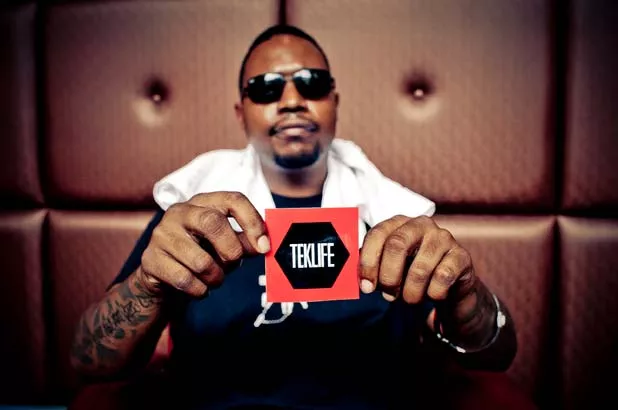 The big news on the local scene this week is the return of Signal Kitchen. Now, since the club's owners have lately focused their efforts on booking for ArtsRiot, you may not have realized that SK hasn't hosted a show in its own space in a long time. And while the slate of rock and/or roll goodness at the Pine Street hotspot has certainly been a welcome development, I'm a greedy, greedy man. When it comes to cool places to see live music in town, more is almost always better. So I, for one, am really psyched to have SK back in the fold. And when you get a chance to check out their (theoretically) renovated digs this weekend, I think you will be, too.
At this point, you might be thinking, Hey, Dan. What's with the word "theoretical" in parentheses there? Don't we already know the club is being renovated? You may also be saying, Wow, you're two paragraphs in and haven't made a sports comment, awkwardly hit on Neko Case or dropped an F-bomb. High five, dude!
Thanks, guys. I'm trying.
As for the SK renovations, I say "theoretically" because, judging from what I saw when I stopped by the club last weekend for a grand tour from SK's Alex Lalli, it's gonna take a minor miracle for them to finish in time for their grand reopening this Friday, February 7. I'm not saying they won't get it done. But it's gonna be a close call, because it's possibly the most ambitious redesign we've seen since Nectar's classed up their joint a few years back.
For starters, Lalli and co. are totally changing the layout, with the notable exception of the stage, which remains in its original location along the north wall. But the lounge area has been completely gutted and reshaped. Next to that, and serving as a sort of divider between the rooms, a long bar will sit where the spare room by the hallway used to be. The bar area is elevated, which will provide some excellent sight lines for the cool kids/lushes who like to hang out in the back by the bar. The concert area itself has a more open feel, too. Oh, and there is a new, second exit closer to the stage area, which should ease the minds of those who felt a little claustrophobic in the basement rock hall — not to mention the fire marshal.
Aside from the cosmetic changes, the big story is that Signal Kitchen will be live streaming all of its shows. This was always part of the idea for the space, but it hasn't really been put into practice yet. Many of the club's shows have been recorded and you can watch those videos on SK's YouTube page. But Lalli says he expects every show at the club to be available online, in real time. That's pretty freakin' cool.
Lalli also hinted at a potential development down the road that might just make Signal Kitchen the coolest joint in town. Sadly, he's sworn me to secrecy on that one, under penalty of actually having to pay to see concerts. That's terrifying. So you'll just have to wait. But trust me, it's rad.
In the meantime, Signal Kitchen reopens this weekend with a pair of free shows: Friday, February 7, with Caroline Rose, Plato Ears and Safar!, and Saturday, February 8, with DJ Rashad, Bless the Child and Principal Dean. And, yes, they'll still be handling the ArtsRiot booking, too.
Brotherly Love
Moving on, the ever-ascendant DuPont Brothers have a nice residency lined up every Wednesday in February at Nectar's. This week, on both February 5 and February 12, the DuPonts will be joined by Maryse Smith and Michael Chorney, who have been playing together a bunch lately. I don't want to jinx anything, but the last time Chorney took an interest in a super-talented young local songwriter, it was Anaïs Mitchell. I'd say she's done pretty well for herself, and that Chorney clearly has an eye/ear for remarkable talent. So Smith-Chorney could really be a powerhouse combo. Rounding out the residency are local indie-folk upstarts the Leatherbound Books on February 19 and nationally touring songwriter Zach Deputy on February 26.
It's also worth noting that the DuPont Brothers are currently working on a record of acoustic duos called Heavy as Lead. In a recent email to 7D, Zack DuPont writes that the songs are modeled on "the same minimalist approach taken by Gillian Welch and David Rawlings." Judging by some videos the DuPonts posted recently from busking sessions in South Carolina that feature the new tunes, I'd say he's not far off the mark — though I'm not sure which brother is supposed to be Welch.
DuPont adds that they'll be opening each residency with a set of said new acoustic numbers as a duo, before bringing out the full band. So you can figure that out for yourself.
BiteTorrent
Speaking of Nectar's, I happened to catch Kat Wright & the Indomitable Soul Band there last weekend. Here's my serious professional critic's take: holy shit.
That was best I've seen them, which is saying something. And judging from the line that ran from Nectar's to Mr. Mike's and barely moved over the course of the night, I'd say they're poised for a big year. Catch 'em while you can.
Meanwhile, in Barre … wait, Barre? (I'm being told, yes. Barre.)
Ahem, meanwhile, in Barre, Montpelier indie band Anachronist emerge from their winter slumber for a show at Espresso Bueno this Saturday, February 8. That band made my 2012 list of the best Vermont-made records with their stirring EP, Row. I'm told they've been holed up at Egan Media with Rob O'Dea working on a follow-up, which is news that makes my ears all tingly. Also on the bill are fellow Montpeculiarians Mystery Points.
Sign of Spring Number One: The Burlington Discover Jazz Fest has announced some headliners for this year's jazzenanny. They include Maceo "MACEOOO!" Parker, a double bill with NEA Jazz Masters Ron Carter and Benny Golson, the King of Nouveau Swing Donald Harrison and 2014 Grammy-nominated vocalist Cécile McLorin Salvant. Only five months to go…
Last but not least, our thoughts go out to Funkwagon front man Aaron Burroughs this week. Monday morning, his Burlington apartment was gutted by fire. Fortunately, he was able to get out safely. But he lost pretty much everything he owned, including all of his musical equipment.
The early word from Burroughs is that Nectar's has a benefit show planned with the Lynguistic Civilians, Gang of Thieves and Casio Bastard slated for February 20. Stay tuned for more details on that in the coming weeks.
Listening In
A peek at what was on my iPod, turntable, eight-track player, etc., this week.
Sun Kil Moon, Benji
The Singles, Look How Fast a Heart Can Break
Hospitality, Trouble
Quilt, Held in Splendor
Uncle Tupelo, No Depression: Legacy Edition
The original print version of this article was headlined "Signal to Noise"