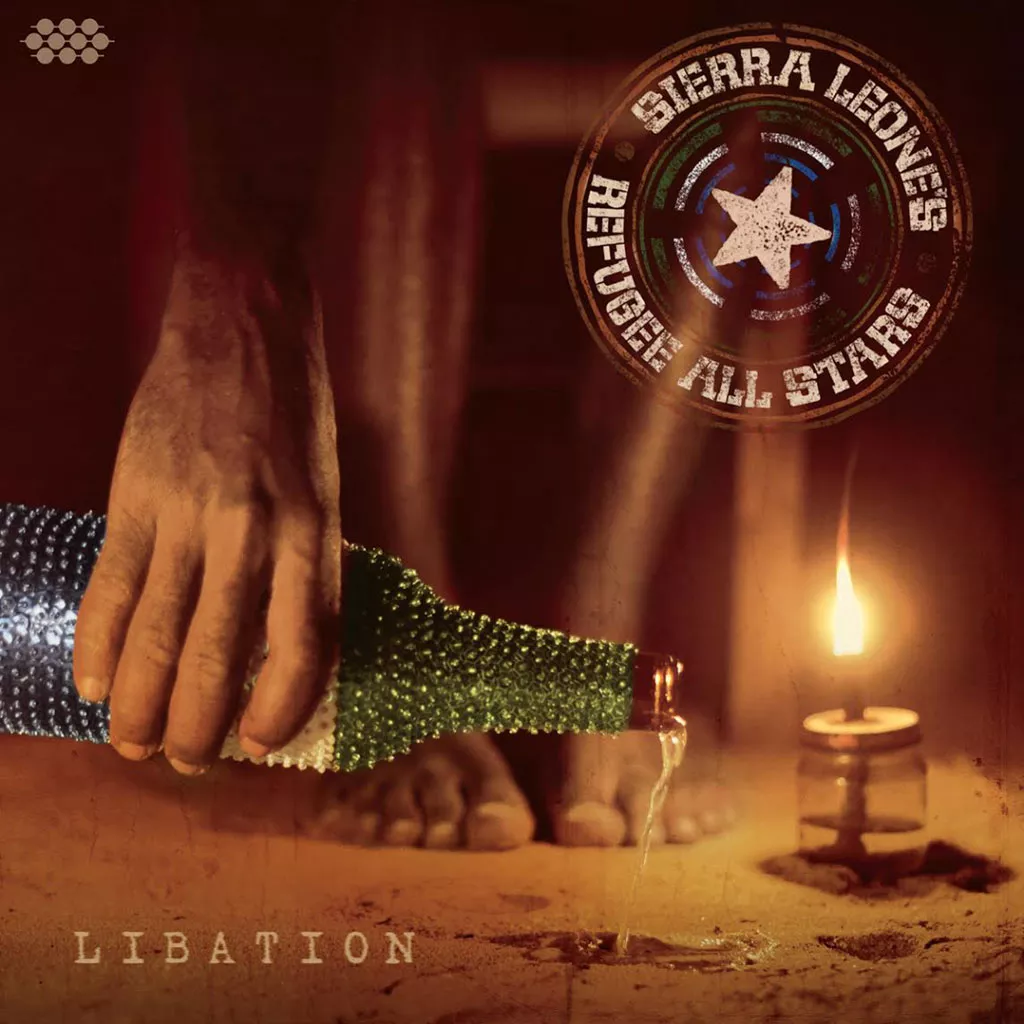 (Cumbancha, CD, digital download)
Full disclosure: I'm in a foul mood when I first pop on Libation, the latest record from Sierra Leone's Refugee All Stars. Bills are piling up. My car needs work. There's a sink full of dishes. The Sox lost. Again. It's raining. (Again.) Traffic sucked. In other words: wah. But 'long about the record's fifth track, "Rich But Poor," as I make my way through a pile of plates I'm pretty sure I didn't dirty, something strange happens. Without my knowledge, my feet begin to shuffle, my dishpan hands begin tapping along to the song's bright, roots-reggae beat. Suddenly I feel ... good?
From a strictly musical standpoint, it's hard to listen to SLRAS and not feel at least a little better about things. That's long been true of the African ensemble's reggae-ish brand of upbeat world music. (It's actually rooted in West African baskeda, which sounds very similar to but is not technically reggae.) And it's especially true on Libation. The band's fourth full-length in their 10-year history — and third for Charlotte-based label Cumbancha — is a return to roots, specifically the acoustic "around the campfire" vibe of their earliest recordings. As the title suggests, the record is both intoxicating and refreshing.
The band's easy grooves and radiant melodies wind their way into your subconscious, from the pinwheeling guitar-and-horn interplay of opener "Chaimra" to the staggering acoustic lilt and tipsy trombone of closer "No Feel Bad O." Libation is uplifting, but subtly so. This is most certainly music with a message, but, rather than clobber listeners with patronizing calls to action or sunny philosophical aphorisms, SLRAS make their multilingual affirmations finely, celebrating the brilliance of life through quieter details such as love, family and maybe a cool drink.
Even on their more explicitly pointed political numbers, such as "It's So Sorry," "Rich But Poor" and "Money No Do," the band rarely preaches, even though they probably have more grounds to do so than any band in history.
SLRAS are indeed refugees. The band members were displaced to Guinea during the Sierra Leone civil war in the 1990s. They've lived through atrocities most Western audiences cannot begin to fathom. That the band's music can remain so resolute in its optimism and love for humanity is stunning and inspiring. It is, in its very existence, a triumph of spirit. To sample Libation is to taste that spirit and, at the very least, put your day-to-day trifles in their proper, and ultimately inconsequential, context. Drink deeply.
Libation by Sierra Leone's Refugee All Stars is available at sierraleonesrefugeeallstars.bandcamp.com. SLRAS play ArtsRiot in Burlington this Friday, May 15. A Rhythm & Song Workshop with the band precedes the show.