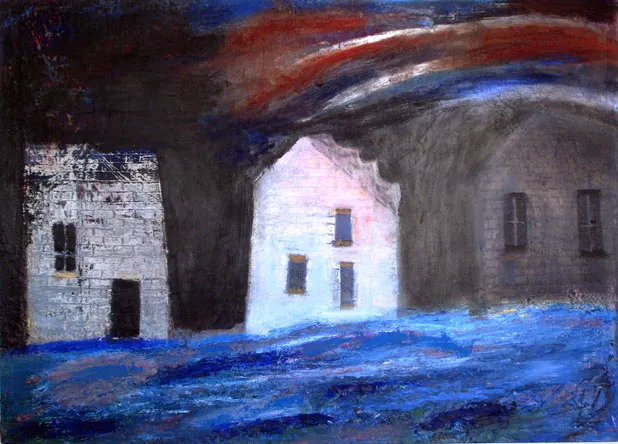 "Florence Is No More" by Sara Bridgman
Darkness pervades the current two-person exhibition in the spacious gallery of Jager DiPaola Kemp Design in Burlington. The Vermont-born artists have known each other since childhood, and they intend their works displayed here to be complementary. In the exhibit, the "companion" pieces generally rest adjacent to each other.
Bridgman's 17 oil paintings have poetic titles that add to the mystery of the images. Most, but not all, of the works are nonobjective, but recognizable subjects do sometimes appear on her referential canvases. Some go a step further and suggest actual narratives.
"Florence Is No More" is a 36-by-48-inch tale of destruction. It may be a reference to the tragic flood of November 1966 in Florence, Italy, which cost countless books and artworks and many lives. In this painting, three houses presented as façades are inundated by a rushing torrent of blue in the foreground. Bridgman painted a black sky with swaths of red angrily arching overhead.
The curiously titled "Diary of an American Goat" is a 24-by-32-inch oil that seems more like an abstract landscape than anything else. Tangles of color, jumbled like steel wool and alive with fine textures, appear in the foreground above a horizon line that separates light blue from a dark background of sky. Four wave-like crimson lines spread horizontally over the blanket of blue.
Bridgman's pair of 60-by-72-inch vertical compositions, "Polar Bear Habitat, Numbers 1 & 2," references something the world may be in danger of losing. Like Monet's Rouen Cathedral series, which depicts the edifice at different times of day, these two blue, closely related works depict what looks like a mighty glacier.
Maeck's 16 sculptures use industrial detritus in graceful ways and employ direct, simplified forms in a manner akin to that of Bridgman's work. All his pieces at JDK come from a years-long project called the Mauro Series.
Maeck's weathered surfaces occasionally incorporate subtle color, such as the red in the 19-inch disk-shaped "Heart of the Matter." This sculpture is suitable for a table top, but most of Maeck's works are larger in scale. "Monogram" is a standing, square steel slab with an aged-looking black paint job. At its center is an aluminum-colored circle that appears beaten, with a 19-inch hexagon cut into it. A rich turquoise patina has been set in the cut-out. Maeck has harmoniously combined different materials and a few basic colors into a striking whole.
The sculptor takes advantage of the gallery's high ceiling to display "Totem" and "Circus Trick 2." Both are about 12 feet high. "Totem" is a postindustrial, well, totem pole: a flat standing beam with six disks affixed to it, as well as a rectangle with a matrix of vertical and horizontal lines. Punctures in the beam makes it seem light and airier than it really is. The equally tall and weathered "Circus Trick 2" is composed of a standing, tilted ladder balanced on a small steel sphere. As the title suggests, the piece recalls playful derring-do under the big top.
Many of Maeck's sculptures are frontally oriented. One entitled "Winooski," at 9 feet long and 4 feet high, is an aggregation of side-by-side steel silhouettes resting on a large beam. Many different circles are cut into the shapes, which resemble recognizable structures such as a chimney and a steeple.
A curatorial statement notes that Maeck and Bridgman were childhood pals who now "have a renewed friendship at 60 years of age." By virtue of their artistic excellence, as well as their sexagenarian status, the word "distinguished" is certainly apropos for this duo.