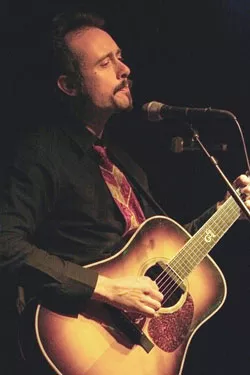 The most recent facelift at Nectar's has been a hot topic of conversation in Burlington of late. While most folks seem to dig the stage improvements in the legendary nightclub, opinions on the dining room renovations seem somewhat mixed. I'm not a restaurant critic, so I'll not weigh in on the matter, except to say that I'm really going to miss the pool table. A lot. But last Saturday night, I ventured into the joint not to shoot pool or scarf gravy fries but to catch a performance by one of the most highly respected songwriters working today, Brooklyn's Richard Julian.
I arrived in time to catch the tail end of local indie-folk songstress DeAnna Moore's opening set. I've been peripherally familiar with Moore's work for a while, largely via her most recent album, Escape, released in the spring of 2007. The disc ably showcases the songwriter's considerable musical chops, in particular her dynamic vocal expressiveness and nimble, fingerpicked guitar style. But like many a singer-songwriter record before it — and no doubt countless more to come — the album exposes Moore as a writer with a significant amount of room to grow. Judg-ing by the admittedly brief selection of tunes I witnessed that evening, it appears she's well on her way to realizing her potential.
Moore's record displays no small degree of professionalism in its presentation, musically and visually. That distinguished polish is evident in her live act as well. She has a captivating stage presence, proving the immaculate performances found on Escape are not mere studio trickery. At times Moore's vocal flourishes bordered on melodramatic. But she was never out of control, and delivered her lines with sincerity and technical precision.
The crowd, though frustratingly sparse, seemed engaged and appreciative, even when she threw us an interactive curveball to close her set: asking the crowd to snap along while she belted out a jazzy a cappella version of Def Leppard's bowling-alley-jukebox classic, "Pour Some Sugar on Me." In my professional capacity, I have to admit I recoiled in horror and morbid fascination. But deep down inside, my inner hair-band geek was gleefully giddy. I've always been a closet Lep fan.
On the weekends, Nectar's has begun scheduling mellower acts early in the evening in an attempt to draw folks in to sample their revamped, and largely localvore, menu. Again, I'm no food writer, so I'll leave to others the debate over who really has the best pulled (insert meat here) sandwich in town. But I thoroughly enjoyed the combination of dinner and music, as well the table service, which cut down on trips to the bar. It's a great way to start your evening.
Richard Julian took the stage just as I was finishing off a delectable pulled-chicken "sammich" — a Nectar's term, not mine. Expectations run justifiably high when an artist is routinely pimped in the press by folks such as Norah Jones, Bonnie Raitt and Randy Newman. But by and large, Julian lived up to the hype.
Perhaps because of the low turnout, Julian at times seemed somewhat detached — when you're accustomed to touring with the aforementioned Jones and are slated to perform at the Newport Folk Festival, perhaps that's to be expected. But the noticeable disconnect didn't detract from his performance, or mask the fact the dude is an immensely gifted wordsmith.
Vocally, Julian won't drop your jaw or knock your socks off. His delivery is subtle but effective, much like that of Lyle Lovett, an obvious influence. His guitar playing is equally unassuming, but still quietly impressive.
Julian's stock in trade is a razor-sharp intellect buoyed by artfully nuanced turns of phrase. His romantic tunes are familiar but never cliché. Political numbers are pointed and incisive, not inflammatory. He's the type of songwriter who doesn't need to club his listeners over the head with ham-fisted metaphors to get his meaning across. In that respect, he is refreshingly unique, especially given the glut of hackish, cookie-cutter songwriters currently dotting the folk-pop landscape.
But guile of this caliber is a two-way proposition. To fully appreciate it, the listener has to make the effort to engage. In many ways, this sort of appreciation becomes an intellectual pursuit. Sadly, judging by the buzz of conversation throughout his set, a significant portion of the crowd couldn't be bothered to follow along. And that's a shame. They missed a good one.