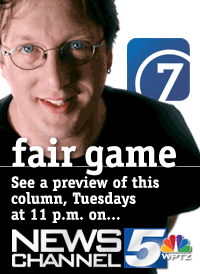 A legislative vote on Vermont Yankee's future is headed for a meltdown, er, showdown next week.
Rebuffing calls from Gov. Jim Douglas to wait on deciding VY's fate, Senate President Pro Tem Peter Shumlin says it's time to decide whether VY should operate for 20 years beyond its scheduled closing date of 2012.
A vote would allow Shumlin, who is running for governor, to assume a leadership role at a time when his rivals are stepping up calls for an up-or-down vote on VY.
In recent weeks, Secretary of State Deb Markowitz and former State Senator Matt Dunne have called repeatedly for someone, anyone, to show some leadership on Vermont Yankee's relicensure.
Sen. Doug Racine (D-Chittenden), arguably the current Democrat frontrunner, said last week he was ready to vote "no" on VY and was merely "waiting for the leadership to bring this issue to the Senate floor."
Well, wait no more.
"It's time for leadership, and I intend to do my best to provide what leadership I can," said Shumlin.
For weeks, Shumlin and House Speaker Shap Smith have cautioned against rushing a VY vote. On Tuesday, Shumlin said two key committee chairs told him they have enough testimony to craft a bill and prepare their colleagues to say yea or nay. A vote could come as early as next Wednesday.
"This vote will be no easier next week or next month," added Shumlin, who is opposed to allowing the plant to operate beyond 2012.
Shumlin is skeptical of the company's plans to turn VY's ownership over to a spin-off corporation, and says Entergy has not inspired faith.
"You don't enter into a 20-year contract with a corporation you can't trust," said Shumlin.
Another factor in his decision was that a special VY oversight panel can't complete its independent review of Entergy's misstatements to the legislature and regulators until early April.
The panel was supposed to issue a report Tuesday, but it is lacking two key items: an internal Entergy review and one from a contractor hired by the Public Service Department. The Entergy report was due February 8; the contractor's report will not be complete until March 19.
For any bill to pass the legislature in Montpelier — in both the House and Senate, as required — one chamber or the other has to vote on it before the legislature's weeklong Town Meeting Day break, which starts in two weeks.
If the Senate votes yes on Yankee, it goes to the House. If it votes no? It's time to plan for a post-VY Vermont, or a court challenge. (See "The Statehouse on Vermont Yankee: Democracy in Action or a Lawsuit Waiting to Happen?" on page 14.)
A "no" vote would be a big win for Shumlin. Coupled with last year's historic veto overrides on same-sex marriage, and the budget, it would be the political equivalent of a Triple Crown.
Crossed Signals
Burlington Telecom is hoping for some good news this week courtesy of the Vermont Public Service Board. The PSB is expected to rule just shy of BT's February 17 deadline to make a $390,000 interest payment to CitiLeasing.
Unless the PSB says it's OK for BT to dip, once again, into the city's "cash pool" to meet its obligation, BT won't be able to pay Citi. Why not? BT agreed to a court order last week barring it from using cash-pool funds, or any other city money, to make the interest payment.
PSB members gave BT a tongue-lashing last week, asking bluntly if the city wants the board's blessing so it, too, can "share the blame" in BT's troubles.
If the PSB says no, the city will be in technical default of its lease. That means it will have to talk with CitiLeasing about how to remedy the problem — either tap into a $1 million lease reserve fund or move this payment to the end of the lease. The next lease payment is due in May.
Any major decision will come while Mayor Bob Kiss is out of town — bolstering the theory that Kiss is out of touch and chief administrative officer Jonathan Leopold is really in charge.
Kiss left Burlington Monday for Vancouver, British Columbia, not to see the Olympics but to take part in an international environmental conference sponsored in part by Virgin Group mogul Sir Richard Branson. That's despite pleas by Progressives and BT allies to not fiddle in Canada while BT burns.
In Vancouver, Kiss will be featured on a panel — moderated by Branson — alongside San Francisco Mayor Gavin Newsome and Mayor Eduardo Paes of Rio de Janeiro.
The topic? Sustainability.
Conference organizers hope to announce a $500 million investment pledge in "green capital" by week's end.
Maybe Kiss can convince Branson to invest some of that green in BT?
Telecom vs. Tritium
When Burlington Telecom went before the Public Service Board last week hoping for some relief, what they got was a heap of grief.
It was clear the board members were PO'd with BT. Can you blame them? If I sat on that board, I'd be upset, too. FairPoint's in bankruptcy, Entergy admits to lying under oath, and BT flagrantly violates a key condition of a PSB order. I pity the next utility that cops to making a mistake before that board.
Public Service Commissioner David O'Brien also made it clear he's taking a personal interest in BT. How so? He attended BT's hearing — an unprecedented move.
When Entergy was flogged before the board two weeks ago, did O'Brien show? Nope.
(See Andy Bromage's story on David O'Brien, "Power to the People?" on page 26.)
Terror Trials
Debate about the proper place to prosecute terrorists spilled over into Vermont's U.S. Senate race last week.
Sen. Patrick Leahy (D-VT), chairman of the Senate Judiciary Committee, penned a letter along with Sen. Dianne Feinstein (D-CA), chairwoman of the Senate Intelligence Committee, applauding President Barack Obama for his decision to try some suspected terrorists in civilian courts.
"We should not let partisan distractions lead us to cast aside such valuable tools as the experienced terrorism interrogators of the FBI or forgo convicting terrorists in our federal courts," wrote Leahy.
Leahy and Feinstein said the administration should have the flexibility to use military courts, tribunals and civilian venues to try suspected terrorists.
Leahy's potential Republican opponent this fall — businessman Len Britton — said it's Leahy and Feinstein who are the distractions, hoping to give "terrorists the same rights as you and I — and that's wrong."
Britton supports efforts led by Sen. Lindsey Graham (R-SC) and several Democrats to block funding for civilian trials, and move the cases into the military courts.
"Giving international terrorists expensive, taxpayer-funded show trials played endlessly on 24-hour news networks across the globe is not justice," added Britton.
In response, Leahy's campaign manager said Britton should have more faith in the U.S. justice system.
"A former Hollywood screenwriter like Mr. Britton might see the federal courts as forums for 'show trials'," said Carolyn Dwyer, "but a former prosecutor like Senator Leahy knows that federal courts have been the proper venue to prosecute and jail hundreds of terrorists — before and after 9/11."
Leahy's Democratic primary challenger — Daniel Freilich — agrees, but would rather see D.C. pols focus their energy on more substantive issues.
"The left and right should at least agree that, from a moral point of view, both civilian trials and military commissions may be reasonable," said Freilich. "There is just so much political oxygen available, and both sides are using it up at the expense of addressing other, more important issues affecting Americans."
Rank Vote
On Thursday, Seven Days and Channel 17 will cohost a 90-minute public debate about instant runoff voting. On Town Meeting Day, Burlington voters will weigh in on whether the city should continue to use IRV to elect the mayor. Rightly or wrongly, the issue is becoming a referendum on the administration of Mayor Kiss.
On the pro-IRV side will be Democratic Rep. Mark Larson and Keri Toksu of the League of Women Voters. On the anti-IRV side will be former Democratic lawmaker Sandy Baird and Chuck Seleen of One Person One Vote.
Not surprisingly, the liberal Dems and Progressives are lining up in favor of IRV, while conservative Dems and Republicans are against it. All 12 Democratic and Progressive council candidates on the March ballot support IRV; only the two Republicans and one independent do not.
A media panel composed of myself, Bianca Slota of WCAX and John Briggs of the Burlington Free Press will ask a few rounds of questions. Channel 17's Jess Wilson will moderate. Audience members will also get to ask questions, as will folks via a live blog moderated by Cathy Resmer, Seven Days' online editor.
The fun starts at 7 p.m., and will be broadcast simultaneously on Channel 17. Or swing by City Hall Auditorium to catch the action live.
Got a news tip? Email Shay at shay@sevendaysvt.com
Click here to follow Shay on Twitter.