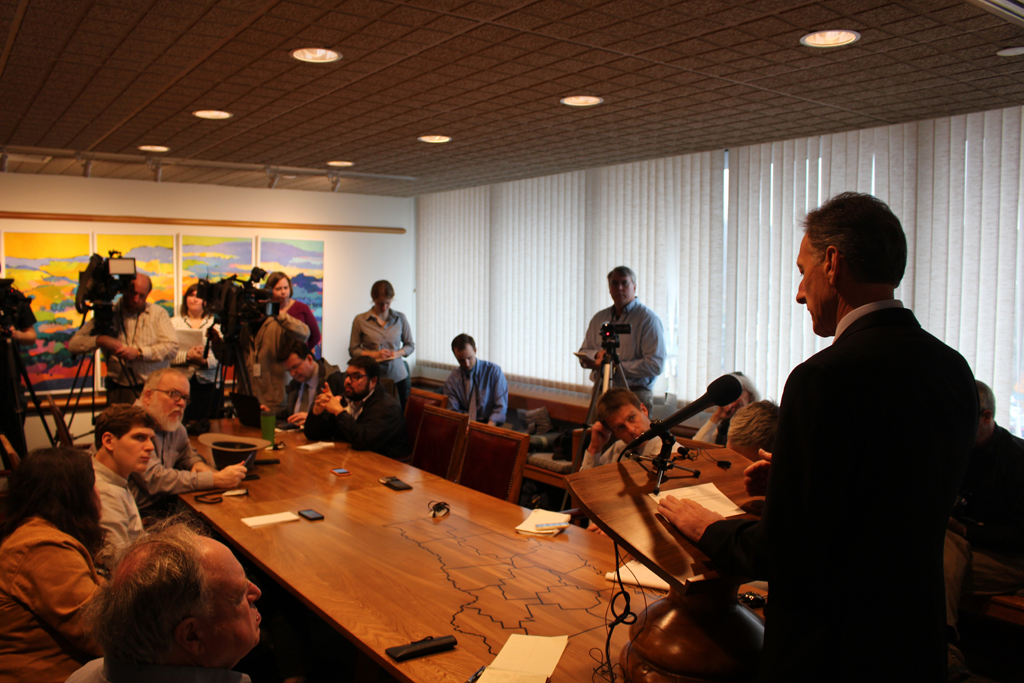 Paul Heintz
Gov. Peter Shumlin addresses the media last Wednesday at his Montpelier office
There's a new Peter Shumlin in town, and he'd really like to know what you're thinking.
Two weeks after the two-term Democratic governor narrowly escaped a surprise drubbing at the polls, the old Shumlin — cocky, glib and smarter than you are — is gone. In his place is a refurbished model: subdued, self-deprecating and alarmingly introspective.
"There was a very clear message to this governor: Listen, learn, reflect, be more inclusive," New Shummy said last Wednesday during an hourlong therapy session of a press conference at his Montpelier office. "It was humbling. So on every issue, I am taking that approach."
No doubt he is — for now. And he probably should.
Last Wednesday, the state canvassing committee certified that the gov beat Republican Scott Milne by a mere 2,434 votes. The Pomfret businessman declined to request a recount, but he still won't concede the race. Tuesday, Milne said he'd wait 'til December to announce whether he'll ask the legislature to name him governor anyway. (Vermont's constitution allows the legislature to pick any of the three top vote getters if no gubernatorial candidate snags 50 percent.)
Shumlin's biggest challenge isn't re- defeating Milne, who is unlikely to convince the Democrat-dominated legislature to buck tradition and pick the second-place finisher.
His biggest challenge is getting his mojo back — and navigating a number of intractable policy problems without having anything close to a mandate.
In politics, perception rules everything. So long as Shumlin is perceived as powerless, he will be powerless. Opponents will grow emboldened, Democratic legislators will stand up to him and the press will seize on any signs of weakness.
Further complicating matters: As insiders prematurely write Shumlin's political obituary, those who see themselves as his successor will look for ways to push their own agendas ahead of the 2016 election.
So what's New Shummy to do — other than act like Mr. Nice Guy?
Why, listen to the voters, of course!
"I think the voters of this state were absolutely clear about the problem we face: We have an affordability problem," says Lake Champlain Regional Chamber of Commerce president and CEO Tom Torti, a veteran of the Howard Dean and Jim Douglas administrations. "Let's stop raising taxes. Stop the madness!"
Vermont Public Interest Research Group executive director Paul Burns, who sits on the opposite side of the political spectrum, agrees — at least with the part about listening to the voters.
"There is no single answer, but if the governor took the message that he should retreat from leadership on the key issues that put him into office in the first place, I, for one, would think that's a mistake," Burns says.
The truth is, it's hard to interpret what the voters really were saying two weeks ago. As we've written before, Shumlin's near loss can be attributed to any number of factors: a restless base, unhappy independents, perceptions of incompetence and just plain lack of likability.
"We're all seeing what we want to see," says Rep. Janet Ancel (D-Calais), who chairs the House Committee on Ways and Means. "We're hearing from people on the left that he needs to move further left and from the right that he needs to move further right. Because we don't have any real data on why people voted the way they did, people are going to see the vote confirm whatever their perspective is."
Which is a problem, because Shumlin is gonna have to make some pretty tough policy decisions soon — well before the legislature settles the gubernatorial race once and for all.
Chief among Shumlin's challenges is how to address the state's ever-growing budget gap, which has been exacerbated in recent months by dismal income tax collections. The legislature's Joint Fiscal Committee already lopped $31 million off this year's budget in a rare August rescission, and Shumlin said last week he might have to cut as much as another $14 million before January.
And then there's next year's budget, which is expected to come in $100 million short at current spending levels. If Shumlin and the legislature make major cuts to state services, they'll piss off the left; if they raise revenue, they'll piss off moderates and business owners.
"Now I'm trying to remember why I ran again," jokes House Speaker Shap Smith.
Then there's Shumlin's Holy Grail: so-called single-payer health care reform. Though the gov has long promised to unveil the details of his plan this winter and call for a vote on its financing mechanisms next spring, he has been unusually quiet about the subject of late.
Asked the day after his near-loss whether single-payer was dead, Shumlin said, "I'm going to ask you to give us the time that we're going to need. You know, I didn't sleep much last night, and we're not going to do much on the fly."
At last Wednesday's press conference, Vermont Press Bureau chief Neal Goswami noted that Shumlin hadn't uttered the words "single-payer" since Election Day.
"Are you afraid of talking about single-payer at this point?" he asked the gov. "Are you committed to single-payer? Will you say, 'single-payer?'"
"Single-payer," Shumlin quipped.
"Are you committed to single-payer?" the Associated Press' Dave Gram repeated. "Are we going forward with Green Mountain Care?"
"I've been committed to single-payer all of my public life," the governor said. "What I've said is, in light of this election, obviously I'm doing exactly what I believe Vermonters are asking me to do, which is to listen to folks, talk to folks, to reflect and also to really be more inclusive in everything we're doing."
Right, right. New Shummy's listening. But is he really going to ask the legislature to raise $2 billion to pay for single-payer mere months after Democrats lost a dozen seats?
"I don't think it shows us that we shouldn't move forward with health care," Smith argues. "I think it shows us we have a much higher burden than we thought to demonstrate to Vermonters that it will make their lives better. If we can't show that, there's no way we can go forward."
Not helping matters for Democrats is the ongoing dustup over Massachusetts Institute of Technology health care economist Jonathan Gruber. Days after the national political media seized on old remarks in which he suggested that Americans are "stupid," Vermont's own True North Reports dug up tape last week of him making similarly impolitic comments at the Statehouse.
Shumlin's critics — including bête noire Darcie Johnston, Campaign for Vermont and a trio of moderate Republicans — pounced. They demanded Shumlin sever a $400,000 contract with Gruber to perform an analysis of single-payer's impact on Vermont's economy. So far, the governor has resisted, saying he'll let Gruber finish the project.
Either way, Shumlin loses. If he sacks Gruber, single-payer suffers another delay. If he doesn't, opponents will scream that his econometric modeling is tainted by "stupid" fingerprints.
Regardless of single-payer's fate in the legislature, it remains difficult to see Shumlin giving up before he even tries.
"I think this is his signature issue. I think it's his legacy," says Vermont Businesses for Social Responsibility lobbyist Dan Barlow. "I think he has to double down on what his priorities are."
Indeed, nothing would signal defeat more than breaking the promise he's made more than any other since he first ran for governor in 2010. Bailing on single-payer wouldn't exactly win him brownie points from the right, and it would make him anathema to the left.
Already, Shumlin is preparing to say no to a lot of liberal asks in 2015. Left-leaning interest groups are lining up to demand new taxes on everything from carbon-spewing fuels to sugar-sweetened beverages. They want to mandate paid sick leave, require universal background checks for gun buyers and legalize marijuana.
The only one of those Shumlin seems inclined to back is legalization. But after spending last year's legislative session focusing on Vermont's opiate problem, he may find it tricky to quickly pivot toward pot.
If all that wasn't enough — and, well, it is — there's the matter of education finance reform. Smith and his legislative allies keep promising to tackle rising property taxes next session, but if there's any issue more politically perilous than health care, it's that.
Shumlin convened a high-level meeting of legislators from both bodies and all three parties last Tuesday to start the education-finance discussion. Now the trick for Shumlin will be to avoid promising results he can't deliver while still looking like a leader.
How the governor gets his mojo back is far from clear. But one thing's for sure: He will. Nobody in Montpelier is more competitive than Peter Shumlin — and there's little chance he'll ride off into the sunset in 2016 without something better to show for himself than a 46 percent win.
That leaves him with two options: rack up some major legislative achievements in the next two years, or run again and win big.
Getting in Line
As the legislature prepares for one of the most consequential sessions in years, House Democrats are debating who should lead them through it.
In the past two weeks, competitive races have emerged for the two positions just below Speaker Smith in the legislative hierarchy: majority leader and majority whip.
After Rep. Willem Jewett (D-Ripton) announced on Election Day that he wouldn't seek a second term as majority leader, Reps. Kesha Ram (D-Burlington) and Sarah Copeland Hanzas (D-Bradford) said they hoped to succeed him.
Ram, whose day job is public engagement specialist for the City of Burlington, was just 22 years old when she was first elected to the legislature six years ago. She's spent the last three of them serving on the Ways and Means Committee.
"We are going to be facing an incredibly tough biennium where Vermonters are asking us to deal with some of the most basic issues that have been plaguing us and the economy and the state," Ram says. "And I have a track record of working with a lot of stakeholders building consensus."
Copeland Hanzas, who runs Bradford's Local Buzz café, has spent 10 years in the legislature and currently serves on the Committee on Health Care.
"It feels like a natural step for me, though it would be a time challenge," she says, citing the competing demands of running a small business and raising three children. "Balancing being majority leader and other duties in life will be difficult, but I think it has prepared me for understanding the challenges that Vermonters face."
When majority whip Tess Taylor resigned her seat near the end of the last legislative session to take over a single-payer advocacy group, House Democrats installed Rep. Kate Webb (D-Shelburne) as her replacement. Webb is seeking reelection, but Rep. Sam Young (D-Glover) is challenging her.
The 36-year-old web developer says he thinks he could use his tech skills to help House Democrats communicate better with each other and with their constituents.
"I have great relationships with all the members and am looking to make our caucus work better," Young says.
Webb, a retired special educator, says she will offer a "stabilizing force" as the caucus leadership evolves.
"My experience stepping in last year gave me a really up-close view of what the job entails and what the areas of need for change are," she says. "I would say one of the roles of the whip is communication between leadership and the caucus. That relationship needs to go both ways."
Beyond the personal relationships each candidate has built, House members say two other factors may play a role in the leadership contest: With Smith unlikely to occupy the speaker's dais for much longer, Democrats may be inclined to groom the next generation of leaders, which could include Ram or Young. They might hesitate to pick both Chittenden County representatives — Ram and Webb — preferring to spread the wealth to ... real Vermont.
Elections are scheduled for the second Saturday in December.
The original print version of this article was headlined "Shumlin 2.0"