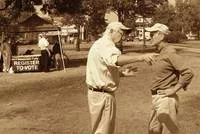 Bernie Sanders and Peter Welch
What's left of the Bush regime was nervously scrambling for survival this week. The president made his surprise, and desperate, visit to Iraq on Monday, wrapping himself amidst hundreds of U.S. troops at a remote air base for the perfect photo op!
A startling sight it was to watch this truly anti-American president posing for digital photos among the Semper Fi Marines, when one remembered those sent to their graves before them. Those sent into battle by George "WMD" Bush for no good reason. In fact, for a war based on bold lies.
Will his Iraq visit and the eight-hour photo op get Bush the votes he needs in Congress to keep his war funded?
"President Bush is stubborn and he's not changing his position on Iraq," Rep. Peter Welch (D-VT) told "Inside Track, "and this is part of the sales job. What he's going to be trying to pitch, obviously, is that there's been 'military progress,' but what has been completely absent is any political progress and any economic progress."
Dittoes from Sen. Bernie Sanders (I-VT).
Before heading back to Washington, Ol' Bernardo told us Mr. Bush "is trying to rally his supporters to perpetuate this war, to come back and tell everybody that things are going well."
But, noted Sanders, "This war has been a disaster, and what disturbs me very much is that Bush has no plan to end it. How many more years? Three years? Five years? Ten years? He doesn't tell us."
In fact, Sanders thinks it's time the Democratic leadership in the U.S. Senate turned up the heat. The filibuster, after all, exists for a reason, and the senator says now's the appropriate time to use it.
Under Senate rules, 60 votes are required to end debate and put an issue to a vote. So far this year, the 49 Democrats, plus Independents Sanders and Joe Lieberman of Connecticut, have only been able to muster 56 with a few Republican defectors. Bernie says it's time to keep the debate going.
"Let's keep it going through the night. Through the next day and through the next day!" said Sanders, his voice rising. "If they want to cut back on children's health programs; if they want to ignore the needs of our veterans; they want to give tax breaks to billionaires — let's have that debate and let's keep it going. Let the American people get a true sense of what's going on in the Senate.
"That will be my advice and request of the Democratic leadership," said Sanders.
But will Senate Majority Leader Harry Reid of Nevada listen?
******************
A Dubie Take-Off? — Aviation Week has reported that GOP Lite-Gov Brian Dubie is one of the names mentioned as a finalist for the Chief Administrative Officer job at the Federal Aviation Administration.
We contacted Doobie-Doo's Statehouse office Tuesday morning and he got back to us via email Tuesday afternoon. He's "aware my name has been under consideration and it's an unexpected honor," he said, to be considered at a "pivotal point" for America's air-travel system.
Doobie-Doo the American Airlines pilot tells us he is "fully engaged" in being lite-gov and trying to create more "good-paying" aviation and aerospace jobs here in Vermont.
He "can't speculate today" on who'll get the FAA's top job. Didn't hear him say he'd turn it down, did you?
The frontrunner for the post is Hank Krakowski, a senior V.P. at United Airlines. The incumbent's term expires September 13.
Gook luck, Brian!
******************
Left Coast Picnic — A smaller-than-expected crowd of about 250 — mostly Democrats, Progressives and socialists — attended Monday's Labor Day festivities in Burlington's Battery Park. Democratic House Speaker Gaye Symington of Jericho was there flipping burgers, as was Rep. Jim Condon of Colchester and others. Ah, Mr. Radio Voice Condon. Remember the "Manno & Condon" morning team of the ol' 1980s?
That was well before Ms. Symington, originally from Tuxedo Park, New York, made the leap into state politics and ran for and won a Vermont House seat from Jericho in the mid-1990s.
Better late than never, eh?
Well-bred is Symington, and educated in a private boarding school and at Cornell. Gaye's brains immediately earned her a seat on the House Ways and Means Committee. She was there for the creation of Act 60, the state's landmark education reform act, in 1997. And after the Democrats lost their majority in the 2000 backlash against passage of the landmark civil-unions legislation, Symington stuck around to win it back in 2004.
She recruited a new majority class of Democratic House members and, not surprisingly, they were more suited to her quiet, consensus-building style than that of the earlier "smokin' and drinkin' and arm-twistin'" era.
And Symington put together the largest- ever Democratic House majority. Her critics, however, will tell you, her problem is delivering, i.e., winning the big political battles on health care and climate change now that she has the troops to do so.
While Gaye was grilling in the park, yours truly grilled Gaye about the current lack of Vermont Democrats "elbowing one another out of the way to take on Republican Gov. Jim Douglas."
After all, we noted, Gov. Scissorhands' policies on everything from health care to the environment are diametrically opposed to the Democrats' positions. All the state Democratic Party puts out is a "Weekly Digest" via email from State Chair Ian Carleton. Whoopie!
"There are really good people seriously considering running," answered Gaye the Griller, "but all of them have other things going on, and it's a huge commitment to make a race like that."
God forbid, wouldn't want to put anyone out.
Sorry, but we had to ask. Is it wrong to get the impression right now that the Vermont Democratic Party is a little lacking for state-level leadership?
"I think the Democrats are taking a lot of leadership," replied the Burger Griller. "They're out there putting good policies forward on energy, on global warming, on health care. We're doing our work. But running for governor, it takes a huge amount of time, money and commitment, and people are doing the thinking to get ready for that kind of a decision," she said, her voice sounding like she'd been grilled enough by yours truly.
Are you thinking about it?
"No, I'm not," replied Speaker Symington, "I mean, you know, I understand the kind of thinking that goes into that kind of decision."
Obviously.
What do you think of Republican maverick State Sen. Vince Illuzzi for governor as an "Independent?" The "King of the Kingdom," as many call him. One of a kind, indeed!
The Democratic Griller-in-Chief scrunched her eyebrows, flashing that "don't even think about it" look our way.
"I think there's going to be a really good, solid Democratic candidate," said Speaker Symington. "I'm waiting to let the people who are considering running do the work they need to get ready to run, and I fully intend to support them."
"You're confident there'll be a solid one?" we asked.
"Yes," said she.
She did not, however, ever utter the words, "I guarantee it."
******************
Pollina Again? — By the way, Democratic Speaker Symington, 54, just dropped off her oldest at college in Philadelphia. Freshman year. Progressive Anthony Pollina, also 54, just dropped off his youngest — in Boston.
Small world, and we're not getting any younger.
Tony the Prog also delivered a fiery, campaign-style speech in Battery Park. Anthony, we swear, yelled into the microphone even louder than did Sen. Bernie Sanders.
"I think more and more," said Pollina, "just like people are frustrated with what goes on in Washington, people are sick and tired of an administration in Montpelier that constantly tells us what we cannot do. And I think Vermonters are ready for a state government that stops talking about what we can't do and starts talking about what we can do."
And he invited everyone to the Progressive Party picnic in Burlap's Oakledge Park next Saturday.
Sure sounds like a gubernatorial candidate, eh?
******************
Economics 101? — Yours truly and WCAX-TV were the only press to show up for U.S. Sen. Bernie Sanders' traditional Labor Day presser last Friday. It's been an annual event for Ol' Bernardo since his days as socialist mayor of Burlington (1981-87), then socialist congressman of Vermont (1991-2007) and now the Green Mountain State's socialist senator.
And though Sanders is officially an "Independent," he wears the socialist label, too. The fact is, in the 21st century, the "S word" has nowhere near the "commie-pinko," red-baiting association it carried back in the 1950s, '60s and '70s.
Ch. 3's Andy Potter reported Sanders "says millions have slipped into poverty since President Bush took office. Sanders presented University of Vermont economics professor Stephanie Seguino and labor advocate James Haslam of the Vermont Workers Center. They say working people are not benefiting from economic growth, and the middle class is actually shrinking."
Seguino said, "Inequality in the U.S. is the highest it has been at any time since 1929. It is greater than for any European country or Canada. The Bush tax cuts have contributed substantially to this inequality."
And Potter told viewers, "Labor advocates use the case of Specialty Filaments to make their point." Haslam referred to one worker who went from making $16 an hour at Specialty to making $10 at his next job.
But WCAX News then "balanced" things out by finding a different economics professor, who gave viewers the spin that things were actually improving!
Fair is fair, right? Especially in "fair season."
UVM Economics Professor Art Woolf told the audience that employers come and go and the trend for many is positive!
Specialty Filaments is being replaced on Pine Street by Dealer.Com and Lake Champlain Chocolates.
"In Vermont as well as the United States," said King Arthur, "the middle class is getting smaller, but it's because people are moving out of the middle class and up, not out of the middle class and down."
Ch. 3 reported the poverty rate has remained flat since Bush moved into the White House, with the number of Americans officially in poverty rising from 33 million in 2001 to 36.5 million now.
We ran into Haslam again at the Labor Day event in Battery Park. He had watched the Ch. 3 News report and he was still in a state of shock.
"Just seeing the story was amazing," said Haslam, "to see how news gets distorted. How they could take what people say and really try to spin it to have a whole different meaning."
And, we asked, what was the spin?
"What I saw was," said the labor activist, "they were really trying to create a false reality. Most people are having a really tough time, and it's hard to find good jobs. You look in the newspaper and jobs that pay livable wages are scarce.
"So WGOP puts this economist up there saying more people are getting richer, not poorer," said Haslam. "He's not talking about us. It's really amazing when they try to create this false world out there. They're living in a fantasy land!"
Well, we inquired, should they slant the story in favor of labor?
"They should at least report what people said," answered a disgruntled Haslam. "It was pointed out by economist Stephanie Seguino that the poverty rate is a terrible indication of how people are struggling. It's incredibly insufficient."
Indeed, Seguino had seen the WCAX report, too. Don't you just love it when professors disagree on reality?
"The rise in income Woolf refers to," said Seguino, "is mainly a reflection of an increase in the number of family members entering the labor force or working longer hours. Average hourly wages for men and women actually declined for the third year in a row."
Great. Any more good news?
According to Prof. Seguino, "In addition to stagnant and declining wages, other forms of compensation are declining — something not captured in the income data. Specifically, employer-funded pensions and health-care insurance coverage have declined."
Great. Any more good news?
As for the official poverty rate cited by Professor Woolf, Professor Seguino informed us, "Virtually all economists recognize this is a woefully inadequate measure of family well-being. It is based on a measure developed in the 1960s, which assumed households spend one third of their income on food."
It ignores, she noted, the rising cost in America of housing, health care, childcare and utilities since the good old days.
Ah, the good old days!