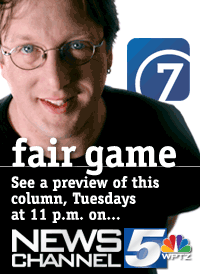 A popular localvore bumper sticker reads: "Who Is Your Farmer?" A more pertinent question might be "Who Is Your Farmworker?"
The farmworker toiling away to bring Vermont's milk, cheese and veggies to market is probably not Caucasian, nor residing here legally.
Nonetheless, local, state and federal officials have tended to look the other way — as long as none of these "guest workers" tries to suck off the public teat.
In other words: Thanks, non-English-speaking folks, for letting us milk you. We'll gladly take your labor — and deduct Medicare and Social Security taxes out of your paychecks — in exchange for not deporting you.
Welcome to America!
Extending health care to undocumented, or illegal, workers became a hot-button issue last week under the Golden Dome when two senators — Randy Brock (R-Franklin) and Dick Sears (D-Bennington) — successfully lobbied their colleagues to exclude undocumented workers from Vermont's "universal" health care system.
Last year's federal health care reform bill forbids illegal immigrants from receiving health insurance through the government-run health care exchanges. The Brock-Sears amendment extended that rule to Green Mountain Care, the system Vermont hopes to have in place by 2017 — three gubernatorial and two presidential elections from now.
The Brock-Sears amendment passed the Vermont Senate, 22 to 8.
After an outcry from activists, lawmakers backed down. Now the Shumlin administration is going to "study" whether undocumented workers could be covered under Green Mountain Care.
The state has some stats on this topic already. In 2007, the Vermont Department of Health found — not surprisingly — that immigrant farmworkers avoid going to the doctor out of fear they will be reported and deported. Too often they wait to see a doc until they have to go to an emergency room, which is the most costly form of treatment.
Hmm, maybe Brock and Sears will suggest hospitals require a long-form birth certificate, too.
"Some of these workers felt alienated and attacked by some of the language. This was a fight for a community that we don't openly recognize," said Brendan O'Neill of the Vermont Migrant Farmworker Solidarity Project.
Face it, folks: The 2000-plus immigrant workers toiling away on Vermont's dairy and other farms are here to stay. Most of them are undocumented — 1200 to 1500 — while some 450 are here with legal H-2A visas, which permit them to seek seasonal work in the U.S.
The H-2A program is currently used by some dairy farmers in Vermont, according to Alyson Eastman of Book-Ends Associates in Orwell. Eastman is an H-2A specialist and has helped Vermont farms find migrant workers — legally — through the H-2A program. Beneficiaries have included Pete's Greens, Sam Mazza's Farm Market, Bakery and Greenhouses, and lots of apple orchards.
Late last month, Sen. Patrick Leahy (D-VT), who is a member of the Senate Agriculture Committee, introduced legislation to allow more dairy farmers to take advantage of the H-2A program. Because their operations are year round, dairy farms need longer-term work relationships and hence wind up hiring illegal immigrants. The Vermont Agency of Agriculture acknowledges this by offering Spanish-only milking, first aid and farm-management classes for Hispanic workers as well as language classes for their employers.
Leahy's proposal would also create a path for immigrant workers to attain permanent resident status.
"The heart of this issue is a broken federal immigration system," said James Haslam of the Vermont Workers' Center, who lobbied against the Brock-Sears amendment. "If our immigration laws were enforced, our dairy industry would collapse in no time."
Vermont can do better, adds O'Neill.
"We're not Arizona," said O'Neill. "Let's not settle on what we've been handed for immigration policy. There are people here keeping farms afloat, and so let's help them out."
BT's Battles
In a letter filed with state regulators on Monday, Burlington Telecom claims there will be more sale talks this month with prospective buyers — one of which is an in-state telecom company. The letter is part of BT's bimonthly update to the Vermont Public Service Board as the struggling telecom tries to rework its finances and reach compliance with its operating license, or certificate of public good.
In BT's February report to the PSB, it mentioned two possible buyers that were still interested as of May 2. One firm is due back in Burlington this month to talk with members of the Blue Ribbon Committee, Mayor Bob Kiss and Dorman & Fawcett consultants. The other firm is allegedly revising its offer. BT has refused to identify its suitors, and several have signed nondisclosure agreements to keep their names secret — for now.
Two other potential buyers have backed off, but two new ones have stepped up. One is a "fairly large private equity firm," according to the BT letter, and the other is an "in-state telecommunications provider" that plans to talk with D&F mid-month.
Still no word on whether CitiCapital will drop a lawsuit to collect on the $33 million lease-finance deal the city canceled last year. Ditto whether it will exercise its right to repossess most, if not all, of BT's equipment to cover its losses.
Speaking of lawsuits, a criminal probe by Chittenden County State's Attorney T.J. Donovan may finally be completed within the week. The probe is believed to have precipitated the resignation of Burlington's Chief Administrative Officer Jonathan Leopold.
BT also faces a possible court hearing on May 23 in a civil suit being overseen by Superior Court Judge Helen Toor.
The civil suit, filed by two disgruntled taxpayers, seeks immediate repayment of the $16.9 million that BT borrowed from the city's "cash pool" to prop up the struggling muni telecom. Leopold is also named as a defendant in the suit and is potentially liable to repay some of the money.
BT has asked Toor to delay the hearing, though that's not likely to happen: The judge has rejected five previous BT requests to halt the proceedings.
In his brief asking Toor to deny BT's request, attorney Norm Williams references Albert Einstein's definition of insanity: "Doing the same thing over and over again and expecting different results."
The War on Whistle-blowers
Now that Osama bin Laden is dead, I guess we can call off the "Global War on Terror" and return to the good old days before September 11, 2001.
Or not. The feds are moving ahead with their espionage case against former Vermonter Thomas Drake.
As "Fair Game' detailed late last year, Drake is the fourth person in U.S. history to be charged under the Espionage Act for mishandling classified information. His alleged crime occurred when he tried to blow the whistle on an ineffective, costly and likely unconstitutional domestic spying program at the National Security Agency.
His trial, set for April, has been delayed until June. Meanwhile, Drake is gaining national attention for his bravery. In April he received the prestigious Ridenhour Prize for Truth-Telling — an annual honor given to whistleblowers, investigative journalists and other private citizens for "bringing an issue of social importance to the public's attention."
At the award ceremony, Drake told the crowd his case has exposed "a truly Orwellian world, where whistle-blowing has become espionage. Espionage includes whistle-blowing, and whistle-blowing is now equated with spying. Dissent has become the mark of a traitor. Truth is equivalent to treason, and speaking truth to power makes one an enemy of the state, and yet who is really the enemy here?"
Who's Got the Power?
If Entergy wins its injunction against the state and keeps operating the Vermont Yankee nuclear power plant, some ratepayers could benefit. A revenue-sharing arrangement with Green Mountain Power and Central Vermont Public Service, which has been in place for years, would be good for their the utilities' shareholders. But both utilities would also have to use some of that money to keep consumer power costs down.
Beneficiaries would include the state's largest private employer, IBM, which gets its power from GMP. IBM has complained that VY's closure could increase its power costs.
Though the original sale deal says the revenue-sharing deal is in effect if Entergy has a license from the U.S. Nuclear Regulatory Commission, I suspect Entergy will figure a way to wriggle out of this commitment.
If there's one thing Entergy is better at than splitting atoms, it's splitting legal hairs.
Solicitor Shumlin
Gov. Peter Shumlin had some fun with the flap over whether he violated state campaign-finance laws by soliciting money from lobbyists during the the current legislative session.
At his weekly press conference, Shumlin said his campaign — if there is one — made a mistake, and he apologized for the oversight.
Wait, if there is one? He has a Democratic consultant on staff and has sent out two fundraising letters, and there's been at least one out-of-state fundraiser in Rhode Island. Coming soon: a sizable in-state fundraiser hosted by major Democratic donor Crea Lintilhac. Isn't that a campaign?
"I'm not an announced candidate," Shumlin said. So, why the early fundraising?
"Just in case," he quipped with a smile.
Media Notes
WCAX-TV took home three Edward R. Murrow Awards for excellence in reporting at the Radio Television Digital News Association awards.
One of those 1st-place awards was for the station's "Mission: Afghanistan" series with Darren Perron and Lance MacKenzie. The pair spent time with Vermont National Guard members in Afghanistan.
In addition, Vermont Public Radio won six regional Edward R. Murrow Awards from the RTDNA in the following categories: breaking news coverage, hard news reporting, documentary, writing, website and overall excellence.
Congrats!