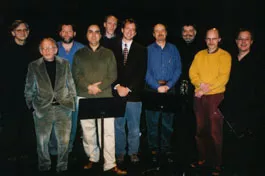 "CATHARSIS" COMPOSERS from left: Thomas Read, Allen Shawn, Troy Peters, Anthony Cornicello, Don Jamison, Alex Abele, Erik Nielson, Daniel Jessie, David Gunn and Steven Kimowski.
An appropriate headline for last year's performing arts preview might have been "Curtains." As we were putting the finishing touches on the issue — which spotlights the upcoming entertainment season — three terrorist-controlled planes stole the show with an unprecedented act of U.S.-focused aggression. We were glued to the national news all day, but there was no getting around our own 7 o'clock deadline. Since we were faced with such a heinous example of premeditated evil, celebrating the creativity of the human spirit seemed frivolous, even disrespectful. There was no way, in that moment, to see what role the arts would play — if any — in the wake of the attacks.
We went ahead with our performing arts theme as planned. On Tuesday, people were jumping out of burning buildings in Manhattan. On Wednesday, the cover of Seven Days captured a dancer in mid-leap. Embarrassing as it was from a news standpoint, our coverage — like the editorial agonizing behind it — was indicative of a more general performance anxiety among area arts presenters, performers and audiences. Anyone with gigs, tickets or artist contracts in hand after 9/11 was wondering if culture would be counted among the day's casualties.
A year later, we can report that the season survived, despite Youssou N'Dour's decision to bag his entire U.S. tour because, as a Muslim, he didn't feel safe traveling in America. Hopkins Center Programming Director Margaret Lawrence salvaged his show by substituting Beninoise songstress Angelique Kidjo. The Flynn pulled the same switcheroo in Burlington.
Generally speaking, it's been harder to get international performers into the country since the attacks on America — a logistical challenge that has already limited the availability of African artists. The Lane Series lost a folk act scheduled for October, at least in part as a result of visa delays. The Aka Pygmies of Centrafrique were two weeks late hooking up with a dance company in San Francisco, which meant a whole lot less rehearsal time for a cross-cultural collaboration — "The People of the Forest"— at the Flynn.
Once a pulse was detected in the post-9/11 performing arts world, however, "There was tremendous concern in the arts community that nothing inappropriate be presented," according to Jane Ambrose of the Lane Series. "Lots of organizers cancelled the beginning of their seasons. People around the country were looking for things that had to do not with war, but with peace and reconciliation."
Noises Off — a comedy by Michael Frayn — didn't exactly fit the bill. "Half the cast said we shouldn't do the show," says Brooke Wetzel of Northern Stage, based at the Briggs Opera House in White River Junction. "The other half of the cast said, 'It's our job to do a comedy now.' Once they had a chance to work through the emotions, they agreed to continue the production. People took the time to thank us for doing a show that could bring laughter back. It ended up being one of our strongest sellers ever."
Things played out a little differently at Burlington's Vermont Stage Company. At the end of September, the company put out a press release announcing it was canceling a production of Liaisons Dangereuses in order to present the more wholesome New England drama Our Town. Dissing Dangereuses, Artistic Director Mark Nash explained, "Its themes of cynicism about human nature and deceitful sexual manipulations suddenly seemed ill-fitted to this difficult time we are all experiencing."
Twelve months later, he recalls, "We wanted some good comfort-food theater. We figured we'd bring in a much-beloved favorite that is placed locally, a heart-warming message of family and community." Narrated by public-radio commentator Willem Lange, the Thornton Wilder classic sold out "101 percent," according to Nash. "We had to squeeze seats in."
Switching shows at the last minute is not really an option for large presenters like the Flynn Center, the Lane Series and the Hopkins Center. Their artistic directors tend to book events years in advance. But some of the previously scheduled performers altered their programs to acknowledge the tragedy. At the Flynn, the Trisha Brown Dance Company added a solo from Claudio Monteverdi's opera L'Orfeo "to honor the many thousands of people lost or injured in the attack on the World Trade Center."
The Vermont Symphony altered its fall "Made in Vermont" tour. At the start of every concert, conductor Jaime Laredo acknowledged the victims of 9/11 with a solo rendition of Bach's "Air on a G String." "It also served the purpose of memorializing Isaac Stern," Alan Jordan says of the late violinist. "There was a long discussion as to what we should do about 9/11. We decided on a short piece, and asked that the audience not applaud afterward. Jaime came on stage and played. It was very moving."
Jordan echoes a number of presenters when he notes the terrorist attacks "added further relevance to some of the things we did last year" – the Brahms Requiem, for example, which the New York Philharmonic played at Lincoln Center six days after the terrorist attacks. The Vermont Symphony Orchestra was already scheduled to perform it in March at the Flynn, and four months later in Manchester.
Similarly, the Vermont Youth Orchestra had already decided on a patriotic theme for its May concert, which included a newly commissioned piece of music that ended up addressing 9/11 directly. The Vermont Contemporary Music Ensemble performed Stravinsky's "Histoire du Soldat" in a November "Veterans Day Tribute" that also included the eerily appropriate "Ricordanza," by George Rochberg.
"Everything was the same, but people watched it differently," Lawrence says of post-9/11 selections at the Hop. A staged version of the radio show "War of the Worlds" definitely struck a nerve in early October. "It ends with someone saying, 'I'm standing on the top of the tallest building in New York. I can see the poison gas coming. Hello? Is there anybody still on the air?'" Lawrence explains. "It was really scary. Thank God we'd scheduled post-performance discussions.
"What people will experience because of 9/11, and have for the past year, is a heightened awareness of layers of meaning of what it is they are seeing and feeling," she suggests.
In case they don't, though, the VCME is putting out a recording that will memorialize the historic moment. Days after 9/11, clarinetist Steve Klimowski started rounding up composers who were willing to write original works — for no money — in response to the attacks for a February concert he ended up calling "Catharsis."
What he got gratis from Vermont composers David Gunn, Don Jamison, Allen Shawn, Thomas Read, Erik Nielsen and Troy Peters is powerful listening. Lots of cellos and baritone clarinets set a mournful tone overall. But the composers also incorporated all sorts of aural details, including, in one piece, radio sound bites from the day of the attacks. Ace sound engineer Chuck Eller volunteered his time to record and master the respective compositions.
"Just like people think in words and colors, I think in musical sonorities," says Troy Peters, who also conducts the Vermont Youth Orchestra. He built his piece around a simple Persian poem that speaks to the despair of a "nest destroyed." Peters says the experience gave him a creative outlet for his grief and "sense of desolation."
In the end, "Catharsis" is a "Guernica" for the ears. "I thought, 'This is what music is supposed to be doing,'" Klimowski says of the project. "The audience was right with us."
In the months following the terrorist attacks, people found unexpected solace in Vermont's concert halls, opera houses and performing arts centers — as places to gather and heal. "We genuinely experienced the comfort that the theater gave to people," says Arnie Malina, artistic director of the Flynn Center. "That also felt very important — that people came. That this was something they cherished."
For the most part, that appreciation translated into dollars. Lane Series ticket sales were down in October, but the organization managed to meet its fundraising goals. The Flynn saw a dip in membership that has since corrected itself. Individual donations to the VCME tripled last year. Annual giving also increased for Vermont Stage and the Vermont Youth Orchestra.
"What could make you feel better than a bunch of young people on stage pulling together to make this really great music?" posits Youth Orchestra Executive Director Caroline Whiddon. "I needed those first concerts so much. I remember being teary-eyed. I think our donors felt that way, too."
More upsetting to Vermont presenters these days is the current state of the economy, and its potential negative effect on endowments, foundations, corporate philanthropy and donors who make contributions in the form of stock. Even the wealthy Hopkins Center is preparing for the inevitable belt tightening.
Ultimately, that may have more of an impact on what we experience in local theaters than the specter of Osama bin Laden. Malina concedes, "We are balancing our risks more carefully." That means that for every cutting-edge artist like Paul Drescher and Eric Bass, there are easier sells to offset them, like three sold-out shows of Rent.
Are there any programs that intentionally reference 9/11 in the current lineup of performing arts events in Vermont? Presenters say no, but their seasons suggest otherwise. Vermont Stage is serving up more "comfort food," as Nash puts it, in the form of another "large-cast Americana feel-good play." He says choosing To Kill a Mockingbird was "a very conscious choice to pick up on the Our Town vibe." The run will be extended from two weeks to three.
Northern Stage was going for an "emotional feeling" when it chose dramas that show characters persevering against all odds. The inspiration for that was "not just 9/11," says Wetzel. "It was the Catholic Church crisis. It's the stock market. It's Enron. There's a series of experiences that I think really shook a lot of people's lives… In other years, we have had to be the force pushing the envelope. Maybe that's not this year." Incidentally, Northern Stage canceled a production of Agnes of God last year because of the pedophile priest scandal.
Troy Peters was looking for fun works to celebrate the 40th anniversary of the Vermont Youth Orchestra — the fall concert includes "The Sorcerer's Apprentice" and a suite of music from the Harry Potter film. But his spring concert looks at Romanticism in music. One of the selections is Samuel Barber's "Adagio for Strings, Op. 11," which Peters describes as a "great piece about anything tragic."
The Vermont Symphony is performing Mahler's "Resurrection" symphony in January, but Jordan insists it won't be marketed as a tribute piece. "It will certainly evoke emotions," he promises, similar to ones that may be stirred during the symphony's October performance of Beethoven's "Eroica" symphony.
Ultimately, it will take time, and distance, to determine whether 9/11 has a long-term transformative effect on the arts in America — the way the scourge of AIDS or the Vietnam War did. "A year from now we'll know more about how 9/11 affected our work than we can possibly know now," Wetzel suggests. Beyond that, what form it takes is up to the people who translate our grief into the steps, stories and symphonies that outlast the news of the day.