Molly Walsh
The pedestrian tunnel under Route 7 in Charlotte
A yellow-clad road worker flagged a dozen cars to a stop last Thursday while excavators gouged out earth and shrubbery along the east side of Route 7 in Charlotte.
The vehicles waited in the spring drizzle for about seven minutes. Such delays have become familiar to regular commuters as a $20 million, three-mile road reconstruction and shoulder-widening project stretches into its second summer.
The holdups are a temporary inconvenience. But the physical changes to the route through pastoral Chittenden County are permanent. Hundreds of trees have been felled and stretches of private land bulldozed to widen the corridor so that it looks less like a narrow country byway and more like what it really is: a commuter highway that carries 13,500 cars a day through Charlotte.
The work is widening the ribbon of asphalt from roughly 28 feet to 42 feet — but there will still be just two lanes, one northbound and one southbound. What's changing are the road shoulders, where drivers can pull over for the cops or to change a flat tire. These will expand from narrow strips barely big enough to accommodate a bicycle to eight-foot-wide ones to conform with federal highway safety standards.
Half of the project is already done, from the Ferrisburgh-Charlotte town line north to State Park Road, which leads to Mount Philo. The remaining section, now under construction, will terminate just before the biggest intersection in town, at Ferry Road, where people turn off Route 7 to catch a boat to Essex, N.Y.
The project is on budget and on schedule for completion in July 2018, according to Vermont Transportation Agency project manager Ken Upmal. But not everybody is applauding it.
"They spent a lot of money on this thing that didn't have to be spent. Ridiculous," said Jim Amblo, 82, co-owner of Tarry-Ho Miniature Horses farm on the west side of Route 7 in Charlotte.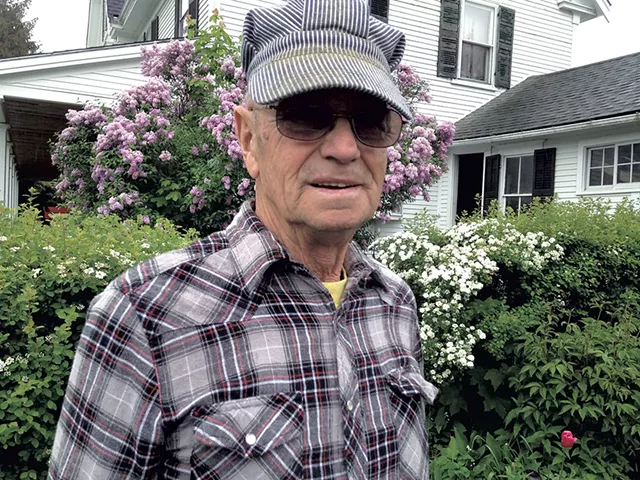 Molly Walsh
Jim Amblo
Last summer VTrans workers chopped down five towering sugar maples on Amblo's property, he explained glumly, pointing to a log pile. That was all that remained of the granddaddy trees he first tapped for syrup when his family acquired the property circa 1948.
The life-size model horse that once stood sentry on his lawn overlooking the highway is now leaning against a garage, a casualty of a recent powerful windstorm. Amblo feels off-kilter, too. He dislikes the way workers graded the bank in front of his old white farmhouse, he said as he looked out from under the bill of his striped farm cap at the traffic whizzing past. The new driveway the state built for him is steeper than Amblo expected, he said, and difficult to ascend in a truck loaded with hay bales for his 26 miniature horses. He regrets accepting a state payment of $4,500 for an easement.
The state has agreed to adjust the grade of the driveway, but Amblo said the project marred the landscape for no good reason.
"It might be progress, but not for me ... It's a shame," he said.
Duker Bower has a different view. Just to the north of Amblo's property, at the dangerous intersection of Route 7 and State Park Road, the innkeeper and artist welcomed the project — especially because it includes a small tunnel that will allow pedestrians and cyclists to cross underneath the busy highway. The flashing yellow light that once warned motorists approaching that perilous spot has been replaced with a turning lane.
"I think it's wonderful," said Bower, co-owner of the Inn at Charlotte B&B.
He, too, gave up some trees to the construction last summer but said the benefits outweigh the losses. "I actually kind of like the way it's opened up," Bower said about the views, adding: "It is safer and better."
He's eager to use the approximately $150,000 tunnel, which is scheduled to be completed next year.
The new underpass, or half of it, was visible last Thursday in a large pit. The concrete box is shaped like a freight train car but with a sloped entrance. The 96-foot-long tunnel is being installed in two precast pieces, the first on the east side of the road currently being reconstructed.
Joe DePaolis, a contractor who is the chief inspector of the project, pointed to the crushed stone on the tunnel floor — meant to provide traction to walkers and bikers. An enormous excavator sat near the pit, and engineers and construction workers scurried around the site to work on the grade and drainage system. GPS satellite data helps them to build with precision.
"It's not Fred Flintstone construction anymore," said DePaolis. "It's been thought out."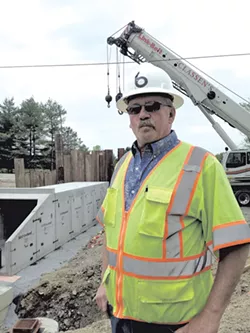 Molly Walsh
Joe DePaolis
The new tunnel will make it easier for cross-country skiers, cyclists and pedestrians to travel a proposed seven-mile gravel recreation path called the Charlotte Town Link Trail, intended to connect the eastern and western parts of town. Right now, only about two miles of the route are complete, in fragments, on both sides of the road. But the trail's supporters hope one day to expand and link sections so that people can take it from Mount Philo, a popular hiking destination with commanding Lake Champlain views, to the Charlotte Town Beach. In March, town voters approved $40,000 toward the trail project.
Currently, a section of unpaved trail near the underpass is lightly trod — the outline faint in a lush, grassy meadow. That's because, up until now, it has dead-ended at a stream of cars on Route 7, said Bower, the innkeeper. Cars shoot past at highway speeds; the posted limit is 50 miles per hour.
"There's no easy way to cross," he said.
The tunnel is a step toward a trail system that Charlotte badly needs for both adults and children, Bower said. "You can't do anything without getting them in a car," he said. "This gives them an opportunity to go across town with a bicycle."
Margaret Russell, cochair of the Charlotte Trails Committee, is also a big fan of the underpass. "We've been waiting for this for years," she said.
The loss of trees is noticeable along the stretch of road that has been completed, Russell allowed. "Driving through there, it's stark," she said. "I think it's going to take a while to get used to it, and I'm sorry for the homeowners directly involved."
But the new shoulders will be much better for cyclists and motorists, she said.
"It's a very dangerous section of road, and they are making it safer," Russell said.
"It's a huge project, and a necessary one," said commuter Jason Farrell. "It's crazy how tight that corridor was with bikes. It used to scare the hell out of me."
He drives north from Vergennes to drop off his daughter at Rice Memorial High School in South Burlington and then heads to work in Essex. Farrell said he's experienced occasional construction delays but "nothing extraordinary."
Route 7 runs the length of western Vermont, from Highgate in the north to Pownal in the south. Most of the 176-mile artery is already widened to federal standards, with eight-foot shoulders. Another shoulder-widening and reconstruction project is under way this summer about 40 miles south of Charlotte, in Brandon and Pittsford.
Traffic on the corridor, also known as the Ethan Allen Highway, thickens as it nears Burlington and peaks at 40,800 vehicles a day by the Interstate 189 on-ramp in South Burlington. That's as heavy a load as on many stretches of Interstate 89, which has the highest traffic volume in the state.
The state upgrades arterial roads such as Routes 2 and 7 with standard shoulders when conditions and funding allow, said Bruce Nyquist, director of highway safety at VTrans.
Plenty of narrow country roads with little or no shoulder will stay that way. "We're not widening everything," Nyquist said.
That's no comfort, though, to Amblo, who shook his head as he gazed at the young replacement maple trees that workers planted in his front yard. He won't live to see them produce any sap worth collecting, he said, and recognizes no advantage to the road widening. In fact, he said, it might entice people to speed.
"We got nothing," Amblo commented. "It's very sad."