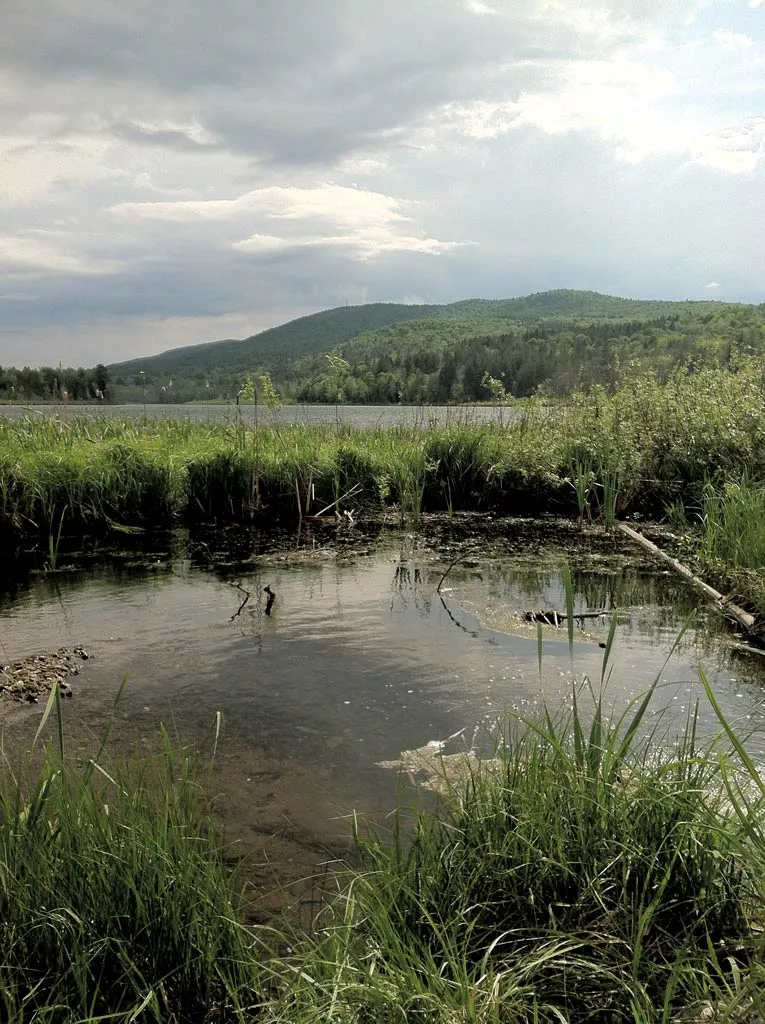 Courtesy Of Beth Garbitelli
Berlin Pond
Kayaks, fishing poles and swimsuits are the stuff of Vermont's much-celebrated summers. But now they're a point of contention in a bid to close Berlin Pond to recreational use over concerns for Montpelier's water supply.
Berlin Pond is nestled next to Vermont's capital city. The 256-acre pond attracts walkers, bikers and bird-watchers to its scenic setting. It is the sole water source for Montpelier, sections of nearby Berlin and Central Vermont Medical Center. The city has restricted access to its water for nearly a century.
That protection ended in 2012, when a Vermont Supreme Court decision found the city lacked authority to deny recreational access; boaters, swimmers and fishermen were free to test the newly accessible waters.
In November 2012, Berlin voters voted to allow public access to a piece of town-owned land on Berlin Pond in a 793-441 nonbinding referendum.
Now the state is weighing a bid to reinstate the recreational-use ban on the pond itself.
Citizens to Protect Berlin Pond, which formed in the wake of the 2012 supreme court decision, petitioned the Agency of Natural Resources' Watershed Management Division to close the pond to active recreation, including swimming, boating, kayaking, canoeing and fishing. (Gas-powered boats are already prohibited.)
On May 27, a state hearing in Berlin drew a large crowd and a lively debate that elicited both applause and boos. While some argued that closing the pond to recreation would infringe on their rights, others made emotional pleas to restrict recreation access to the pond.
"We have beautiful, amazing, clear drinking water," said Berlin resident Melissa Perley, president of Citizens to Protect Berlin Pond. "Why would we want to look at this in five years and say 'Oops!'?"
Others disagreed on restricting public access.
"The water belongs to me and you and everybody else," said Cedric Sanborn, who has pushed for public access to Berlin Pond. He owns R & L Archery, a sporting and outdoors store, but says his business is not a factor in advocating for an open pond. "I did this personally, because it's just wrong to have a really nice body of water taken away from us," Sanborn said, adding that recreational activities wouldn't sully the pond.
But Perley isn't convinced. She pointed out that higher bacteria levels in the water from human contact could require additional chlorination or the introduction of additional chemicals for purification. Elevated fecal coliform bacteria levels were, in fact, noted by water-treatment personnel in 2013, according to the petition.
But Montpelier public works director Todd Law said that the elevation was not significant, and that officials were unsure if it was caused by freezing temperatures that led to a turnover in silt, by ice fishing or by other factors. That was the first time the city tested for total coliform levels; E. coli bacteria are something they monitor regularly and have stayed consistent, according to Law.
The pond's silty bottom and shallow depths could also add to the challenge of keeping bacteria levels down, according to Perley. The petition stated that because Berlin Pond's average depth is only about 25 feet, soft-bottom ponds are at greater risk of creating turbidity, or murkiness, from suspended dirt and organic matter. Harmful bacteria can more easily pass through filtration systems without detection when the water has a high level of turbidity, according to the petition.
At the public hearing, Law explained that pathogens can exist in turbidity. Disinfections — chemical processes used in treating drinking water — kill most, but rising pathogen levels can lead to disinfection byproducts, such as trihalomethanes, in the water source, many of which, according to the Environmental Protection Agency, have adverse health effects and are linked to cancer.
"It's not going to happen immediately, most likely over time," Law said, about a gradual increase in those byproducts.
Arguments about turbidity don't sway Sanborn: "My kayak is not a submarine. It's not down at the bottom stirring it up."
Beyond contaminants in the water, conservationists fear invasive species and the effects of increased human activity on waterfowl and plant life. The City of Montpelier has its own petition and wants the state to ban tools powered by internal combustion — such as ice augers — petroleum-based fuels and ice shanties on the lake.
Concerns over Berlin Pond's water quality are not new.
In October 1884, Montpelier began tapping Berlin Pond for water, and within a decade the State Health Board, later reorganized into the Department of Health, prohibited swimming and fishing there.
The pond was once dotted with shoreline cottages, and sometimes their residents got sick. A 1900 headline from the Barre Evening Telegram reads: "FEVER SCARE Montpelier Thoroughly Aroused Over a Case at BERLIN POND Feared the City Water Supply Is Contaminated." The alarm was with good reason: According to the article, a typhoid fever-afflicted cottage emptied its sewage directly into the pond.
By 1901, Montpelier began to buy up the land and cottages directly on the pond to create a protective buffer, according to Berlin Historical Society's Richard Turner. The city owns much of the land today, except for an 85-foot access strip owned by the Town of Berlin, according to court documents.
Over the years when access was restricted, people were sometimes fined or arrested for breaking the swimming and boating rules, according to news articles and court documents at the Berlin Historical Society.
It was a legal case that led to the opening of the pond to recreational use.
In 2009, Sanborn and his wife, Leslie Sanborn, were arrested after kayaking on the pond. The Washington County state's attorney later dismissed the charges. After that, one of Cedric Sanborn's employees, Richard Barnett, obtained a permit from the Department of Fish & Wildlife, a division of ANR, for an ice-fishing derby on the pond.
Those events led the City of Montpelier to try to end the controversy over access by suing the Sanborns, Barnett and the state Natural Resources Board for a declaratory judgment that boating, fishing and bathing are indeed prohibited by the city. The case made it to the Vermont Supreme Court, which ruled that it's the state, not the city, that has authority over the pond.
The ruling reads: "Our opinion today does not hold that recreational use of Berlin Pond must be permitted. We conclude only that valid regulation would require action by the State — either by direct regulation or by delegating such power to the City — and this has not yet occurred."
Sheryl Rapée-Adams, a Montpelier resident and member of Citizens to Protect Berlin Pond, is a paddler herself but said she'd be happy to choose other ponds. Thirty-four lakes and ponds within a 20-mile radius of Berlin Pond allow fishing, swimming, boating or all three, according to the Berlin Pond Watershed Conservation Plan published by the Montpelier and Berlin Conservation Commissions.
"Nothing, certainly not recreation, trumps safe, clean drinking water," said Rapée-Adams. "What will 'The Daily Show' make of this? That ANR might not protect safe clean drinking water for the state's capital city? How embarrassing."
Susan Warren, the Lakes and Ponds program manager of the state's Watershed Management Division, said ANR hopes to make a decision about the pond within two months. The state is expected to decide both the residents' and the city's petitions together.
It's not unusual for water-recreation issues to be contentious, but Berlin Pond's century-long restrictions present a unique case, said Warren, who added: "There's a lot that we need to look at, and I'm not sure yet how we're going to balance out the various uses that are being asked of the pond now."