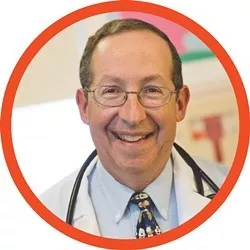 It's frustrating when a child looks skeptically at a dinner plate and proclaims, "yuck!" But it's not necessarily a cause for concern, according to Dr. Lewis First, chairman of the Department of Pediatrics at the University of Vermont Children's Hospital. This reluctance to eat certain foods is considered a normal, and even healthy, part of child development. Around one-third of children show signs of being picky eaters. This behavior can begin as early as 18 months old, usually peaks between ages 3 and 6, and resolves as children get older.
But what if it doesn't? Dr. First explains when picky eating may signal a more serious eating disorder, and he offers advice on helping kids establish a healthy relationship with food.
KIDS VT: Why do some kids become picky eaters?
LEWIS FIRST: Normally growing and healthy children develop pickiness because they're asserting their independence, seeking attention and wanting to have some form of control. Sometimes there's no structure to kids' mealtimes, and parents don't realize that their kids are getting the sustenance they need by snacking on small amounts of healthy foods throughout the day. Then, when it's time for everybody to sit down for dinner, they're not hungry and act picky, which draws the attention toddlers are often seeking.
KVT: Should pickiness concern parents?
LF: Parents need to remember that kids don't need the same amount of nutritional sustenance as adults, nor do they need as much as they did in the first year of life. After gaining 10 to 15 pounds in their first year, children don't gain a lot of weight — maybe just a couple of pounds per year — until school age and adolescence. Rather than focus on the food battles, parents should simply end the meal and not worry about it. If parents are worried that their child may be falling off their growth curve, a simple weight check by their health care professional can provide reassurance.
KVT: When does food pickiness become problematic?
LF: There are clues that it's turning into a problem. For example, a normally picky toddler will have tried at least 25 to 30 foods when they start acting picky. Children who are going to have a long-term problem with selective eating — where pickiness turns into an eating disorder — may have only tried 10 to 20 foods before they demonstrate this behavior. In this case, there may be entire food groups that the child will not eat. The small percentage of children who go on to have a more serious selective eating problem are often kids who show a decline in their weight.
KVT: Should parents worry about development if a child's weight is fine but their diet is extremely limited?
LF: Development is not affected in an otherwise healthy picky eater. Usually children can get the basic food groups of protein, dairy, fruits and vegetables, and carbohydrates from a small number of foods they eat — especially the ones they snack on during the day, even if they only eat one or two things at a sit-down meal.
KVT: What is ARFID?
LF: What used to be called selective eating disorder has been renamed avoidant/restrictive food intake disorder, or ARFID, which is picky eating gone extreme. It usually comes on in toddlerhood but may not be diagnosed until a child is older. Whereas picky eating may last for a couple of months, ARFID can last for years. Most children may only have 10 to 20 foods total that they have ever tried or wanted to eat, and sometimes major food groups may be missing from their selective diet. It may get worse and can lead to fear and anxiety of eating. It can start with sensitivity or repulsion to certain tastes, smells and textures. This disorder may last into adulthood and may lead to social issues, where they basically want to eat by themselves because they're so anxious about eating unfamiliar foods.
KVT: What are some ARFID warning signs?
LF: If a child is avoiding entire food groups, such as fruits or vegetables, or they're only eating a certain texture, and it's lasting for at least half a year, this is worth talking about with your health care professional. But only 1 to 2 percent of picky eaters will be on this path.
KVT: What are some strategies parents can use if they have a picky eater?
LF: Remember that it may take 10 to 15 tries with a new food before a healthy toddler accepts it. So if they don't like yogurt, you can bring it back another time or mix it with something else. You should always eat a new food with your child so you can model your enjoyment. Have other kids come over and eat new foods with your child. Oftentimes, peer pressure will get a child to try it. And be aware that there will still be some foods that children will never eat. Adhere to the "at least one bite before saying 'no, thank you' rule" rather than allowing them to avoid the new food.
KVT: Any tactics parents should avoid?
LF: Don't cook special meals for picky eaters, but do include something they like in every meal and put it next to the food you want them to try. Don't use food as a reward, such as "If you eat this vegetable, you'll get a cookie," since it indicates a cookie is a preferred food to a vegetable.
KVT: Any other tips?
LF: It's very important that parents don't constantly talk about their own body image — being too heavy or too thin — in front of their child. In terms of food, it's important that parents offer kids different types of tastes. Giving toddlers and preschoolers a choice between two healthy options often averts testy exchanges. Also, asking kids to help in the preparation of meals, grocery shopping with them and talking about which foods are nutritious — rather than talking about "good" foods versus "bad" foods — are all ways to create a positive relationship with food.