Storage closet after decluttering
There may be no better example of the saying "Out of sight, out of mind" than the way I handled the mountain of clutter in my home storage closet.
When my daughter and I moved into our Bristol abode last May, I quickly unpacked and set up the kitchen, living room, bathroom and bedrooms. Essential items — dishes, towels, records and toys — took top priority in the main rooms. Nonessentials such as crafting supplies, memorabilia and my highly embarrassing high school journals could wait.
Those items stayed in their boxes, stowed away in the apartment's large closet. I'll deal with these when I have some free time, I thought.
Nine months later, the cardboard containers and their contents still sat untouched.
Meanwhile, in January, "Tidying Up With Marie Kondo" premiered on Netflix. Following the upbeat Japanese author and organizing consultant as she helps Americans declutter, the show has ignited a renewed national interest in home organizing. Friends began posting photos of their newly tidied spaces on social media. The Kondo catchphrase "spark joy" started creeping into conversations among coworkers.
On screen and in her best-selling books, including 2014's The Life-Changing Magic of Tidying Up: The Japanese Art of Decluttering and Organizing, the 34-year-old touts her KonMari tidying method.
"The KonMari method is unique because I organize by category rather than location," Kondo explains in the first episode of "Tidying Up." Using her technique, folks should organize five categories of items in a specific order: clothing, books, paper, komono (miscellaneous items from spaces like the kitchen, bathroom and garage) and, finally, sentimental items.
"The ultimate goal of tidying is really to learn to cherish everything that you have," Kondo explains on the show. According to her method, one should hold each individual item in their hands to assess whether it sparks a sense of joy. If it does, the item is a keeper. If not, it's thanked and discarded.
And what should joy feel like? "You feel it when you hold a puppy, or when you wear your favorite outfit," Kondo says in the first episode. "It's a warm and positive feeling."
After watching two episodes of the series, I decided it was time to tackle my closet.
Like most things in life, the process took much longer than I expected. I spent five hours on sorting alone, and additional time breaking down boxes and packing discarded items for trash or donation. I still need to haul the refuse to Goodwill and the dump.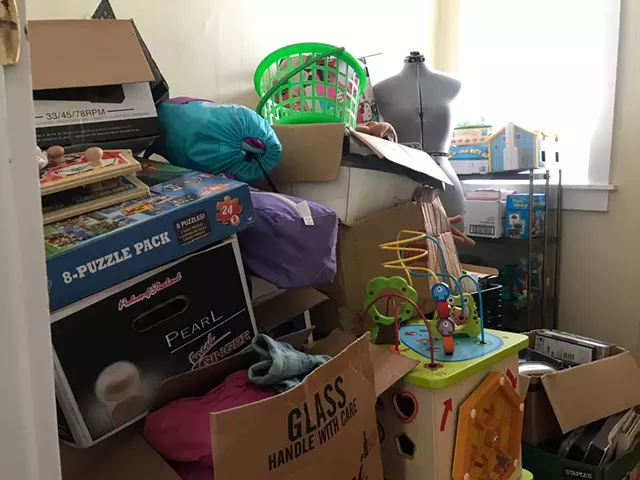 Kristen Raven
Storage closet before decluttering
The results have made the effort worthwhile. Books are now displayed on a shelf instead of taking up space — and going unseen — in a box on the floor. Important papers such as student loan documents now live in a folder for easy access. Both miscellaneous and sentimental, my VHS tapes and compact discs are stacked in a clear tote. (Kondo recommends clear totes for storage so you can see what you have.)
Most importantly, the weight of the clutter is off my shoulders, and the things that remain I truly want to take into my future — as Kondo would put it.
In all, I discarded two 30-gallon bags of trash, a sack of clothing and a hodgepodge pile of household goods the height of my kitchen counter. These things no longer sparked joy for me, but getting rid of them certainly did.
I'm not the only Vermonter who has gotten caught up in the Kondo craze. "Our Williston and South Burlington stores have seen a huge uptick in donations, thanks to Marie Kondo's show," Goodwill Northern New England spokesperson Heather Steeves writes in an email. "We've seen about 25,000 donations at those two stores alone since January 1 — a 120 percent increase in donations this year over the same time period last year."
Steeves notes that Vermonters can help Goodwill staff by separating donations into like categories and checking its website for a list of acceptable items. (Sorry, no flammable liquids allowed.)
For those who wish to tidy up but feel daunted by the task, a quick Google search yields information for several Vermont-based professional organizers. One of these is Deb Fleischman of Montpelier, whose company, A Clear Space, specializes in organizing, space design and life coaching.
"The best thing, I think, that could come out of this Netflix series is that it opens up the gateway for people to allow themselves to make a phone call to an organizer," she tells me.
Fleischman offers two big pieces of advice to those looking to tidy their homes: Prepurchase garbage bags and legal boxes so you can compartmentalize items as you work and, if you're feeling overwhelmed, "Start small. You start with the sock drawer."
Does It Spark Joy?
When tidying with Marie Kondo's KonMari method, one must touch each household item and assess whether it sparks a sense of joy. If it does, it stays; if not, it goes. Below are a few items I decided to keep or scrap based on the joy test.
Keep
My full set of Spice Girls dolls in their original boxes. With Scary, Baby, Ginger and Sporty reuniting this year, these are must-haves.
A collection of zines by local and national artists. If you can't find joy in a copy of a copy of a copy of the original Riot Grrrl manifesto, where can you find it?
A tiny, food-stained onesie that my daughter wore as a baby. Too cute to trash.
Two Madonna concert VHS tapes. I would call these a guilty pleasure — if I felt any guilt over my love for Madge.
Scrap
Two DVDs of B movies starring Lindsay Lohan, Just My Luck and Labor Pains. If I need a LiLo fix, I'll stream "Lindsay Lohan's Beach Club." No storage required.<!—?li—>

Socks that hadn't fit my daughter since it was warm outside. This is Vermont, so that was a long time ago.

Notebooks from my grad school program. I hadn't glanced at these since I graduated — in 2011.

What may have been the world's largest home printer, which hadn't functioned for at least a year